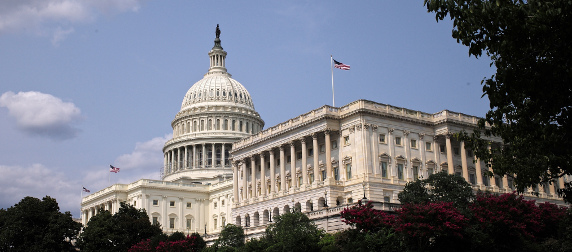 photo by Roman Boed
We may know by tomorrow night whether Republicans will control both houses of Congress during the final two years of President Obama's term. On the other hand, we may not know the answer until as late as Jan. 6, when Georgia could hold a Senate runoff election three days after the new Senate is installed.
We can be certain, however, that political power in Washington will remain divided between the two parties at least until the next president takes office. The House is firmly in GOP hands and will remain so after tomorrow's voting, which will most likely result in the Republicans posting at least a small net gain in the number of House seats they hold. The political tide favors Republicans taking control of the Senate as well, but the polls show close races in enough states to at least give Democrats hope of retaining their majority in the upper house.
No matter what we know - or don't know - after tomorrow's voting, we can make some educated guesses about a few things that will happen in the weeks and months to come.
First, there is likely to be a lame-duck session of the outgoing 113th Congress. Sen. Harry Reid, D-Nevada, will still be the majority leader, and his party will still control enough votes to ensure that it can confirm any Cabinet or judicial appointments Obama sends up to Capitol Hill. A candidate to replace outgoing Attorney General Eric Holder may be one of the first orders of business.
Obama refrained from announcing his choice for a new attorney general during the campaign, to avoid putting endangered Democratic senators on the spot for supporting - or rejecting - the president's choice. Therefore Obama's preference, if he has one, remains a secret, though there is speculation that he may tap Labor Secretary Tom Perez. This would be controversial because of Perez's support for affirmative action and for the use of "disparate impact" tests to determine whether illegal discrimination has occurred. As I have written previously, the Justice Department under Holder has maneuvered to keep the issue away from the Supreme Court, which has agreed to take up the matter once again in its current term.
The outgoing Congress does not face the sort of high-drama deadlines that we saw in 2012 with the fiscal cliff, but there are a few time-sensitive tax matters on the year-end agenda. The most prominent of these is the Internet Tax Freedom Act that is due to expire Dec. 11. This legislation, which dates to the 1990s, outlaws state taxes on Internet access. The House favors making it permanent, but the Senate has tried to tie it to legislation (favored mainly but not exclusively by Democrats) that would give states more power to require out-of-state vendors to collect sales taxes. I would expect Democrats to make a final effort to push their sales tax measure through by tying it to the Internet Freedom Act or other legislation that has strong Republican support. This is especially likely if Democrats know they will be in the minority next year. Given Republican opposition in the House and wide public support for shielding Internet services from taxes, my guess is that the Internet Tax Freedom Act will survive without the interstate sales tax measure.
Broader tax reform will probably have to wait for the next Congress, or the one after that. If Democrats manage to retain the Senate, the political landscape will remain pretty much unchanged, except that the two most ardent backers of tax reform, former Sen. Max Baucus, D-Montana, and retiring Rep. Dave Camp, R-Michigan, will both have left Washington. Democrats will continue to demand that any overhauled tax laws generate more revenue than Republicans are willing to accept and to resist many of the GOP's business-friendly policies.
On the other hand, if Republicans take the Senate, they will be in a position to craft legislation that reflects GOP priorities and maybe even send it to Obama, who would be expected to veto it if it should cross any of his political or policy red lines. The president has a fraught history of dealing with red lines, however, so you never know what might happen when he is forced to make a go-or-no-go decision. The bigger question is whether Republicans can get legislation through the Senate with only a small majority. This depends on whether and to what extent Mitch McConnell and his caucus decide to extend the "nuclear option" that Democrats deployed against them to limit the minority's filibuster power.
A Republican Senate majority might all but end Obama's ability to put new, liberal-leaning judges on the federal bench. Republicans might even block Obama from naming a Supreme Court justice to fill any vacancies, especially if one should arise from the unexpected departure of one of the court's conservatives.
There is a raft of measures that a Republican Congress would likely pass, some of which could attract a modicum of Democratic support in conservative-leaning states. These could include legislation to force approval of the Keystone XL oil pipeline, to limit or replace some features of the Affordable Care Act, and to prevent the president from administratively changing immigration policy. Most of this maneuvering will be for show, to build a record for the 2016 presidential and legislative campaigns.
After nearly six years in office, Obama has thus far exercised his veto power only twice, making him the least veto-prone president since James Garfield. Bill Clinton, who was the last Democrat to confront a GOP-controlled Congress, issued 36 vetoes in his two terms. Ronald Reagan issued 39 vetoes, and Gerald Ford had 48. If the Republicans take the Senate, Obama will need to take his veto pen out of storage.
We can be confident of one more thing: By the time the final votes of the 2014 midterm elections are counted, the race for the 2016 presidential nominations will be underway. We live in an era of nonstop campaigning, and our political system has become one of overlapping, rather than sequential, election cycles.
Yogi Berra once said it ain't over until it's over. As you watch the election returns tomorrow night, ponder this: It's never over.