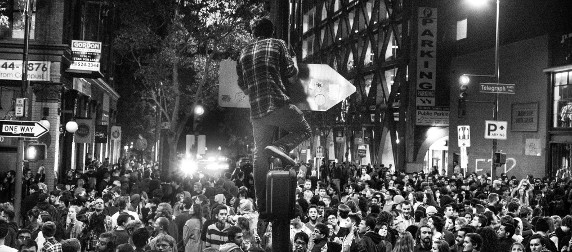 Berkeley protest, December 2014. Photo by Annette Bernhardt
In Europe, the courts have established a right to be forgotten. In Berkeley, California, where the politics are a sort of bulked-up version of those in Europe, a significant slice of the community seems to favor a right to be invisible.
Or maybe that's a right to break the law invisibly.
Drones, as I have written before, can be an extremely valuable tool for law enforcement and other first responders, such as search and rescue. It's not a stretch to say unmanned aircraft can save lives in a lot of circumstances - from finding lost children or elderly patients to providing SWAT teams with close-in surveillance of hostage situations. Drones can also help identify and track criminals, including those who use the cover of large and otherwise peaceful marches to commit assaults, vandalism and other mayhem.
They take their marches very seriously in Berkeley, and there's nothing wrong with that. But many Berkeley residents don't have a particularly warm feeling toward law enforcement, and some of them don't seem to have a big problem with mayhem, either - as we saw just last month, in the violence that accompanied the marches responding to Eric Garner's death. So they want to prevent, delay or restrict use of unmanned drones by police. Of course, opponents do not argue that they want to protect mayhem; they argue that they want to protect privacy - as though there is a right to be invisible in the public streets, or even when seen from the air in your own backyard.
Actually, there isn't, at least in most U.S. jurisdictions right now. Municipalities have long used helicopters and other aircraft to identify unreported swimming pools and other residential amenities that have an impact on property tax assessments. Google Earth and other outlets offer satellite photos that show what crops grow in our fields and what cars sit in our driveways. Police have tracked, or more often threatened to track, highway speeders using a "bear in the air" for decades, though portable lasers and radar have pretty much replaced this in most areas.
I think I understand the concerns of a Berkeley resident who likes to sunbathe in his backyard once the stratus burns off. If he has taken the trouble to make sure that it is very private at ground level, he doesn't want a five-pound drone carrying a camera to come buzzing over his rooftop to look in on him. Any celebrity whose photo is worth money on the cover of a checkout counter magazine will have an even bigger problem with the possibility. But this is a problem with drones in some irresponsible private hands, for which the Federal Aviation Administration is still trying to work out reasonable regulations. It is just not a realistic fear when discussing police drones, and I don't think it is really what motivates most of Berkeley residents' objections.
The same people who value their right to protest anonymously in Berkeley will be the first to demand that their police deploy every possible tool to look for a child who gets lost in the hills, especially if that child happens to get lost during fire season. Hard though it may be for some in Berkeley to understand, property owners have the same rights to safety and security as a lost child; they, too, expect police to protect them. If reason prevails in Berkeley, those rights will take precedence over the right to sunbathe naked in a backyard.