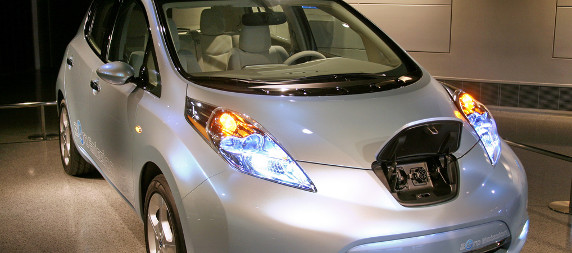 photo by Flickr user Cliff
Conventional wisdom says that when something sounds too good to be true, that is probably because it is.
The caveat, however, is that the catch may come at someone else's expense. At least, that is what many Atlanta drivers seem to be banking on as they flock to lease Nissan's electric car offering, the Leaf. The current math for many drivers is that a Leaf is practically free. So the question becomes: Who is paying for those cars and, perhaps more interestingly, why?
Several of my friends in Atlanta currently lease Leafs, and talking to them made it clear why. The math works like this: For a basic model Leaf at the standard 24-month, 12,000-mile per year lease, you would pay around $290 per month, a payment which includes sales tax. You won't have to pay for gas, and maintenance costs for two years are low, since electric cars don't use internal combustion engines or motor oil. Some drivers might find this enough of an attraction alone, but Georgia drivers have a leg up. The state offers a $5,000 nonrefundable income tax credit and, unlike the federal electric tax credit that applies only to purchases, Georgia's credit is good for leases too.
With the lowered cost of fuel and maintenance, and depending on your insurance, you could get down to a rough cost of $1 per day for the Leaf.
With a car that is practically free to lease for many drivers, it isn't surprising that sales of electric vehicles have soared in Georgia. The Atlanta metro area has become the top market for Nissan's Leaf, with Nissan reporting that more than one-third of the car's national sales took place there in December.
In addition to the tax credit, many Nissan dealers extend a customer referral bonus to Leaf drivers who send more customers their way. And with no sunset date set for the state income tax credit, the trend will likely continue for a while. Georgia Power has sweetened the deal by offering a special rate for electric vehicle drivers.
Leasing also lets drivers avoid doubling down on a technology that remains a small sliver of the automotive industry; drivers aren't stuck with electric cars if power stations vanish or maintenance turns out to be very expensive down the road. Eric Evarts, a senior associate autos editor at Consumer Reports, said, "electric cars are the one thing where we would unequivocally recommend people lease." Leasing spares you the risk of disappointment over the life of an electric car's battery or the car's repair costs.
Yet while it is obvious from the driver's point of view why this deal is appealing, it is less apparent why Georgia lawmakers are so eager to encourage state residents to invest in electric cars. Beyond the tax credit, Georgia has participated in a $230 million program, the EV Project, funded by the U.S. Department of Energy and private partners. The Atlanta Journal-Constitution reported last year on the push to install more charging stations in Atlanta. Last fall, the city unveiled two recharging stations in the state Capitol's parking garage.
Lt. Gov. Casey Cagle told officials and reporters that he was "more of a pickup truck kind of guy," but that he has enjoyed his Nissan Leaf.
Georgia's motivation is likely not cut-and-dried, but a large part of it may very well be economic benefits. A 2013 study from Indiana University Bloomington and the University of Kansas suggested that economic development motivations, such as a job creation, mainly drove the promotion of electric cars. Additionally, programs like the EV Project pump federal dollars in to support photogenic initiatives like the charging stations at the Capitol, allowing local politicians to reap the benefits at the polls. Opponents, though, have been quick to point out that federal money could be used for other projects, and that it's little wonder specific automakers have supported a program to push their vehicles.
Nissan and other automakers face pressure in about a dozen states to increase the proportion of their sales of zero-emission vehicles, The Wall Street Journal reported. Even if they keep dropping the price of cars like the Leaf, automakers can also increase their overall earnings through sales of traditional vehicles if they can get more electric cars on the road. This also helps explain programs like ePass - Fiat's offer to electric car drivers of 12 days of free access annually to a gasoline-powered car rental. The program is designed to offset the range limitations of electric cars. BMW offers a similar program.
Georgia's actions, as well as those of other states and the federal government, effectively warp consumer behavior compared to the way in which car buyers would presumably act in an unbiased economic environment. It is unclear, however, that the state can support such incentives indefinitely.
It is also unclear whether electric vehicles can ever stand in the marketplace unsupported. But we won't know until Leafs and other electric cars cost more than a dollar a day.