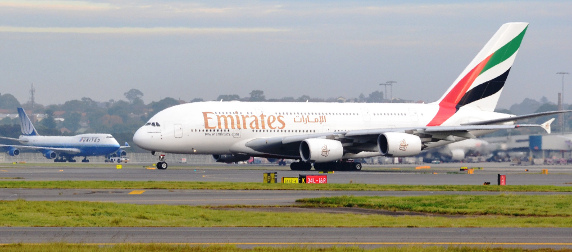 photo by Flickr user Simon_sees
In order to illustrate why U.S. carriers really hate Persian Gulf competition, I ran some fare searches last Saturday, Feb. 7.
I planned a hypothetical trip from New York's John F. Kennedy Airport to Mumbai, India, departing April 15 and returning April 22. On United, the cheapest economy round-trip fare was $982. This was for a tiresome flight: departing JFK on the 15th at 3:55 p.m.; connecting in Frankfurt at 5:30 a.m. the next day; departing Frankfurt at 1:30 p.m., after an eight-hour layover; and arriving Mumbai at 1 a.m. on the 17th, for a total trip of nearly 24 hours.
On Emirates I found a round-trip for $888, departing New York at 4:30 p.m., connecting through Dubai, and arriving in Mumbai four hours earlier than United.
On the return schedule, United wanted me to be at the airport in Mumbai at 1 a.m. for a flight that would connect through Zurich and get me to JFK at 3:50 p.m. the same day, but with a total flying time of just over 24 hours. Emirates had a much better connection through Dubai, departing at a civilized 10:10 a.m., arriving at 8:45 p.m. - saving me about five hours of total travel, as well as about $100.
As an aside, for the same dates in April, United's round-trip fares on the much less competitive route between JFK and Silicon Valley's main airport at San Jose, California, were within a couple of hundred dollars of the flights it offered to India. And there were no nonstop flights to San Jose on the schedule at all.
I have written before about my own experience taking Emirates to Europe, as well as about U.S. legacy carriers' attempts to cry foul on competition from Gulf-based carriers. Those cries have only gotten louder.
The chief executives of American Airlines, Delta Air Lines and United Airlines recently joined forces to lobby the White House to modify or annul "Open Skies" air treaties with the Gulf-based carriers' home nations. The airline executives contend that Emirates, Etihad Airways and Qatar Airways represent unfair competition, due to alleged government subsidies, which all three Gulf carriers continue to strongly deny.
It is a bit of irony that U.S. legacy airlines are now attacking Open Skies policies, which they formerly championed in order to expand their own markets. The motivation for their about-face is no mystery, however. The idea behind Open Skies was to promote international competition, which is exactly what has happened. Now U.S. carriers have pushed for a change from "Open Skies" to "fair skies" - by which they apparently mean they want to compete only with foreign flag carriers that have similar or even more bloated costs, and who have home markets that are more attractive to the American airlines than desert kingdoms in the Middle East.
The U.S. airlines will get a boost from their employees' unions in their federal lobbying efforts to curtail international competition. The only way to counter it is by travelers letting lawmakers and the administration know that we are watching, and that any action against the Gulf carriers is going to get a lot of attention from those of us who don't think it is our job to subsidize high-cost airlines and their high-cost employees. As Emirates president Tim Clark put it in an interview, "By challenging Open Skies, you are not just challenging the aero-political situation, you are challenging the very essences of economic liberalization that the U.S. has championed for decades."
Luckily, it seems that consumer advocates are ready to step in on travelers' behalf. The United States Travel Association said in a statement, "Historically, shifts toward protectionism have ended up hurting markets and choking off growth and job creation," countering legacy carriers' claims that Gulf-based airlines' success will move jobs overseas. Adam Minter of Bloomberg, along with other commentators, observed that the airlines could respond to increased competition by improving their own services, or even by reaching out to form partnerships with Gulf carriers.
The Gulf carriers are legally restricted from offering nonstop service to points like Bombay from U.S. points of origin. American carriers face no such restrictions. Offer a better product - such as nonstop flights from American departure points, with modern airliners that can make such long flights - and you might beat the Gulf lines, even if you lose on price. But don't expect customers to show up at airports in the middle of the night, and to cool their heels for practically a whole day in departure lounges in places like Frankfurt and Zurich, and expect them to remain your customers. For now, the Gulf airlines are simply better at doing what they do. If our carriers can't compete, then they shouldn't.