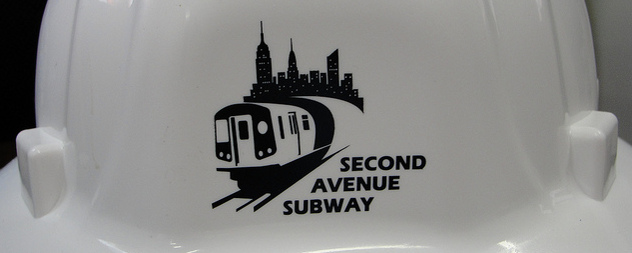 photo by Benjamin Kabak
Like a lot of little boys growing up in the five boroughs during the baby boom, I was fascinated by the New York City subway system.
I insisted on riding in the first car so I could look out the forward window next to the driver's compartment, sharing the view of switches and signal lights with whoever sat in that little cubicle. I once convinced my father to sacrifice an entire Sunday – his only day off from work – so we could ride the Number 4 train six stops north from our Bronx station to the line's northern terminus at Woodlawn Road, then all the way south through Manhattan into the mysterious land of Brooklyn, until we reached the southern end of the line at Utica Avenue. Whereupon we simply took the train back to the Bronx, because that was all I was interested in doing. I never saw even a glimpse of Brooklyn above ground on that ride.
I memorized subway maps and rehearsed them while driving my Lionel electric train on its circular track, set up in my bedroom. This had a practical benefit: By the time I was 10 years old, I was allowed to take the 4 train by myself a few stops south to Yankee Stadium to watch my then-favorite team from a reserved mezzanine seat, which cost $2.25. (The box seats, at $4, were out of my price range.) It sounds unreasonably risky by today's overprotective standards, but my mother knew I was not going to get lost on the subway – or miss seeing Mickey Mantle, who by then was literally on his last legs.
One thing I never got the chance to do, however, was ride the Second Avenue Subway. That's because it did not exist, even though it had been in the planning stages since the 1920s. The city floated a big bond issue in the 1960s that was supposed to allow construction to start, but other projects took priority and the money evaporated before anything happened. Finally, in the early '70s when I was in my teens, there was a lot of hoopla and some work actually began on digging tunnels. But then the city ran onto the financial rocks in 1975 – I had already left for college by that point – and construction halted. The tunnels were sealed, although not so tightly that squatters could not find their way in for years afterwards.
Like a lot of New York natives, I wrote off any chance of ever seeing a subway beneath Second Avenue. But then, a decade ago, new plans were drawn and new funds were raised, and work resumed. I was pretty cynical about the results, only partly because during a big chunk of the intervening decade I had a daughter who lived just a block east of Second Avenue, and I had to navigate around the interminable street disruptions during her entire tenure in the neighborhood.
But lo and behold, there is – finally – a Second Avenue Subway. Or there will be as of Jan. 1, according to New York Gov. Andrew Cuomo. I actually lived to see it happen, assuming I'm still around on New Year's Day and that the governor's promise can survive even briefly beyond the moment he made it.
Of course, that Jan. 1 start date is only for limited service. Trains will run between 6 a.m. and 10 p.m. until Jan. 9, when 24-hour service begins. As The New York Post observed, the "Second Avenue Subway opening is delayed yet again." But, as every regular public transit rider knows, a delay at least has the merit of not being a cancellation.
Granted, the Second Avenue Subway isn't much of a ride so far – certainly not one worthy of my childhood Bronx-to-Brooklyn expedition. The first phase of the project begins at a new station on 96th street and continues south about a mile and a half to 63rd Street, where it will connect with an existing subway line. There are also new stations at 86th Street and 72nd Street. So, for a mere $4.45 billion, the city has received three new stations and a mile-and-a-half of new track. (Well, technically three miles, since there are two tracks.) Oh, and some fancy new artwork, too.
The 1970s-era construction actually extended the tunnel a few blocks north of 96th street. For now, this will be a staging area for the new line's trains. Eventually the line is supposed to be extended north to 125th Street – where it may, sometime in the 21st or 22nd centuries, tie into another long-dreamed-of line running crosstown on 125th Street in the heart of Harlem – and south to the Lower East Side and the financial district.
I am not going to count on riding those tracks in this lifetime. I don't live in New York City anymore anyway, and I very seldom ride the subway at all these days. But I plan to take a little jaunt on that Second Avenue line sooner or later, just so I can say I finally did it.