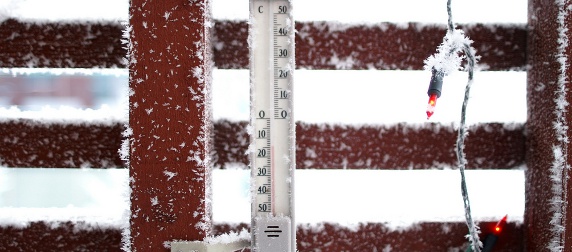 photo by Lauri Rantala
If you live anywhere east of the High Plains, it was probably pretty darn chilly when you got up this morning. A great whirl of frigid air, the polar vortex, is parked over the Upper Midwest, bringing one of the coldest air masses Eastern states have seen since the mid-1990s.
In St. Augustine, along Florida's northeast coast, the mercury was forecast to dip to around 26 degrees near sunrise today before recovering to a paltry 40. Fifty miles to the south, Daytona Beach was expected to touch 29 degrees, while Melbourne - 80 miles below Daytona and 130 miles south of St. Augustine - was due to hold just above freezing, at 35.
Melbourne lies near the northern edge of eastern Florida's citrus belt, which was not expected to suffer major damage. There is no commercial citrus growing in the colder environs of St. Augustine - not now, anyway. But this was not always true. A look back at the history of citrus orchards in the Southeast tells an interesting story about how climate really works.
It is a more complicated story than many people assume. Just last week, The New York Times reported on researchers' findings that mangroves - a tropical species that does not tolerate significant freezing weather - are moving northward along Florida's Atlantic coastline, from Melbourne toward St. Augustine. This, said the newspaper (quoting the researchers), is evidence that "the hard winter freezes that once kept mangroves in check had essentially disappeared in that region, allowing the plants to displace marsh grasses that are more tolerant of cold weather." The article also cited the spread of pine-eating beetles in the Rocky Mountains and New Jersey (New Jersey having been the subject of another recent Times article in the same vein) as evidence that extremes of cold that once set down ecological borders are disappearing, or rather are moving steadily poleward.
As a reality check, let's consider the well-documented history of citrus growing in America. Citrus fruits are not native to this hemisphere. Christopher Columbus brought them to the Caribbean in 1493, and Spanish explorers and settlers planted citrus in the St. Augustine area in the mid-1500s. St. Augustine and the St. Johns River basin, a short distance inland, were citrus growing regions for more than 300 years, until the 1890s.
Meanwhile, ambitious planters took citrus farther north, along the coastlines of Georgia and South Carolina. By the end of the Revolutionary War, some varieties were fairly widely grown in that region. Oranges, grapefruits and other citrus were also grown westward along the Gulf Coast, all the way to Louisiana.
But a killing freeze in 1835 wiped out the groves outside of Florida. Three more great freezes - in 1894, 1895 and 1899 - put an end to commercial citrus growing in the St. Augustine area, and did a lot of damage to orchards farther south near the central Florida towns of Sanford and Orlando.
Citrus was replanted in the Orlando region around the start of the 20th century, and the area remained a major orange-producing area (Orlando is the seat of Orange County) until the 1980s. By that time I was a regular visitor to central Florida, so I saw firsthand what happened next.
The 1980s were nearly a rerun of the 1890s, with major freezes in 1983, 1985 and 1989. (I vividly remember the last, during which an ice storm stranded me with my wife and toddler daughter in Jacksonville, Fla. It was the only white Christmas of the 20th century in the region between Jacksonville and Charleston, S.C.)
For years after the great 1989 freeze, we drove to Walt Disney World past hundreds of acres of dead orange trees. The growers never replanted. Instead, the orchards north of Orlando were converted to subdivisions, office complexes and shopping plazas, and the orange trees were relocated to the relative safety of a 100-mile-wide zone just north of south Florida's metropolitan complex.
The rules of natural selection dictate that all species try to expand their range. Sometimes they do it by invasive spread and aggressive growth, sometimes they do it by adapting to sub-optimal conditions, and I suppose to a considerable extent they do both. But eventually a species runs into the limits of its adaptability, and it can't expand any further. Often, in fact, it must retreat.
This much-discussed polar vortex is neither the first nor the worst cold wave to strike the eastern U.S. In Florida, the brief visit of cold air will probably be forgotten as soon as the next planeload of tourists sheds their sweaters at our theme parks and golf courses. Today's cold was pretty hard on any mangroves that had the temerity to grow very far north of Daytona Beach. To the south, however, the mangroves are probably safe until the next strong cold front.
The thing to remember about weather extremes is that they are extremes, meaning they do not occur every year, or even every couple of years. They occur on rare, memorable occasions. In Florida, there were great freezes in 1917, 1934, 1940, 1957, 1962 and 1977, in addition to those of the 1980s. There was another major freeze, though mainly away from the state's East Coast, in 2010. In between these dates were years, sometimes a decade or more, of mild winter weather. These are the sorts of periods that used to encourage growers to plant citrus in borderline locales, only to retreat after the next killing frost.
The Times' articles about mangroves and beetles portray climate and ecosystems as having fixed boundaries, like state borders. It is more accurate to see them as battle zones. Sometimes one side advances, sometimes the other. Over long periods, ground may be permanently gained or lost. But even a span of 15 or 25 years is not proof that something is different. It took more than 300 years, after all, for Old Man Winter to expel the orange groves from the fields near St. Augustine.