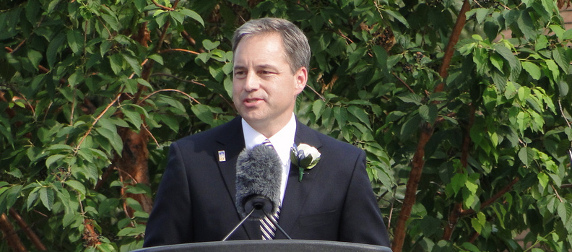 Alaska Gov. Sean Parnell in 2009. Photo by Flickr user FairbanksMike
Three decades ago, Alaska's North Slope offered the prospect of a competitive new domestic energy supply. Today, America's energy industry is booming, but Alaska has largely been left behind.
Alaska's economy is tied heavily to the energy industry, and has been since the North Slope oil was discovered in the 1970s. Ironically, however, the U.S. energy boom in recent years has actually hurt the state, as hotter and more accessible oil fields elsewhere take precedence. North Dakota has surpassed Alaska to take the number two oil producer slot in the country, behind only Texas. Because of the North Slope's decreasing output, California surpassed Alaska too, leaving the state in fourth place.
Overall, Alaska's oil production has dropped nearly 75 percent from its peak, The Wall Street Journal recently reported. The oil industry in Alaska has rotted for decades from the inside out. That change has had profound effects on the state's economy, from gross domestic product to unemployment. It's little wonder that the industry is on Alaskans' minds these days.
Gov. Sean Parnell, Sarah Palin's successor, managed to nudge Alaska's struggling oil industry back in the right direction. Working with state lawmakers, Parnell cut oil taxes last year in an effort to try to keep the industry vibrant. Oil companies responded positively, announcing plans to increase exploratory drilling in the state as a result of the improved economic climate.
Parnell also announced plans to spend significant state money to further construction of a natural gas pipeline and export terminal, in an effort to keep Alaska's energy industry relevant in the face of declining oil output.
These steps will not yield their full hoped-for effect right away, of course. Finding new fields, drilling new wells and bringing them onstream takes time, and the momentum in places like North Dakota will make Alaska's energy comeback an uphill battle. It's not just output that is falling; oil prices are falling too. Still, Parnell and his supporters have clearly put effort into undergirding the faltering cornerstone of Alaska's economy.
But Democrats, and a surprising slice of Republicans, including former Gov. Palin, opposed these moves. Parnell's opponents, who evidently think oil is a 3-letter word for easy money, construed the cuts as a giveaway to the oil industry with no guarantee of a return for taxpayers.
It is worth noting that even with the cuts, Alaska's tax rates on the oil industry are still high by national standards. Barry Rabe, a professor of public policy at the University of Michigan, told The Christian Science Monitor that "Rates [there] are far higher than any other state has ever tried." He characterized the state's relationship to oil development as more akin to that of a foreign country than other U.S. states.
Parnell's new oil industry tax system came under fire directly in a ballot referendum, Ballot Measure 1. Given the outsized shadow the oil industry casts over both the private and public sectors in Alaska, both sides of the conflict were unsurprisingly vociferous in making their opinions known. It was the most expensive race over a ballot measure in Alaska's history.
The referendum came to a vote on August 19, but the result was not announced until midway through the following week, because it was too close to call until then. Alaskan voters wisely, if narrowly, decided that it is better to have an oil industry paying something than a big tax on an industry that has lots of other reasons to look elsewhere. Taxes so large they push the industry away faster would only achieve one thing: driving Alaska's oil industry further into the ground.
It was a close call, but Alaskans who want their state to remain one of the country's leading energy producers managed to dodge a bullet.