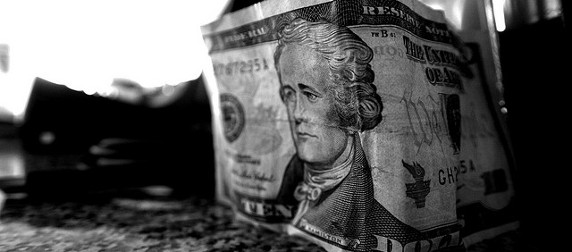 photo by Flickr user Michael
Alexander Hamilton is a classic American story.
An immigrant from an underprivileged background, Hamilton rose to the highest ranks of leadership and played an instrumental role in making the country what it is today. He served as George Washington's secretary and aide-de-camp during the Revolution, and later served as the country's first Secretary of the Treasury. He was a member of the Continental Congress and wrote 51 of the 85 "Federalist Papers" that promoted the ratification of the newly drafted U.S. Constitution. And he accomplished all of this before dying as a result of a duel with Aaron Burr, almost exactly six months before he would have turned 50.
Despite this, Hamilton's influence on early American history is generally underappreciated, notwithstanding the hit musical that had a sold-out off-Broadway run and is preparing to open on Broadway this summer, or the comprehensive biography by Ron Chernow that inspired it.
For evidence that Hamilton still lacks the appreciation he merits, look to yesterday's announcement that this Founding Father is being demoted from his place on the $10 bill. The Treasury Department announced that Hamilton will be replaced by a woman, though which woman has yet to be determined. (The only limitation is that the woman chosen not be a living person. Sorry, Mrs. Clinton. This is one "first" you will not achieve.)
Hamilton will remain on the bill in some form, it has been noted, though in what capacity remains to be seen. Treasury Secretary Jack Lew said the existing Hamilton bills will remain in circulation until they wear out.
Adding a woman's face to American currency is not a new idea, but it has recently gained traction as we approach the 100th anniversary of women's suffrage in America. A group called Women On 20s held a much-discussed vote on their website to settle on a nominee; the group then presented a petition to the White House encouraging the president to instruct the Treasury to instate winning candidate Harriet Tubman. But as the group's name suggests, they weren't pushing for Tubman to replace Hamilton on the $10 bill, but rather Andrew Jackson on the 20.
Adding women to our currency is a worthwhile goal, whether Tubman or another woman is eventually selected. But why replace Hamilton instead of Jackson?
When addressing this question, Lew explained that it is simply a matter of management to introduce the new $10 bill before the 20. He cited security concerns and mentioned that the plan to redesign the bills predated his tenure in office. But this sidesteps the question of why Hamilton ought to be replaced on the bill at all; why not announce that, while the $10 bill will be the first unveiled, it will be Jackson who ultimately gets the boot when the Treasury turns its attention to the next bill in line?
Jackson, unlike Hamilton, certainly merits removal. Notwithstanding his accomplishments as president, he is largely remembered today for his brutality toward Native Americans and his defense of slave ownership, a practice in which he engaged personally. It makes perfect sense that those pushing for a change would single him out as the logical choice to remove. And I am not alone in observing that he should go while Hamilton should stay: Dennis Berman of The Wall Street Journal made the same point seriously; Alexandra Petri of The Washington Post had a tongue-in-cheek take; and Dave Weigel of Bloomberg took to Twitter in outrage.
While there are certainly those who will fight to keep Jackson on the $20 bill, their arguments are shakier than those of Hamilton's supporters. Regardless of who is in power in the next presidential administration, it seems likely that Jackson will be replaced on the currency when his turn comes. So why the rush to replace Hamilton, rather than just committing to removing Jackson in due course?
Lew has not really answered the question, but deferred it. And unfortunately, given this administration's history, one can't help but suspect a political motivation. The announcement may well be a result of Democrats' desire to show their appreciation of women in the run-up to next year's election, when the female vote will be critical as the party tries to hold on to the White House.
Hamilton, meanwhile, is a mixed bag as a symbol for Democrats. While the party says it favors immigrant rights, when push comes to shove Democrats are in no hurry to open wide the gates of American prosperity to foreigners. Just ask any Mexican truck driver. While the GOP may make it easy for the Democrats to seem pro-immigrant by comparison, it's currently a woefully low bar to clear.
Hamilton is also a symbol of fiscal rectitude, which is a principle Democrats honor mainly in their rejection of it. A large part of Hamilton's support for the Constitution rested on the necessity of establishing a stable national business climate; he devised the country's first budget system and its first central bank. (Jackson, perhaps ironically considering the topic of this post, was vehemently opposed to a central bank and to paper money replacing silver and gold coins.) The Democrats are happy to acknowledge Hamilton as worthy of respect - just, perhaps, tucked safely away in a smaller corner of a bill devoted to someone they can celebrate without shining unflattering light on their own policies.
Maybe the move to oust Hamilton is political. Maybe it is just carelessly timed. But it gives short shrift to a man who played a critical role in launching our republic. It will also diminish the symbolism of Jackson's eventual removal from our currency. He, not Hamilton, deserves to be the first to go.