Photo of Christiansborg Palace by Flickr user fredo
Copenhagen's Christiansborg Palace is more than a tourist attraction. It is a working seat of government, housing Denmark's legislature, its Supreme Court and the executive offices of its prime minister.
King Christian IX's room. Photo by Larry Elkin.
My business on a recent visit was decidedly unofficial, however. Like many other travelers, my wife and I visited the palace to admire the ornate Royal Reception Rooms where Queen Margrethe II and other Danish leaders receive new ambassadors and entertain dignitaries. We entered the royal suite by ascending the grand King's Staircase, after spending a fair amount of time – and Danish kroner – at the palace gift shop.
Just past the Queen's library (where I noticed quite a few volumes concerned with the lineage of Danish royalty and other European dynasties) is the smaller Queen's Staircase, roped off to keep the tourists out. At the top of those stairs I saw a locked, glassed-in doorway leading to the prime minister's office suite. Everything seemed quiet on that dark Saturday morning, but I wondered whether any important matters of state were being considered inside.
A couple of days later I learned that the answer was probably yes.

The view from atop the King's Staircase. Photo by Larry Elkin.
Just after I returned home to Florida last week, Prime Minister Lars Lokke Rasmussen announced that Danish authorities had broken up an Iranian assassination plot, arresting a Norwegian citizen of Iranian descent. The suspect allegedly planned to murder the leader of the Danish branch of the Arab Struggle Movement for the Liberation of Ahvaz, a group that advocates a separate state for ethnic Arabs to be carved out of Iran. Both the arrested man and the Iranian government denied the charge, but it is one the Danes – who to that point had maintained cordial relations with Tehran – were unlikely to make lightly. The allegation also follows a string of other Iranian plots against exiled opponents of the military-theocratic complex led by Ayatollah Ali Khamenei.
Denmark recalled its ambassador from Tehran and promised a stern response in coordination with its European Union partners. Given the widespread European calls for sanctions following the murder of journalist Jamal Khashoggi inside the Saudi Arabian consulate in Istanbul, it was hard to see how the Danes could promise anything less in reaction to Iran's recidivist violence.
The Europeans snapped into action in their usual fashion: They met to discuss the matter. Then they agreed to meet again, on Nov. 19, to talk some more. Eventually they may even do something, probably along the lines of identifying some Iranian individuals to scapegoat by sanctioning their businesses or denying them visas to visit tourist sites like the Royal Reception Rooms. The chance of such responses actually influencing Iranian government behavior is approximately zero.
The Europeans are trying not to offend Iran into walking away from the 2015 nuclear deal that the United States has already disavowed. Why the slavish devotion to a deal that made little sense when America was part of it, and makes none now? I expect the commitment grows out of a combination of commercial self-interest, prideful refusal to accede to American leadership under President Donald Trump, hidden sympathy with Iran's regional ambitions and anti-Israel agenda, and a desire to fly below the Iranian radar so the Tehran regime directs its hostility elsewhere.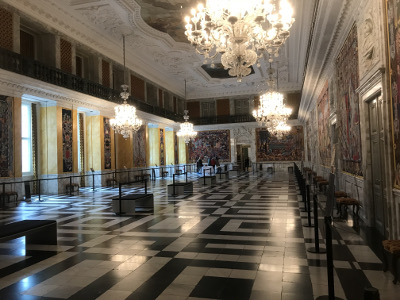 The Great Hall, Christiansborg Palace. Photo by Larry Elkin.
You might have guessed by now that I find European government buildings like Christiansborg Palace quite impressive but European governments, by and large, much less so.
The spectacle brings to mind the stories I have heard at these tourist sites about the long-ago palace intrigues. But the accommodating response to Iran's four-decade history of outrageous behavior reminds me even more of what happened at Berchtesgaden in 1938 and in the years that followed. Appeasing a megalomaniacal regime did not work in Neville Chamberlain's time, and it is not likely to work in ours either.
Less than two years after the British prime minister returned from his meeting with Adolf Hitler, Germany conquered Denmark in a single morning. The future Queen Margrethe II was born one week later. She, along with her country, spent the first five years of her life under Nazi occupation. You'd think European governments might remember the lessons of that era better than they apparently do.
But if you make today's foreign policy decisions in extravagant palaces that evoke the grandeur of the past, maybe you tend to forget the uglier parts of history. At least until you find it happening to you and your country again.