Five Questions With: Ashley Luhmann, Financial Planning Manager
Ashley joined the Palisades Hudson staff as an associate in 2017 and has been a financial planning manager since 2021. While she provides a variety of administrative support across the firm, Ashley's main focus is the firm's Entertainment and Sports practice. She currently resides in the greater Denver area with her husband and their two children.
1. What's the most interesting thing you've read recently?
I've fallen in love with the "Outlander" series. I started watching the TV show and became obsessed, so naturally I decided I needed to read all the books. I got them as a gift for my birthday in 2021 and am currently on book eight of nine. I'm a huge fan of all historical fiction, so this series was right up my alley. It's been quite the commitment, as all of the books are more than 1,000 pages, but now I don't really know what I'm going to do when I finish number nine. If anyone has any suggestions, I'm always open!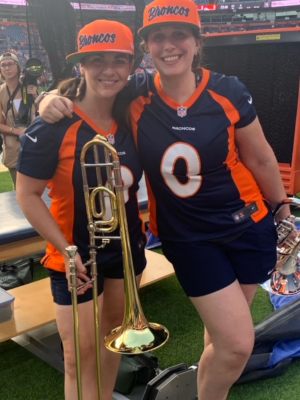 Ashley Luhmann (left) with the Broncos Stampede.
Photo courtesy Ashley Luhmann.
2. If you're a sports fan, what team(s) have your loyalty?
DB4L! I've always been a Denver Broncos fan, in spite of how tough the past few years have been. Some of my first memories include sitting on my grandma's couch watching Broncos games (and learning colorful language). She was totally certain that one day, John Elway would knock on her door and carry her off into the sunset. I have also played trombone for the Broncos Stampede, which is the team's hornline/drumline, for almost 10 years.
3. If you have a pet, what kind? What is their name and how long have you had them?
We have two dogs. Lola is an 11-year-old Australian cattle dog/Australian shepherd mix, and Jaxon is a 10-year-old border collie/Aussie mix. I rescued them both as puppies before meeting my husband. They are such a staple in our family and have been wonderful with the kids since day one. I am 100% an animal lover and don't see a day where I won't have a fur baby adding love (and chaos) to my life.
4. Did you pick up any hobbies during pandemic lockdown, and if so, are you still doing them?
I started learning French through Duolingo and currently am on a greater than two-year streak of learning daily. The "Outlander" obsession is actually what sparked it: There's a season where the characters reside in France and speak a lot of French, and I fell in love with the language. I grew up learning Spanish, then picked up some Italian, but have been committed to French for the last couple years. My husband and I actually got tickets to the Olympics in Paris next year, so I will be able to put my French to the test!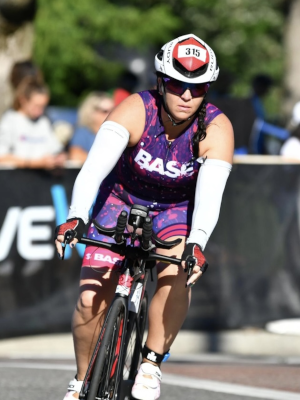 Photo courtesy Ashley Luhmann.
5. What's an achievement you feel especially proud of?
When I was in my 20s, it was a huge goal of mine to finish a full-distance triathlon (a 2.4 mile swim, 112 mile bike and 26.2 mile run). After having two babies in two years, I figured, "What better way to get back in shape than to commit to signing up for a race?" Our son was born in September 2017; I did my first half-distance race in 2018 and my first full-distance in 2019. I also completed Coeur d'Alene Ironman in 2021 and plan to go back this year in June. I am definitely not the fastest athlete on the course — I like to think of it as getting my money's worth — but I enjoy the challenge and love setting the example for my kids that truly anything is possible.