Five Questions With: Jeffrey J. Howard, Director Of Technology
Jeff has been part of Palisades Hudson since 2004, serving as the firm's administrative manager for infrastructure and technology starting in 2012 and joining the executive team as the firm's first director of technology in 2023. He oversees projects ranging from assembling backup server complexes, to vetting and selecting hardware for our staff, to supervising the creation and design of the firm's websites, and more. Jeff has worked in three of the firm's offices during his tenure, but he is currently based out of Palisades Hudson's Fort Lauderdale, Florida headquarters.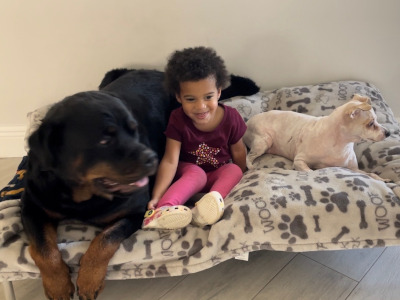 photo courtesy Jeffrey Howard
1. If you have a pet, what kind? What is their name and how long have you had them?
I'm assuming we are not counting the local wildlife here in Palm Beach County, Florida — alligators, snakes, coyotes, and bobcats, haha. I have two male dogs, Apollo (a 4-year-old rottweiler) and Nikko, our old man (12 years old, a mix with Chihuahua and Jack Russell terrier traits … who thinks he's the rottweiler). They are both very loving dogs, and they also are my daughters' bodyguards.
2. Do you have a talent totally unrelated to your work?
I started playing drums at my church in New York when I was about 7 years old. I eventually became one of their main drummers before I relocated to Atlanta in 2011. It was also through my involvement with my church that I learned about studio engineering and sound system installation. It's been awhile since I've sat behind the drums, but I plan to pass the music bug to my daughters; maybe we can even start our own little band.
3. If you're a sports fan, what team has your loyalty?
Wade County all day! I've been a Miami Heat fan since the arrival of Dwyane Wade (aka Flash). We've had a lot of good years: three championships, to be exact. I'm looking forward to many more championships.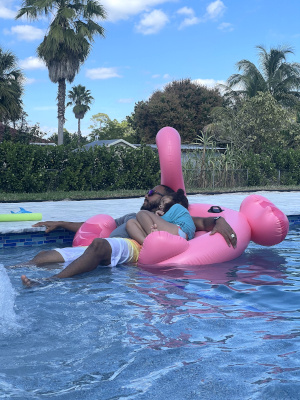 Photo courtesy Jeffrey Howard
4. What's one place in your city you'd suggest to an out-of-town visitor?
I'd suggest Lion Country Safari for any family (with kids or no kids) who wants to take a drive through the safari park, or just wants to walk around the zoo. There are also a few water attractions to keep you cool in our lovely South Florida weather. And if the zoo isn't your thing, take a drive to the beach and enjoy!
5. What's a typical weekend day look like for you?
Well, with a 2-year-old and a 7-year-old, there are no typical days at the Howard residence. But these days our Saturdays are dedicated to Norah's soccer games, followed by a cooldown in our pool.