Celebrities are holding benefit concerts. Cell phone companies will direct contributions via text message. Anytime, anywhere, you can donate to help the relief effort in Haiti.
But where should you send your money? How do you determine which organization will use your donation most effectively?
The importance of choosing a charity wisely was highlighted recently by the controversy surrounding the musician Wyclef Jean's charitable fund, the Yele Haiti Foundation. By Jan. 14, two days after the earthquake, the organization had raised $1 million for victims from its text message-based campaign. But, according to the investigative Web site The Smoking Gun, which posted documents released by the Internal Revenue Service, the foundation has paid at least $410,000 to Jean and his business partner for rent, production services and Jean's appearance at a benefit concert. Jean denied the claims, stating that he has never received any personal benefits from Yele.
In the current crisis, we recommend giving to the Haitian Health Foundation — a small, local organization — or Partners In Health, which has become a key player in the relief effort. Both have operated in Haiti for many years and have facilities there, making them well-equipped to act quickly and efficiently in distributing immediate aid and also enabling them to meet the long-term needs of those affected by the earthquake.
In response to the earthquake, President Obama signed legislation allowing taxpayers to deduct cash donations made specifically for Haiti relief between Jan. 11, 2010, and March 1, 2010, on their 2009 tax returns. As always, to claim the benefit, taxpayers must itemize their deductions on Form 1040, Schedule A.
Haitian Health Foundation
The Haitian Health Foundation is a small nonprofit that operates exclusively in the city of Jeremie, Haiti, and in the surrounding mountain villages. A Connecticut orthodontist, Dr. Jeremiah J. Lowney, founded it in 1985, and it focuses on providing free health care and education.
The organization runs the Klinik Pep Bondye-a, a 27,000-square-foot outpatient clinic that typically serves 350 to 400 patients per day and features the only X-ray and sonogram equipment in the area. The foundation also directs a variety of other projects that aim to meet the community's basic needs.
In recent years, many residents of Jeremie, like those from other rural areas of Haiti, moved to the capital, Port-au-Prince, in search of economic opportunities. Since the earthquake devastated Port-au-Prince, former residents have been returning to their childhood homes. The Haitian Health Foundation estimated that about 2,000 people arrived on Jan. 17, the first day that refugees reached Jeremie.
As refugees arrive, the Haitian Health Foundation is providing food, water and basic medical assistance, partnering with larger organizations, including AmeriCares, Cross International and the Red Cross to get necessary supplies to the region. Volunteers have also helped transport the most seriously injured patients to the nearest hospital.
The Haitian Health Foundation is a highly efficient organization with low overhead costs. It relies heavily on volunteers and received an estimated $616,739 worth of volunteer assistance in the fiscal year ending July 2008, just slightly less than it spent on wages and salaries for paid employees. A large percentage of funds go directly to supplies for program services, which accounted for nearly half of all the organization's spending in fiscal 2008, according to tax filings.
To donate, please visit www.haitianhealthfoundation.org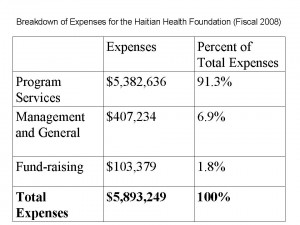 Partners In Health
Partners In Health, which operates in several countries, focuses on improving public health in impoverished areas by treating infectious diseases and improving access to basic necessities. It uses a distinctive community-based model, training and hiring local residents to provide in-home care to the sick.
Partners In Health has worked in Haiti since 1985 and operates the Zanmi Lasante Sociomedical Complex in the village of Cange, about 35 miles from Port-au-Prince. The center, which began as a small clinic, now has 104 beds, two operating rooms, an infectious disease center and other facilities. In addition to the main facility in Cange, Zanmi Lasante has medical centers at eight other sites in Haiti and is one of the country's largest nongovernmental health care providers. Zanmi Lasante has been a leader in the fight against HIV/AIDS in Haiti, prompting The New York Times to state in 2003, "No program to treat people in the poorest countries has more intrigued experts than the one started in Haiti by Partners In Health."
Like the Haitian Health Foundation, Partners In Health has faced a huge surge in demand for its services as those who left Cange years ago for Port-au-Prince return. The modern facilities at Zanmi Lasante have allowed Partners In Health to treat the most severely injured patients. In a four-day period immediately following the earthquake, surgeons at the hospital performed approximately 90 operations, including amputations. At the nonprofit's U.S. headquarters, employees and volunteers are working to coordinate the movement of medical supplies and personnel into the country. Partners In Health has taken on a central role in the relief effort, raising more than $25 million in just the first week, according to The Boston Globe.
In the long term, Partners In Health plans to be a major part of rebuilding Haiti's medical infrastructure. Ophelia Dahl, the executive director, anticipated that the consequences of the earthquake will be long lasting. "We know from experience that the short-term crisis very quickly turns to one of how you address the infections that people will get later," she said.
Partners In Health meets our definition of an efficient, effective and innovative charity.
To donate, please visit www.standwithhaiti.org/haiti