When it comes to health insurance for your pet, the decision to buy depends on what kind of pet owner you are: economical or emotional.
If you're strictly economical, the evidence says pet health insurance probably isn't the choice for you. A report published by Consumer Reports in its August 2011 issue compared nine policies from four different brands (ASPCA Pet Health Insurance, 24PetWatch Quick Care, VPI, and Trupanion) using the veterinarian bills for a "basically healthy" dog over her ten-year lifespan.
For common problems, Consumer Reports found that the costs of health insurance outweighed its benefits under all nine policies. For common and major problems, such as chronic arthritis, incontinence as a result of spaying, hypothyroidism, the removal of a benign tumor, and euthanasia, the benefits of health insurance only slightly exceeded its costs - and only under five of the nine policies.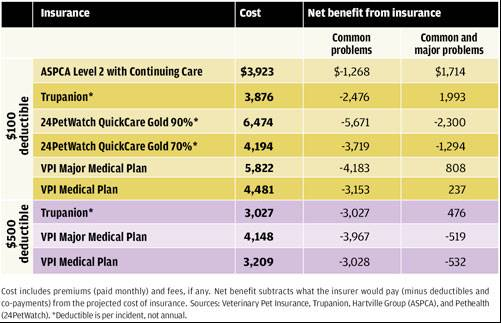 From Consumer Reports, August 2011 Issue © 2011 Consumer Reports. All Rights Reserved. Used by permission and protected by the Copyright Laws of the United States. The printing, copying, redistribution, or retransmission of this Content without express written permission is prohibited.
Similar payout, or "net benefit," scenarios emerged for cats. For common problems, the costs of health insurance again outweighed its benefits under all nine policies. However, for common and major problems in cats, such as heart problems and cancer, the benefits of health insurance only just exceeded its costs under all nine policies.
Even so, these calculations ignore the probability of such major problems occurring, having been prepared ex-post rather than ex-ante. It is thus likely that pet health insurance isn't economically practical, even in such extreme circumstances.
That isn't to say you should never buy pet health insurance. If you're a strictly emotional pet owner, pet health insurance could provide you some peace of mind, especially if you know you would do anything for your pet in a medical emergency but can't afford to cover thousands of dollars of treatments.
Just because you fall on the emotional end of the spectrum doesn't mean you need to throw economics entirely by the wayside. If you decide to buy pet health insurance, it's important to shop around, as policies widely vary across and within providers. You will want to compare:
Monthly and annual premiums
Deductibles
Co-pays
Caps
Coverage provisions (i.e. prescription drug coverage) and exclusions
Avoid policies with high premiums, high deductibles, high co-pays, and low caps. You should also avoid plans that fail to cover extreme conditions that might necessitate costly care (such as cancer) or chronic conditions that require recurring, and thus costly, care. Finally, don't pay extra for routine wellness care coverage, as it's "not worth the cost" according to Consumer Reports.
Keep in mind that no plan will cover pre-existing conditions, nor do most policies cover congenital or hereditary conditions (though Trupanion covers both, subject to certain limitations). It's also important to remember that as your pet ages, premiums increase while coverage declines under most plans.
Other factors you should consider when buying pet health insurance include:
The requirement of a physical exam to receive coverage, if any
The duration of the waiting period before coverage begins, if any
Coverage when traveling with your pet, if any
Limitations on vets and animal hospitals
The availability of discounts for insuring multiple pets
Before settling on a plan, be sure to compare its allowances to your vet's fees. If the allowances are dwarfed by the fees, it's best to move on to other policy options.
Also, be sure to diligently read whatever plan you ultimately choose. As Consumer Reports editor Tobie Stanger warns, "Look very carefully at the fine print so that you're not surprised when you file a claim and find that it's denied."
For those who can't get past the negative net economic benefit of pet health insurance, it is still possible to hedge against veterinarian bills by incorporating pet health costs into your regular and emergency budgets. To do so, you can deposit the money that you would have spent on health insurance premiums in a basic savings account instead.
Regardless of whether you choose to insure your pet, there are ways to reduce veterinarian bills while still protecting your pup. For instance, Liz Weston of MSN Money advises pet owners to use low-cost clinics for shots, get second opinions on recommended treatments before taking action, ask for free starter packets of prescribed medications, and shop around to find the best price for those medications after using the samples.
She also recommends that pet owners take these steps to avoid preventable accidents and medical conditions:
Purchase higher-quality pet food, which "can pay off in fewer health problems, particularly with cats, which can be more susceptible to urinary tract infections if fed inexpensive cat food."
Maintain your pet's weight to avoid obesity-induced health problems.
Keep your pet indoors or on a leash to limit avoidable accidents and environmentally-borne illnesses.
In doing so, you should be able to see Spot run for a very, very long time.