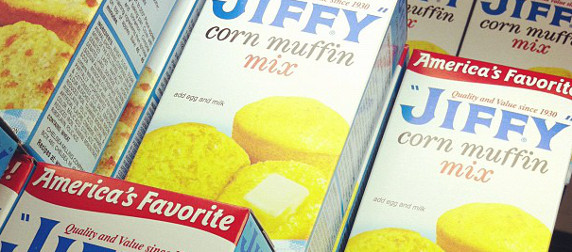 photo by Steven Depolo
On a visit to my cousins' winter escape in Sanibel, Florida, I noticed a box of Jiffy cornbread mix in an open cupboard.
The box immediately brought back memories of many past Thanksgivings; in my family, as in many families, Jiffy's product was an annual staple. When I mentioned this to my cousin, he replied that his family loves Jiffy year-round.
He also happened to mention that Chelsea Milling Company, a local company based near their home in Michigan that makes Jiffy, was unusual in that it spent nothing - as in $0 - on advertising, and it offered very high hourly pay rates for manufacturing workers.
As our firm's head of marketing and human resources, Chelsea Milling's unique approach captured my attention. And I am not the only one. The maker of Jiffy mixes continues to enjoy success while following its own unconventional business model.
Last summer, the company announced plans for new construction and overhaul of existing facilities, a nearly $35 million project that is set to significantly increase production capacity. CEO Howard "Howdy" Holmes, who is the grandson of Jiffy mix's original creator, Mabel White Holmes, has expressed his commitment to keeping the company family owned and operated, despite making changes such as bringing nonfamily members onto the company's board in the 1990s.
Jiffy mix has a huge share of the muffin mix market in the U.S. The blue and white package that caught my eye, which is made in-house, remains classically recognizable - some would even say "retro" - and Chelsea Milling relies on longevity and a quality product to keep its sales strong. The other advantage? By foregoing advertising and flashy packaging, Chelsea Milling can offer a quality product at a competitive price, reportedly 30 to 52 percent off the selling price of its competitors.
One place Chelsea Milling doesn't cut its costs: its employees. While Holmes has said managers will ramp up efficiency by incorporating more technology, he emphasized that they would not be displacing current workers, but rather filling gaps left by retirees and shifting to hire skilled workers trained in new equipment. But Chelsea Milling's leadership is concerned with more than just the number of employees; they have been vocal advocates for cultivating employee satisfaction, too. "If you can establish customer service or happy employees, or both, you'll stick out like a sore thumb," Holmes said in an interview in 2011. He has said that showing respect to employees at all levels is key to his company's success.
While change can be welcome, Holmes has also been vocal about his determination not to mess with a successful business model without good reason. "If it works, leave it alone," he told Fox Business. On the other hand, he is quick to point out that embracing useful change and encouraging workers to go beyond their comfort zones is key to keeping an enterprise moving forward.
Jiffy's unique business mix won't work for everyone. A brand-new startup is unlikely to get much brand recognition without any advertising at all, and employee expectations will vary between industries. But marketing and human resource professionals would do well to consider its success story. The enduring popularity of Jiffy mix and Chelsea Milling's other products suggest that conventional wisdom is not always the only, or even the best, way to proceed.
Chelsea Milling's commitment to its employees and its customers is unusual, yet familiar. Palisades Hudson's commitment to taking compensation exclusively from our clients and to complete transparency in our service stems from a belief that our clients are due our complete loyalty. Putting a supreme value on the well-being of clients (or customers, in Chelsea Milling's case) is the right thing to do, and that also makes it smart business.
My colleagues and I have written before about our recruitment process, which is unusually thorough in order to find people who are not only talented, but who are a good fit for our firm's culture and mission. Once we find the right people, we want to create a place where they feel they can grow and thrive professionally, and that means making sure we treat them well. That includes compensation, of course, but it also includes giving them new opportunities to expand their skills and a direct hand in determining their own professional development.
Jiffy mixes have occupied American shelves and family dinner tables for over 100 years. Other enterprises that hope to earn the same level of trust and longevity would do well to consider that it is people, on both sides of a transaction, who are the real key to long-term success. As Holmes observed, "we just said, 'be nice to people.'" Jiffy has proven how far this deceptively simple principle can go.