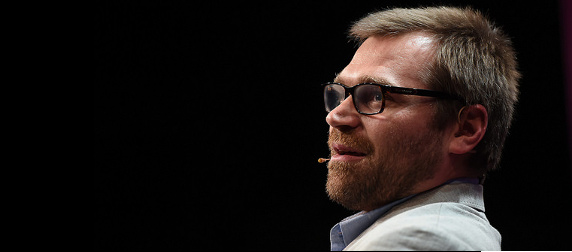 DraftKings co-founder Matt Kalish. Photo courtesy Web Summit.
Last Tuesday, I checked the messages on my phone and saw a push notification from the fantasy sports company DraftKings. Not so unusual.
Less usual: DraftKings was asking me to contact New York's attorney general, Eric Schneiderman.
DraftKings, and its competitor FanDuel, were rocked by Schneiderman's declaration that daily fantasy sports constitutes illegal gambling under New York state law. According to the cease-and-desist letter the attorney general's office sent to DraftKings, "a person engages in gambling when he stakes or risks something of value upon the outcome of a contest of chance or a future contingent event not under his control or influence."
Schneiderman's argument tries to draw a distinction between traditional fantasy sports, which have been popular since the 1980s, and daily fantasy sports, which are a more recent phenomenon. Companies like DraftKings offer contests that run over a much shorter time than traditional fantasy leagues, typically one day or a weekend rather than a season-long commitment. And DraftKings and FanDuel allow players to risk and win real money in most states, largely due to a provision - critics have said a "loophole" - in a 2006 law.
That law, the Unlawful Internet Gambling Enforcement Act (UIGEA), established fantasy sports as games of skill, not games of chance. The law was designed to provide a check on online gambling, but left fantasy sports alone for the most part. Neither DraftKings nor FanDuel existed in 2006, but they and other daily fantasy sports sites founded their business models on the understanding that UIGEA gave them legal grounds to operate.
New York is not the first state to disagree. Arizona, Iowa, Louisiana, Montana and Washington state all prohibit fantasy sports for money, and several other states regulate or restrict some forms of daily fantasy play. But losing the New York customer base would be a huge setback to these companies. FanDuel is headquartered in New York City; DraftKings recently opened a satellite office in Manhattan. While the cease-and-desist letter does not order the companies to shut down operations altogether, they have been ordered to stop taking money from customers in the state. Both companies report hundreds of thousands of New York-based players, which would make this a serious financial blow. And given the high profile of Schneiderman's decision, the risk more states may decide to follow suit is real.
The daily fantasy sports companies are now contesting the attorney general's decision in court, alleging that Schneiderman's actions were an abuse of his power. In addition to asking players like me to call or email Schneiderman's office, DraftKings and FanDuel have also both hired former New York prosecutors for advice, Reuters reported. "We will pursue this fight to the fullest to ensure that New York fantasy sports fans do not need to stop playing," DraftKings said in a statement.
In the coverage of the story, much of the debate has centered on the question: Are daily fantasy sports gambling or not?
On the one hand, you gain or lose money on events that are to some degree out of your direct control, which is the attorney general's main argument. That said, in many ways, such play is not all that different from picking individual stocks. Much like stock picking, the casual hobbyist has some major disadvantages against "sharks" who use custom predictive models and data analysis. But even for casual players, winning consistently does take skill. Skill is so intrinsic to the activity, in fact, that some analysts have wondered whether the best players will wipe out the more casual ones too fast for the pastime to sustain its popularity. If daily fantasy sports is gambling, it is much closer to poker than to roulette.
Or to the lottery, for that matter. While the attorney general's office said that daily fantasy sports "appears to be creating the same public health and economic problems associated with gambling," the state's concern for New Yorkers with gambling problems does not extend to shutting down the New York Lottery. And while Gov. Andrew Cuomo's dream of a new New York City convention center has evaporated, the new casinos meant to fund it are still in the works upstate. Gambling addiction is real, and it can cause real havoc for an unlucky few. But it seems New York is mainly concerned about New Yorkers struggling with pathological gambling only when those New Yorkers are losing their money to private companies.
The argument can be made that daily fantasy sports is gambling, though the issue does not seem as clear-cut to me as it evidently does to the attorney general. But even if you do define it that way, it is short-sighted to aggressively shut down these sites outright rather than letting the legislature do what it's supposed to do: legislate. Nearly a dozen states are considering some form of regulation for daily fantasy sports; Nevada recently ordered the companies to secure gaming licenses. New York could follow suit, but the headlines would not be as catchy.
DraftKings and FanDuel have followed the rules as they exist today. If those rules are out-of-date or incomplete, states need to change them before crying foul, not after.