David Wright during spring training, 2010. Photo by Flickr user slgckgc
Saying goodbye is hard, but the chance to do so is a privilege. As a lifelong New York Mets fan, I am sorry to see David Wright go, but grateful to see him play one last time.
On Sept. 29, Wright will take the field with the Mets for the team's penultimate home game of the season. He has confirmed that 2018 will be his final year of play, due to health concerns; he was diagnosed with spinal stenosis in 2015, and his 2016 season ended early due to a herniated disc and the need for neck surgery. It has been more than two years since Wright played for the Mets, though he was on limited duty with the team's minor league affiliates this season.
This last game is a bittersweet end to the notable career of a lifelong Met. At 35, Wright is a seven-time All-Star, a record for the franchise. He also holds franchise records in hits, runs batted in and extra-base hits. In 2015 Wright hit the first World Series home run in Citi Field. He hit a grand slam against Italy in the 2013 World Baseball Classic that earned him the nickname "Captain America."
Like ex-New York Yankee Don Mattingly, Wright demonstrated all the marks of a potential Hall of Fame career before injury changed the course of his story. In an emotional press conference on Sept. 13, he confirmed that Saturday night's game will likely be his last. Wright said, "To my teammates, coaches and staff, it's certainly been the honor of a lifetime to take the field with you and serve as your captain." He also thanked his fans, sports reporters and his family.
Similar to the fictional Captain America, Wright is not only known for his physical aptitude, but for his caring demeanor. Forbes contributor Barry M. Bloom described him as "Funny, sarcastic, articulate, a standup guy win or lose." Many other such tributes have appeared in sports media and on fans' social media pages. Dustin Pedroia of the Boston Red Sox presented Wright with the panel with number five – Wright's number – from the Fenway Park scoreboard as a goodbye gift from the team. While it has not been confirmed, it seems likely that the Mets will retire Wright's number; if they do, he'll be the fifth Met to earn that honor in the team's history.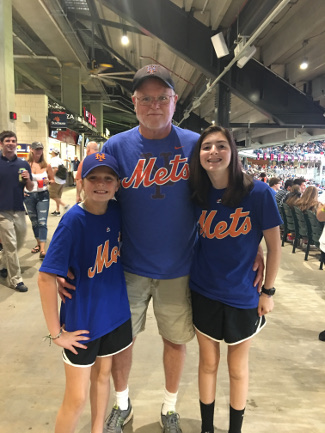 From left to right, the author's daughter (Mac Pavese), father (Harry Urff)
and niece (Bella Ayala). Photo courtesy Rebecca Pavese.
I've been a Mets fan since childhood. I remember watching the 1986 season with my father, also a Mets devotee. He and I attended the first game after 9/11 in person, 17 years ago. We also went to the game when the Mets won the National League Championship in 2000, and headed directly from the stadium to the hospital, where my niece was born a few hours later.
Now I have passed our family's loyalty to a third generation. My younger daughter, Mac, is the most loyal Mets fan around. An athlete herself, since her feet first touched the field, she has consistently chosen five as her jersey number except in one recent instance where it was taken. To this day, an autographed picture of Wright has pride of place in her bedroom, and a "Mets Country" sign on her door ensures no one could miss her allegiance. Friends of my husband's and mine happen to know Wright personally, and through them, Wright kindly took a few minutes to call my daughter and wish her a happy 7th birthday. It was a gesture that meant the world to her, and was totally consistent with the kind of player Wright has been since his 2004 big-league debut.
For a time, it seemed possible Wright wouldn't get to take his final bow. Activating Wright from the disabled roster will have financial consequences for the team. The Mets insured Wright's contract against his long-term injury; in the instance Wright misses 60 days, the Mets recoup 75 percent of his salary until he can play again. Activating Wright for one last game resets the clock, and the Mets will assume the full share of his payment in the meantime. But given Wright's long and prominent history with the team, Mets management evidently decided it was worth the cost to give him a real send-off. Wright still has two years left on his contract, and will remain on the roster, designated medically unfit to play. But the insurance policy will allow the Mets to recoup a substantial portion of the $27 million they owe him for those two years.
I'm thankful as a Mets fan that it has been arranged that he will have another start. I admire all the work he put in trying to get healthy. He is, and always has been, a professional sports role model I would love my daughter to aspire to be like – on and off the field.