Five Questions With: Larry Elkin, President
Larry founded the firm that would become the Palisades Hudson organization in 1992 in Hastings on Hudson, New York. Today, the firm has offices nationwide but, like Larry, it is headquartered in Fort Lauderdale, Florida. As president of Palisades Hudson, Larry maintains individual professional relationships with many of the firm's clients and also works closely with the firm's Entertainment and Sports team.
1. As a child, what did you want to be when you grew up?
My first pediatrician, Dr. Milstein, talked about putting a soapbox in his waiting room so I could give political speeches when I got my checkups. Later, I gave some thought to playing infield for the New York Yankees (only switching primary allegiance to the Mets as an adult). But I never really had to think about what I wanted to be. In my heart, I was always a journalist, which I later became and remain at my core, even decades after formally leaving the field. I remember pleading with my mother, at age 10, to let me stay up late to watch the 1968 presidential election returns.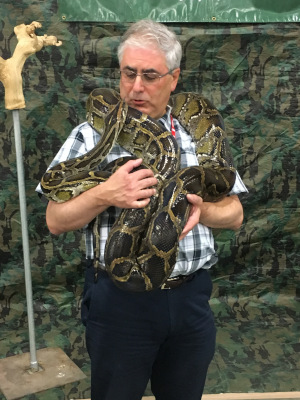 Larry meeting Snape, a python and YouTube star,
at CVX Live in 2017. Photo by Ashley Bell.
2. What's one place in your city you'd suggest to an out-of-town visitor?
I often steer visitors to Shark Valley, the north entrance to Everglades National Park west of Miami. Within a short walk of the visitor center parking lot, you'll find alligators sunning themselves just off the path, and watery sloughs teeming with reptiles, fish and birds. Adventurous souls bring their bikes and pedal a 15-mile paved loop, dodging gators all the way. They (the alligators, not the bikers) all seem to be well-fed and no threat to the paying guests, although nobody should be so foolish as to test that premise. Also, I have seen mama gators tending their nests, and you certainly don't want to invade their space. By the way — and this is serious advice from a Floridian to anyone who visits our beautiful state — keep pets and small children away from lakes, ponds and canals at all times. If you are in Florida and you see fresh water, assume there is a gator in it.

3. What's your favorite thing about your work at Palisades Hudson?
That's easy — the people I work with, and in most cases the people we work for. Nowadays, job-hopping is expected and most business relationships are transient — but not at Palisades Hudson. I work with my wife Linda, who as HR director has recruited most of the staff that joined us straight out of school (or in some cases, while still in school) and stayed for 10, 20 and even 25 years so far. I have literally watched them grow up professionally, and now some of their children who I knew as babies are just about grown-up too. Similarly, we forge close relationships with many of the client families we serve. In some cases we are on our fourth generation. A lot of those clients take great pride as well in seeing how the staff they work with has developed and prospered. I hesitate to use the term "work family" because it is so trite and often misapplied. But I always tell people that our firmwide meetings are like cousins' reunions where everyone happens to like one another. I have been very fortunate to have this group in my work life for the past 30 years, and I don't take a single minute for granted.
4. What's the most interesting thing you've watched recently?
I got a lot of pleasure and, I hope, at least some insight from the Korean TV series "Extraordinary Attorney Woo" on Netflix. The main character is a brilliant young attorney who is on the autism spectrum. She is aware that she is atypical even in the way she presents as atypical, a fact with which she deals compassionately. It is fair to compare this series to "Atypical," another Netflix product whose lead character is on the spectrum. I watched both and liked "Atypical" well enough, not being as put off as some reviewers (autistic and otherwise) were by some superficial representations. But "Extraordinary Attorney Woo" was a deeper and obviously more cross-cultural exploration of an autistic young adult's transition to independence, even as it tackled other societal issues that people on the spectrum confront along with everyone else.
5. What's a piece of advice you've received that mattered to you?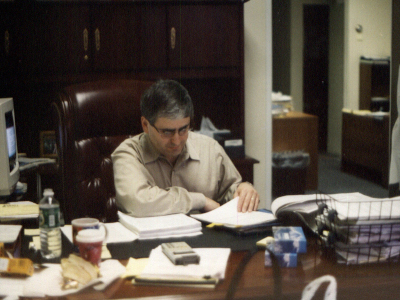 Larry at work in Hastings-on-Hudson, New York, in 2001. Photo by Jessica Elkin.
I got my M.B.A. at night while I covered Manhattan's federal court for The Associated Press in the mid-1980s. I wanted to have career options outside of public relations if I decided to leave journalism. Having covered tax and other government policies, my initial area of concentration was taxation. One day an accounting professor took me aside and asked where I thought I would get a job with an M.B.A. in taxation, but without a law degree or the necessary coursework to become a CPA. I saw his point — I had chosen my concentration out of personal interest without paying enough attention to the ultimate goal. This boils down to "begin with the end in mind," a mantra I have applied many times for myself and in my advice to others. P.S.: I shifted to accounting as my area of concentration, which made me interesting to the big accounting firms' tax departments. I joined Arthur Andersen & Co. and got the great start to my new career that enabled me to launch my own practice in 1992.