If my calculations are correct, Republicans have a decent chance of taking control next year in the House of Representatives, reversing the Democratic landslides of 2006 and 2008.
This is not a lock. As the party out of power, Republicans stand to benefit from this year's strong anti-incumbent mood, as well as from continuing Democratic efforts to pass health care and climate-change legislation that is unpopular in much of the country. The Republicans, however, have weak leadership and their own internal divisions over how hard to press social issues. They also find themselves with a lot more opportunities than they expected to have, and it is not clear that they command the organizational prowess to mount strong campaigns in all of the districts that are suddenly winnable for them.
But recent victories in Virginia and New Jersey gubernatorial races and in last month's special Senate election in Massachusetts show the Republicans have a strong current running in their favor. In a recent CNN poll only one-third of U.S. voters said they thought most members of Congress deserve to be reelected. Only 51 percent thought their own representatives should stay in the House. These figures represent the lowest opinion of incumbents CNN has reported since it began this series of polls in 1991.
Last week I posted my early projections for this year's Senate races. I concluded that the Senate will be closely divided between the parties, with Democrats probably maintaining a small majority — much smaller than their current 59-41 advantage including two allied independents — but with an outside chance the GOP could get the edge. Because Senate rules require more consensus to pass legislation, the question of which party holds committee chairs and other tokens of power is less important than the fact that a more even division will require both sides to reach across the aisle to get anything done.
In the House of Representatives, the majority rules. Power is much more concentrated than in the Senate, with the Speaker (currently California Democrat Nancy Pelosi), the committee chairs and other members of the majority party's leadership holding sway. There is no filibuster and much less need to put together bipartisan coalitions to pass legislation when one side has a big majority. In recent years this has tended to make the House more politically extreme, except to the extent it needs to compromise with the Senate or with the president to get something signed into law.
It is too early to take a close district-by-district look at House races to get a feel for November's likely results. There is too much uncertainty about which incumbents might vacate their seats, and which candidates will emerge from party primaries to challenge them. House districts also are carefully gerrymandered in ways that make them not necessarily representative of their states. This usually protects incumbents, but it can have erratic results when the economy is struggling to emerge from a deep recession and unemployment is at a generational high.
So, for now, I am taking a top-down approach that looks at the general political environment and tries to apply it to the recent voting patterns in each congressional district. This is not a terribly precise approach. In any given district, it is likely to be highly error-prone, because it does not take into account individual candidates' strengths and weaknesses or peculiarly local conditions. But when averaged over the entire country, particularly the 130 or so districts that analysts expect to be competitive, I believe it can generate a reasonable picture of what we can expect. It all depends upon how realistic my assumptions turn out to be.
I expect the Republicans to do their utmost to nationalize every competitive House race. Rather than run against Joe or Jane Democrat, whom local voters typically know and like pretty well, the Republicans will try to turn each race into a referendum on Pelosi, House Financial Services chairman Barney Frank (D-Mass.), and House Ways and Means chairman Charles Rangel (D-N.Y.). Pelosi's fervent backing of the health care legislation and Rangel's checkered history of personal tax compliance even as he heads the key Congressional tax-writing committee will be powerful cudgels with which to beat Democrats.
So I assumed Democrats will win most races in districts where a Democratic incumbent is running and Obama won by a large margin in the 2008 election. I also assumed that districts that strongly supported Obama, but where a current Democratic representative has decided not to seek reelection, will be somewhat less likely to select a Democrat. Because of the Democrats' current weakness, together with the fact that a president's party generally loses seats during midterm elections, I assumed that any district that supported Sen. John McCain for president or that currently has a Republican representative will elect a Republican.
If my assumptions are accurate, Democrats will win 35 of the 130 competitive races, while Republicans will win 95. Forty-seven seats currently in Democratic hands will switch to red. This would be more than enough to tip the balance of power.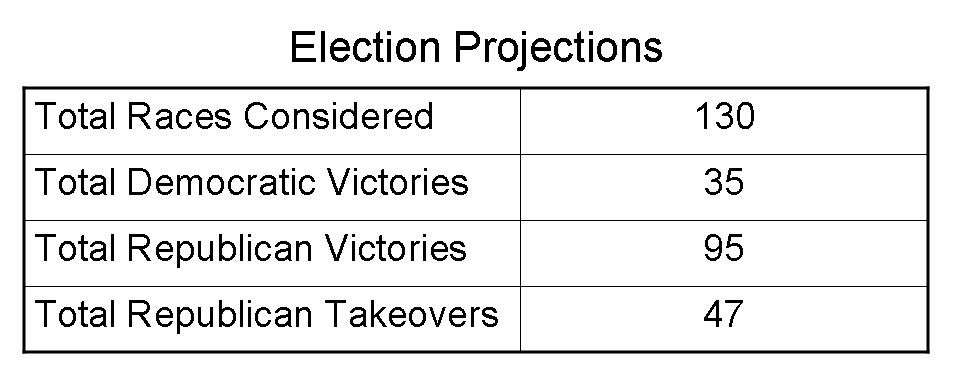 Click here for a detailed chart of my assumptions and projections.
The House of Representatives has 435 voting members. Currently 255 of those seats are held by Democrats, 178 are held by Republicans, and two are vacant. Rep. John P. Murtha of Pennsylvania's 12th District died on Feb. 8, and Rep. Robert Wexler of Florida's 19th District resigned on Jan. 3 to become president of the Washington-based Center for Middle East Peace and Economic Cooperation. The seats vacated by the two Democrats will be filled by special elections this spring. Based on the districts' 2008 presidential votes, I expect that Murtha's seat will go to a Republican while Wexler's will go to a Democrat, adding one seat to each party's total.
If all my predictions come true, there will be 209 Democrats and 226 Republicans in next year's House. Republicans will have gained the majority.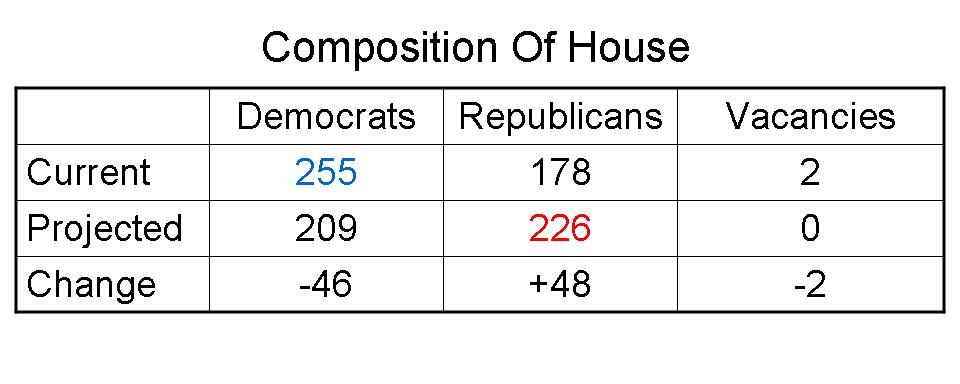 I am not the only one pushing numbers around on a spreadsheet. Party strategists are also looking ahead to the elections to form an idea of what the next Congress will look like. If their numbers are anything like mine, that could have some important consequences this year.
If Republicans believe they have a chance to take the majority in the midterm elections, they will do everything in their power to block legislation on important issues now. This could be particularly important for tax legislation, which the Constitution dictates must originate in the House. If Republicans can wait until next year, they might be able to get tax laws on the floor produced by a Republican-chaired committee. I believe the estate tax, therefore, is likely to continue in its current state of limbo until next year.
Eight months is a long time in politics. Democrats could benefit from a stretch of good economic news, from a breakthrough in the health care logjam if they can persuade the public to back their policies, or simply by keeping the House elections focused on local candidates rather than allowing each one to become a referendum on President Obama or Speaker Pelosi.
But there is a clear trend and the Republicans are benefiting from it. A House majority appears to be within reach, if they can grab it.