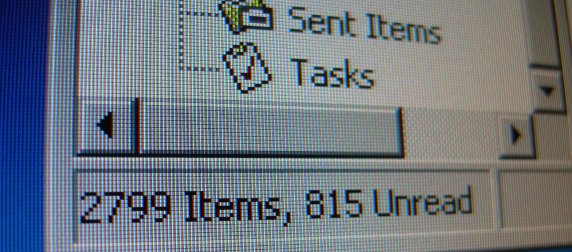 photo by Lars Plougmann
You can write to Kathleen Sebelius, U.S. Secretary of Health and Human Services, at Kathleen.Sebelius@hhs.gov or at KGS2@hhs.gov. But you shouldn't expect her to read messages sent to either address.
Kathleen.Sebelius@hhs.gov is Sebelius' widely available public address. Until recently, KGS2@hhs.gov was her internal address, reserved for communication with colleagues and withheld from publication.
The Associated Press, however, has since exposed this second address, along with the news that Sebelius and many other high-level political appointees maintain multiple email addresses, including some "secret" ones not known to the general public.
The AP submitted Freedom of Information Act requests earlier this year to several agencies, asking for lists of appointees' email addresses. Most have yet to comply, leading The AP to report that "The scope of using the secret accounts across government remains a mystery."
It should come as no shock that the email addresses top officials hand out to the public are not the same ones they use for day-to-day business. Author David Gerwitz, who wrote a book on email and the White House called "Where Have All the Emails Gone," wrote a response to the AP piece that observed nationally known public officials need private, internal addresses "as a simple necessity for getting any work done at all." Sebelius told Fox News, "27-28,000 [messages] come into the public email, about 400 come into the private email. It's just a management issue. I can't possibly answer or screen all of them, and I want people to get timely answers."
In fact, according to Gerwitz, in some cases officials may even be legally obligated to maintain separate email addresses and to control the flow of messages into each. The Hatch Act of 1939 prohibits most federal workers from mixing politics with official business, requiring those who get their jobs through political appointments to use separate, non-government addresses for political communications. There is little reason, then, why officials should not, as a matter of convenience, have additional email addresses to sort messages from the various other groups they interact with.
Government-issued email addresses may technically be subject to the Freedom of Information Act, but obtaining and printing internal addresses, as The AP did, only forces officials to get new addresses. I suspect that Sebelius and acting Secretary of Labor Seth Harris, whose address was also published, have already set up new accounts.
In the process of getting lists of these email addresses, however, The AP discovered something far more significant: Most of the departments it contacted didn't have lists. The Labor Department claimed it would cost more than $1 million and take 14 weeks to gather the email addresses of its political appointees. It also suggested that the news agency should bear these costs, despite Freedom of Information Act provisions barring agencies from making such demands. The Labor Department eventually conceded that it had made a mistake in asking for the money and it furnished the list, but the initial response indicates that the department has no established system of tracking the email addresses it assigns to employees.
The AP also asked the Health and Human Services Department for records documenting the procedures officials follow in order to have additional email addresses created. The department's FOIA director, Robert Eckert, said that there were "no mechanisms in place to determine if such requests for the creation of secondary email accounts were submitted by the approximately 242 political appointees within HHS" and that it would be impossible to find any information about the creation of separate email addresses without "an extensive and elongated department-wide search."
If officials need non-public email addresses because those addresses are what they use to conduct their real business, then those are the addresses that need to be accessed and searched in response to government investigations. Kel McClanahan, executive director of National Security Counselors, an open government group, told The AP, "You would hope that agencies doing this [using multiple email addresses] would keep a list of aliases in a desk drawer, but you know that isn't happening."
While it may be interesting to have records of the thousands of emails from individual citizens that fill officials' public inboxes, those messages won't help answer questions like what, exactly, Attorney General Eric Holder's role was in investigating leaks of national security information to the press, or who, exactly, in the Internal Revenue Service decided it would be a good idea to target conservative groups seeking not-for-profit status. The answers to those questions are likely to be found in officials' "secret" internal accounts.
It is also important to ensure that officials are creating only additional email addresses, not full-fledged additional identities. The AP's investigation began last year when it was revealed that then-EPA Administrator Lisa Jackson was sending emails from a non-public account under the name of Richard Windsor. In at least some cases, according The AP, Jackson failed to inform email recipients of her true identity, allowing them to believe they were communicating with a lower-level employee named Richard Windsor.
The poor oversight of non-public email addresses is part of the much larger problem of the Obama administration's failure to deliver on its promise of transparency. On his first day in office, Obama instructed all agencies to "adopt a presumption in favor of disclosure." A memorandum still posted on the White House's official website declares, "My Administration is committed to creating an unprecedented level of openness in Government."
That has not happened. Instead, the Obama White House has been a guarded one, first refusing to reveal the extent of the drone program and now leaving Americans to guess after the fact, based on only limited amounts of declassified information, how far the secretive PRISM online data-mining program really went. As far back as March of 2010, an AP report showed that at the 17 major agencies it examined, Freedom of Information Act requests were 50 percent more likely to be denied under Obama than they were under President George W. Bush.
The use of unmonitored email addresses is particularly problematic in this context, both because it interferes with the administration's ability to produce information when it is willing to do so and because it provides a ready-made excuse for not turning up records the administration doesn't want to be found.
I favor almost anything that helps government employees to do their work more efficiently, and wading through thousands of emails on a regular basis is the opposite of efficiency. If government officials are going to conduct business by email - as opposed to, say carrier pigeon or handwritten letter - they need email addresses that are not plastered on their agencies' websites.
But watchdogs and regulators also need tools to do their jobs efficiently, and one of those tools is a well-organized tracking system for all government-issued email addresses, both public and "secret."