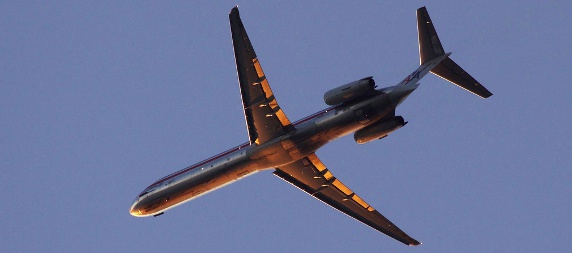 photo by Don McCullough
In fairy tales, three is often a magic number. That seems to be true at the Justice Department as well.
The Department recently filed an antitrust suit to stop the proposed merger of American Airlines and US Airways, which would bring the number of major legacy carriers down from four to three. The move mirrored the department's suit in 2011 to stop AT&T from acquiring T-Mobile, which would have left only three major rivals in the wireless game.
The DOJ has expressed little concern over large airline mergers in the past. In fact, every major U.S. airline except American has been through a merger since 2005. Most recently, Delta's merger with Northwest, announced in 2008 and completed in 2010, created what was then the world's largest airline.
Yet, while the Justice Department had no problem when six players became five, or when five became four, it has apparently decided to draw the line when four become three.
According to the government's complaint, by leaving only "three very similar legacy airlines—Delta, United, and the new American," the merger would make it easier for the remaining airlines to "cooperate, rather than compete, on price and service."
By numbers of passengers, there are still technically five major airlines. Southwest, which received approval for its acquisition of AirTran in 2011, is officially the third largest domestic airline by that metric. But it flies to far fewer destinations, which has kept it from fully joining the league of the older contenders.
It is no secret that airlines sometimes cooperate, rather than compete. In 1992, the government stepped in to stop airlines from sharing real-time data about their pricing in response to complaints of collusion. That prohibition, however, has since lapsed. Airlines now can, and do, look at what their competitors are doing and use that knowledge to inform their own decisions. When one carrier imposes a fare hike or a new fee, the others usually rush to copy it - and if they don't, the increase is often rescinded.
But it does not necessarily follow that more carriers are the key to more competition, or that fewer carriers would mean less.
The merger was a key component of American's plan to emerge from bankruptcy. The airline filed for Chapter 11 at the end of 2011, following years of losses. US Airways, while earning record profits right now, remains significantly behind the competition in terms of passenger count. Without the merger, both seem destined for the sidelines.
As the failed AT&T and T-Mobile merger would have done, an American and US Airways merger would deliver a single, stronger competitor to the market. In the face of a new reigning power, the other two legacy carriers, Delta and United, might be forced to abandon their collaborative ways and copy the strategies of the more competitive Southwest. But we'll likely never know.
We do, on the other hand, know how keeping T-Mobile in the game at expense of a hypothetically stronger AT&T turned out. Not long after that merger fell through, Verizon announced an overhaul of its pricing that effectively raised the cost of its cheapest smartphone plan from $70 to $90. As I wrote at the time, weak competitors make for weak competition. The separate "threats" from T-Mobile and a smaller AT&T did nothing to stop Verizon from seeking new price hikes. A single, stronger rival, seeking to build traffic for the larger network that AT&T planned to build after the merger, might have.
The Department of Justice does not want to allow us the option of a single strong American and US Airways hybrid. It is worth exploring the reasons why not.
The DOJ may simply be operating in a fairy-tale world where competition magically disappears as soon as there are only three competitors. But the truth is that American and US Airways are not only weak competitors to United and Delta; they barely compete with one another. They have few overlapping routes. US Airways does offer connecting service on many of the routes where American has direct flights, and it does compete for travelers along these routes by offering lower fares to travelers willing to make a connection along the way. The alleged need to preserve these lower-cost "Advantage Fares" is one of the Justice Department's main stated reasons for its decision.
According to its complaint, "The bottom line is that the merged airline would likely abandon Advantage Fares, eliminating significant competition and causing consumers to pay hundreds of millions of dollars more." With the alternative of low-cost connecting flights gone, the Justice Department argues, other airlines would raise prices on their nonstop flights.
This argument involves a misunderstanding, or misrepresentation, of how travelers actually behave. Corporate travelers, who accounted for 36 percent of domestic travel spending in 2010, generally don't take one-stop flights, no matter what the price difference is. Leisure travelers, on the other hand, usually try to stay within a preset budget, rather than just securing the cheapest option available. Even without low-cost connecting flights on the market, airlines would need to keep prices of nonstop flights reasonable to attract leisure customers at all.
I think the Justice Department already knows this, and that its real objections to the merger lie elsewhere - specifically three miles south of Washington, D.C., at Reagan National Airport.
If the merger proceeded, the combined airline would control 69 percent of the takeoff and landing time slots at that airport. The DOJ would likely need to include a provision requiring the new airline to give up some of those slots if it approved the merger as a whole. That would be bad news for the two airlines' union employees, whose jobs depend on those slots. It would also be bad news for elected officials who fly back and forth between Washington and their home districts. US Airways Chief Executive Officer Doug Parker told a Senate panel in March that being forced to give up slots would likely prompt the airline to cut service to smaller communities - like the districts of many members of Congress.
By opposing the merger altogether, the Justice Department avoided inconveniencing lawmakers and alienating unions. In doing so, however, it missed an opportunity to address the biggest obstacle to competition in the airline industry: the allocation of time and space at major airports.
With their strong customer service, Southwest, JetBlue and Virgin America are all ready to take on the legacy carriers. But there is literally no space for them. A big part of what Southwest bought when it purchased AirTran was a foothold at the Atlanta airport, which it had not been able to acquire on its own. JetBlue held a presence in the city for only a few months, in 2003, before being pushed out by the entrenched competition.
To really address the problem of slot allocation, we would need leadership from the White House and action from Congress, neither of which is easy to come by. And so, instead, the Justice Department decided to make the problem disappear by blocking the merger altogether. That is likely to be enough to keep legislators satisfied.
American and US Air are not taking the government's interference lying down. They have vowed to fight for their merger, and have asked for an expedited court date, with a trial to begin in November. Not surprisingly, Justice Department lawyers who filed the suit in the first place say they need more time, at least six months, to get ready to take it trial. Such a lengthy delay would kill the deal without ever addressing the merits of Justice's case. That's okay with the government's antitrust team, which figures justice delayed equals a merger denied.
Here's hoping the airlines get their day in court soon. It may be the only way this fairy tale can end with everyone living happily ever after.