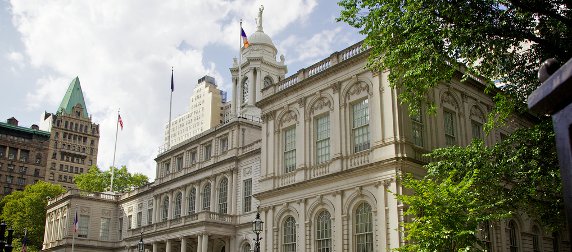 photo of City Hall by Aurelien Guichard
If you like what has happened to New York City in the past 20 years, I am afraid today may be seen as the high-water mark. I hope I'm wrong.
Over the past two decades, the city has had a pair of mayors who broke New York's political mold because they could govern as moderate Republicans (or independents with Republican leanings) in an overwhelmingly Democratic and union-dominated city. Rudy Giuliani won because he was tough on crime at a moment when crime in particular, and disorder in general, were among the city's major problems. Michael Bloomberg was a chief executive who proved an effective manager when a booming city needed good management. Bloomberg wasn't perfect; in particular, his third term may have been a political bridge too far. Yet from the condition of the city's neighborhoods to its bustling tourist industry, which has proved resilient in the face of a global financial crisis, the city has come through a stormy time in pretty good shape on Bloomberg's watch.
The mystery in today's primary is whether Bill de Blasio will win the 40 percent of Democratic votes that he needs to avoid a primary runoff against his major challengers, Bill Thompson and Christine Quinn. That outcome is not out of reach for de Blasio, but it is not a certainty either, in the wake of what has been a circus of a Democratic primary. From the doomed yet determined campaign mounted by Anthony Weiner to ongoing questions about kittens, the race has been a boon for journalists looking for entertaining headlines, but substantially less rewarding for New Yorkers with serious questions about the future direction of their city.
In any case, neither Joe Lhota nor any other Republican candidate seems likely to mount a serious challenge for the mayoral office in November. The fluke of back-to-back Republican-leaning mayors will not be repeated. Thus the Democratic primary, in which a few voting groups play a disproportionately large role, is the important battle.
Unfortunately, none of the Democrats in the field have the executive skills or the leadership abilities of Giuliani or Bloomberg. All of them are essentially get-along-to-go-along products of the city's traditional Democratic political machine. None is likely to stand up to unions as the city's long-term financial commitments start to come due. Unions have telegraphed their intentions to press harder against the new mayor, with negotiations looming as Bloomberg departs.
In varying degrees, all of the Democratic candidates are also hostile to business and, in conjunction with New York state's long-term fiscal imbalances, threaten to drive commerce and jobs away from New York. As Gov. Andrew Cuomo commented in January, "There is no piggy bank in Albany anymore."
I have written before about the increasing number of reasons business owners should already be leery of setting up shop in New York City. It is likely that any of the Democratic candidates would make conditions worse as mayor. De Blasio especially has positioned himself as a proponent of heavily taxing "the rich," a strategy almost designed to drive some of the city's most lucrative and job-generating businesses away.
Let's not forget the other big race today, for City Comptroller. Former Gov. Eliot Spitzer is poised to stage an unlikely political second act, once again casting Wall Street as his villain of choice. In the days leading up to the election, polls have shown Spitzer neck and neck with his opponent, Manhattan Borough President Scott Stringer, despite Spitzer's very public prostitution scandal in 2008. Spitzer could very well carry the election, putting him in a position to pick up where he left off in antagonizing the financial sector.
Regardless of who wins today's primaries, the city's stock may be at its high point now. It could be a good time to think about placing long-term bets elsewhere.