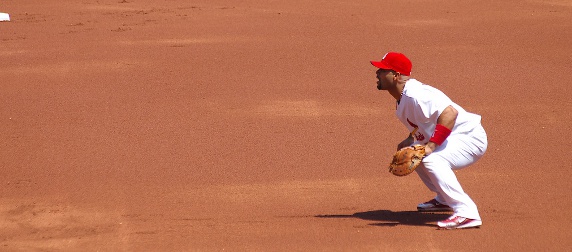 photo of Albert Pujols by Flickr user bk1bennett
What good is a lawsuit that you lose?
This sounds like a trick question, but two former St. Louis Cardinals players may be about to provide a perfect example.
Jack Clark, who played for the Cardinals from 1985 to 1987, briefly co-hosted a radio show distributed by InsideSTL, a CBS sports affiliate. Clark said on-air that he knew "for a fact" that Albert Pujols had used performance enhancing drugs. Pujols, who currently plays for the Los Angeles Angels, filed a libel suit against Clark last week.
He did not sue InsideSTL. The station fired Clark and his co-host, Kevin Slaten, a week into their tenure and issued an apology to Pujols and his family. These actions were evidently sufficient to meet their presumed aim: keeping the station out of the lawsuit.
Pujols almost certainly knows he faces an uphill legal battle in his suit against Clark. Sandy Davidson, a communications law teacher at the University of Missouri School of Journalism, observed that "Jack Clark is clearly on the hot seat on this but because of the way American law is, he's got a lot of padding between him and a big libel judgment." Because Pujols is a public figure, his burden of proof will be held to a higher standard than a lesser-known citizen would face in similar circumstances.
For Pujols to win, a jury would have to find three things: First, that the statement that Pujols used steroids is defamatory (which is self-evident); second, that the statement was false (not obvious, but a jury could be persuaded on the point); and third, that when he made his statement on the air, Clark either knew the claim was false or acted in "reckless disregard" that it was false. If the jury thinks Clark believed he was right - even if he wasn't - Clark is not legally guilty of libel. Pujols must prove either that Clark knew the statement was false or that he acted in reckless disregard of his own doubts about its veracity in order to win.
It will be very difficult for Pujols to meet that standard. In a legal sense, the lawsuit is probably doomed to fail.
This brings us back to the original question. Why should Pujols file a lawsuit he is more likely than not to lose?
The answer in this case is that Pujols probably doesn't care very much about winning the jury's verdict. Filing suit was an effort to win the verdict of the public. The public is not interested in whether Clark is legally guilty of libeling Pujols; the public wants to know whether Pujols cheated. If Pujols can get a jury verdict that Clark's statement is false, even if it is not libelous under Supreme Court standards, Pujols will have accomplished the end he probably wants.
Even if the jury finds that Clark did libel Pujols, what damages did Pujols suffer? Those damages could be substantial if he were to lose a baseball contract or an endorsement deal as a result of Clark's comments. But if he suffers no such losses, Pujols probably would not collect much from Clark, even if he won. The highly paid Pujols certainly isn't suing for the money. The Angels pay him a $16 million salary. Pujols has said that any monetary damages he wins in the case will go to charity.
Public figures rarely bring libel suits because they can seldom win them. The mere act of suing spreads the allegedly libelous statements further, as it did in this case. If Pujols had not sued, we would not be discussing Clark's comments here. In attempting to disprove the alleged libel, the target also willingly opens his or her life to greater scrutiny by the jury and by the public. It usually isn't worth the trouble.
But sometimes a moral victory is the one that really matters. If Pujols is confident that there is no evidence to tie him to steroids (one would hope because he never used them), he may get what he seeks in this lawsuit. I hope he does.