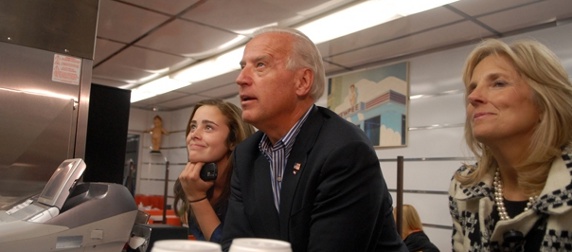 photo by Beth Rankin
Has anyone seen Joe Biden lately?
I am thinking of filing a missing persons report. Just 10 months ago, the vice president and former senator played a key role in resolving the impasse between the Obama administration and House Republicans over the fiscal cliff. But earlier this month, with much of the federal government shut down and the two parties deadlocked once again, Biden was nowhere to be found.
Maybe he was holed up at the Naval Observatory in Washington, which is the official vice presidential residence. He might have been wandering its lonely halls like Kevin McCallister in the "Home Alone" movies, exclaiming in wonderment, "I made my government disappear!"
Actually, it was probably Senate Majority Leader Harry Reid who made Biden disappear. According to Politico.com, Reid agreed to support President Obama's strategy in the fight over raising the debt ceiling on the sole condition that Biden was left out of the loop.
Obama, Biden and Reid are all Democrats, making them teammates in the capital's seemingly endless partisan squabbling. But Reid and quite a few other Democrats are not thrilled with the way Biden has been playing. In particular, they are unhappy with the deal he cut last New Year's Eve to extend the Bush-era tax rates for all households with incomes below $450,000, which limited Democrats' soak-the-rich maneuvering room.
So while others resolved - or, more accurately, deferred - the battles over federal spending authority and borrowing limits, Biden was held in, shall we say, an undisclosed location.
Maybe he was on a mission to locate his predecessor Al Gore, the reputed inventor of the Internet, to help fix the federal government's health insurance website. Or perhaps he was on a Hollywood soundstage giving pointers to Julia Louis-Dreyfus, the Emmy-winning star of HBO's "Veep," in which she plays a fictional politician named Selina Meyer who finds herself stuck in Biden's non-fictionally hellish job. If Biden had any advice for his screen counterpart, it would probably be to try not to look so busy. Unless somebody wants something from them, vice presidents basically have nothing to do.
Which is why the official White House public calendar for Monday, Oct. 14 - a critical date with the debt ceiling deadline was just a few days off - shows absolutely nothing on the vice presidential schedule.
The following day was busier. On Oct. 15, with the government still locked up, Biden was due at an 8 a.m. breakfast with members of the U.S.-China Track II Strategic Dialogue, chaired by former Secretary of State Henry Kissinger, who left office in 1977, and former Foreign Minister Tang Jiaxuan, who was replaced in 2003. At 10:15 the vice president was invited to join the president for the daily intelligence briefing, which despite its name does not happen every day. After lunch the vice president was slated to watch Obama award the Medal of Honor to U.S. Army Capt. William Swenson, and at 4:30 he was to meet with Defense Secretary Chuck Hagel, another former senator, but one who has managed to escape Biden's post-Congressional underemployment fate.
The rest of the week brought more of the same, as Biden joined the president for daily briefings, met with visiting dignitaries and Cabinet officers, and had a Wednesday lunch with the president. There was a conspicuous lack of contact with anyone who works at the Capitol, where Biden toiled for 35 years and where he still has friends on both sides of the aisle, making him a rare bird on the Potomac these days.
Rare birds are hard to find, by definition. So is Joe Biden. Reid's decision to submarine the vice president, his own longtime colleague, does not tell us where to find the vice president. But it says a lot about the place that Washington has become.