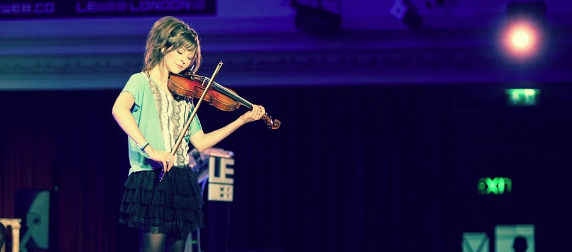 photo of Lindsey Stirling by @Kmeron, courtesy Official LeWeb Photos
I'm not much for show-business hype, but I think Sunday may be remembered years from now as the day broadcast and record company executives surrendered control of the music industry to artists and their followers.
Musicians have nothing to fear in this change. However, if I were a record executive, I might think about looking for another line of work.
The herald of this new era is the first-ever YouTube Music Awards program. The event will be staged at 6 p.m. Eastern Standard Time (2300 UTC) at New York's Pier 36, and will be streamed around the world. No broadcasters required, thank you.
At first blush, the YouTube event looks a lot like any other music awards show. Headline acts include past Grammy winners Lady Gaga, Eminem and Arcade Fire. Many more familiar names are among the nominees, including Justin Bieber, Katy Perry, Taylor Swift, Selena Gomez, Nicki Minaj and One Direction. The star-laden roster has drawn some criticism from more avant-garde artists, such as Tyler, the Creator - who is also scheduled to appear on the program. Deleting the coarsest of his language, which I need not repeat here, he wrote on Twitter: "YOUTUBE AWARDS COULDVE…HAD NOMINATIONS ON COOL CREATIVE VIDEOS…BUT NOOOO AGAIN ITS THE MOST TEENY BOPPER POP…YOU ARE BUTT."
Though not groundless, his complaint is not entirely fair either. YouTube's Artist of the Year and Video of the Year categories are dominated by name-brand acts you could hear on almost any pop, rap or country radio station. But the remaining four categories contain many nominees who are probably unknown to you, if you are the sort of person who usually reads columns like this one.
In the "Innovation of the Year" category, the nominees are Atoms for Peace, Bat for Lashes, Anamanaguchi, DeStorm and Toro y Moi. YouTube said an "international panel of musicians, YouTubers and creative luminaries" made the initial nominations; the list was winnowed based on YouTube views along with social media responses.
The "YouTube Phenomenon" nominees "are based on the phenomena that generated the most fan videos." In other words, these acts are to be honored not so much for their inspiring performances as for what their performances inspired in the way of imitative or tribute videos. The nominees are Diamonds (Rihanna), Gangnam Style (Psy), Harlem Shake (Baauer), I Knew You Were Trouble (Taylor Swift) and Thrift Shop (Macklemore & Ryan Lewis). For us old timers, this is roughly equivalent to giving a music award to the Macarena or the Twist - the dances, not the songs and artists that popularized them.
More conventionally, the five YouTube Breakthrough nominees (Kendrick Lamar, Macklemore & Ryan Lewis, Naughty Boy, Passenger and Rudimental) are the artists who experienced the greatest growth in views and subscribers. (A YouTube "subscriber" is someone who asks YouTube to automatically point out new works that a contributor posts to a particular collection of videos, which in YouTube parlance is a "channel.") These artists popularize their own music primarily via YouTube and other online resources, rather than through the traditional route of signing with a record label that then produces and promotes their work.
Another aspect of this approach to music marketing is reflected in the YouTube Response category, which honors "the best fan remix, parody or response video…based on your views, shares and other activities." Far from the anonymity that usually characterizes fans, the nominees in this category have generated significant followings of their own, often by producing covers of music popularized by other artists. The nominees in this category are Boyce Avenue, Jayesslee, Lindsey Stirling and Pentatonix, The Piano Guys and Walk off the Earth.
Lindsey Stirling, who is also scheduled to perform on the YouTube awards program, is one of the new breed of artists who is building a successful career without a record deal and with almost no broadcast airplay. Though she made it to the quarterfinals of "America's Got Talent" in 2010, Stirling, a self-described "hip-hop violinist," did not become widely known until the following year with a series of YouTube videos that alternated between original compositions, covers of soundtracks from popular video games - which attracted a large fan base - and an eclectic mix of other music, from Christmas themes to "Phantom of the Opera" to an appearance with country artist Artie Hemphill and the Iron Horse Band.
With more than 3.4 million YouTube subscribers and as many as 75 million views on some of her videos, Stirling has found many ways to make money while she makes music. YouTube, which is owned by Google, pays her for ads that run with her videos. She self-produced an album that was sold on iTunes and Amazon, and was recently re-released in a marketing tie-in with Target stores. She sells the sheet music for her original compositions. She arranged her own tour across North America and Europe, playing to sold-out venues (and attracting Lady Gaga's manager to sign her, as well).
Though she is well-known in her primary audience - gamers of all ages, and music fans roughly between 22 and 32 years old who listen to Pandora and other streaming services - Stirling is not famous among the general population. I expect that is about to change. To see why, look at how she wowed a studio audience on Conan O'Brien's late-night TV show last week. Besides her obvious talent, Stirling presents a wholesome picture of someone who plays the violin (and dances) for sheer pleasure. Nothing raunchy here; hers is a show you would be happy to take a 10-year-old to see, which is not something we can say for a lot of other young female musicians these days.
But that's the point. Any talented musician, of any genre and presentation, can find an audience today. It was Thomas Edison who, in order to sell his machines, invented the record industry on the model that a company decided which music to offer to its customers. It has taken more than a century, but musicians have finally cut out the middlemen, returning to the days when they directly connected with their audience.
To see what this new incarnation of an old relationship looks like, point your Internet-enabled device at YouTube on Sunday and enjoy.