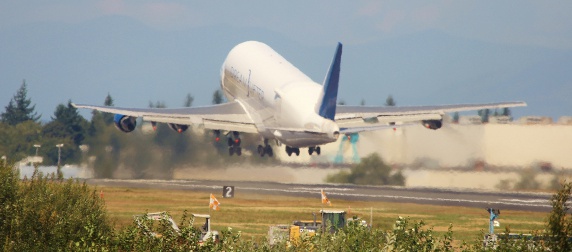 photo by Clemens Vasters
Mistakes are a hazard of being human. Everyone occasionally make errors on the job.
However, most of us are fortunate that our goof-ups usually are not as noticeable as landing a plane at the wrong airport.
A Boeing 747 that was supposed to touch down at McConnell Air Force Base in Wichita, Kan., instead landed eight miles north, at Col. James Jabara Airport, a small municipal airfield. In exchanges with air traffic control after the misplaced landing, the pilot sounded confused and made some errors in stating directions.
Despite the mistake, the plane landed safely, with no injuries or property damage. NPR put together a tongue-in-cheek Google Maps route for the plane, in case it needed to taxi the distance from the airfield to the Air Force base; the "Dreamlifter," designed to carry component parts for Boeing's 787 Dreamliner planes, usually needs a much longer runway for takeoff than was available at Col. James Jabara. The plane did, however, manage to take off successfully the next day once the cargo load was reduced.
This sort of mistake, while embarrassing, is not unprecedented. In 1979, a Western Airlines pilot mistakenly landed a passenger flight in Buffalo, Wyo., rather than at its intended destination in Sheridan, Wyo., about 35 miles to the north. The landing was a safe one, with no injuries or damage to the aircraft - just a lot of surprised passengers. The pilot, Lowell Ferguson, was suspended as a matter of routine. He appealed the suspension, but a court held that his actions qualified as reckless even though they were not deliberate. (He was later reinstated.) While Western Airlines was displeased with Ferguson, Buffalo was thrilled at the publicity. The town honored Ferguson as a guest at Buffalo's centennial in 1981.
Perhaps the most famous case of a pilot heading the wrong direction is still that of Douglas Corrigan, who in 1938 flew from New York to Dublin despite having filed a flight plan from New York to Long Beach, Calif. Dubbed "Wrong Way" Corrigan by the media, the aviator maintained that he had simply lost his direction early in the flight. Given that he had initially sought permission to make the transatlantic flight - permission that aviation authorities denied - his explanation was not taken terribly seriously, though he never publicly admitted that he flew to Ireland on purpose.
Until now, I figured that in these days of GPS and computerized flight decks, mistakes like the Boeing pilot's would go from rare to almost nonexistent, restricted perhaps to the folks who fly a dwindling number of "old-school," mostly noncommercial, light aircraft and still rely on compass headings and radio beacons to find their way.
But no matter how much we automate, we still put human pilots in the cockpit, and humans will occasionally make mistakes. The trick in any endeavor is to try to ensure that the mistakes we make do as little harm as possible. We don't want a pilot error to cause a crash. Airlines and their crews typically go above and beyond to ensure air travel or transport is as safe and routine as possible. Technological advances have certainly made that task easier.
On the other hand, if a pilot error safely puts a big plane in the wrong airport, or puts a small Wyoming town on the map, there's no great harm. The kind of mistake where you get made a guest of honor afterwards is the kind of mistake we can afford to make every now and then.