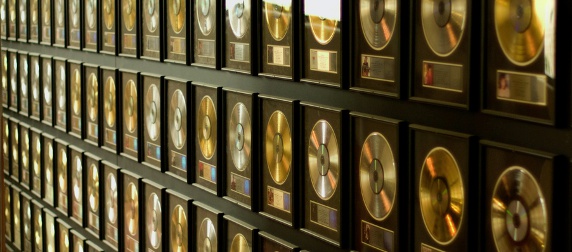 Country Music Hall of Fame. Photo by Bryce Edwards
It seemed as if the entire city of Nashville paused on the weekend before Thanksgiving to remember country music icon George Jones.
Thousands packed the Bridgestone Arena, where 112 artists performed a tribute concert on that Friday night, Nov. 22. The gig was to have been Jones' farewell performance, one where he would have been joined on stage by a few, or maybe a few dozen, of his friends. But Jones died last April. His show was converted to a memorial that nobody in Nashville wanted to miss. Nobody had to miss it, either, because two giant television screens were set up in the streets outside the venue, and the entire performance was broadcast as it happened.
All through the afternoon and evening before the concert got underway, local solo artists and bands (there are far too many in Nashville to count) performed on a stage set up in the middle of Broadway, in front of the landmark honky-tonks where some of country's most successful acts were discovered, and where many more artists have discovered for themselves that they were not destined for fame and fortune.
It was on that street, in the record shop once owned by Ernest Tubb (the "Texas Troubador," who performed for the Grand Ole Opry from the 1940s to the 1980s), that I was reunited with a talented but little-known contemporary of Jones' by the name of Larry Jon Wilson.
Wilson released four albums in the 1970s for Monument Records, whose other names in that era included Kris Kristofferson, Tony Joe White (who wrote but did not popularize "A Rainy Night In Georgia"), Billy Swan ("I Can Help") and Larry Gatlin. Critics liked Wilson's deep baritone voice, and they loved his songwriting. His songs had a surprising influence on me as a young adult, and still do today.
Growing up in the Bronx, I lived in apartment houses and rode city buses to schools that educated thousands of children. I attended Hebrew school and temple until my bar mitzvah, and then I dropped out of organized religion. What little I knew of the South came from the news, and mostly it was nothing good, coming just after the height of the civil rights movement. I had never been south of Virginia Beach, and I was in no hurry to go.
I don't remember who first pointed me toward Wilson's music. I'm sure I never heard it on the radio, for although he was popular with critics, he was almost unknown to the public. It would have been around 1979, when I was living in Montana. Perhaps it was a savvy record store clerk in Missoula or Helena, or maybe it was a friend who understood how strongly I respond to geography, to the connection between a person and a place.
Wilson's music was all about place: namely the place he grew up, as well as the people who surrounded him as he did. Wilson had been born in a small town in southern Georgia, and his family moved to a "big city" - Augusta, Ga. - when he was about 4. He told the story in his song "Canoochee Revisited," how each week he accompanied his father back to the little country churches where "the services lasted from morning 'til dark," worshippers bought crocks of food to share, and "air conditioning was a paper fan in your hand with the name of the local mortician printed on the back."
Another song (I don't know if it is autobiographical or allegorical) recounted how, at college, the future singer was rejected by a woman who observed numerous deficiencies, including "you don't love Jesus and the truth ain't in you."
Wilson was a chemist by training. He worked in the industry for years while he got married and started a family. He only decided to pursue music when he was in his 30s. The title song of his second album, "Let Me Sing My Song To You," declares simply: "Writing songs and picking songs ain't all I know; it's all I love."
I would have understood some of Wilson's songs much better if Wikipedia had been around back then. There were many references to things you don't learn about in the Bronx, or even in Montana. In "Ohoopee River Bottomland" Wilson sang about abandoning life on a hardscrabble Georgia farm:
Farmhouse leanin' and the barn is rotten,
My back is bent choppin' cotton, I'm aching,
Boxing pine and croppin' tobacco,
Wore-out mule and no-'count tractor just quit now,
This is it, now…
I grasped the lines about cotton and tobacco, and about mules and tractors. But I did not understand what "boxing pine" meant until just a couple of years ago. On a hot summer night at a rest area along Interstate 10 in the Florida panhandle, just a short drive south of the Ohoopee River, an informational sign finally explained that to make turpentine, local folk customarily cut boxes in the bark of the abundant pine trees to gather sap. Boxing pine, as they say along the Florida-Georgia line.
"Broomstraw Philosophers and Scuppernong Wine" tells of a Georgia boy's struggle to adapt to life and hardship in New York City. What on earth is scuppernong wine? It turns out that the scuppernong is a variety of wild grape, or at least a relative of the grape, that is indigenous to the Southeast, where it has been put to productive use since the first English settlers laid eyes on it.
By the time he released his second album, Wilson apparently knew that he was not destined for the kind of renown that George Jones enjoyed. He seemed alternately resigned ("I hope one day that I can write a song that everyone can like. I dream about it day and night…but 'til I do, let me sing my song for you") and defiant ("Drowning In The Mainstream" is the title of the album's first track). Wilson would go on to release two more nearly unnoticed albums for Monument before leaving the music business in 1980.
He did not completely fade away, however. By the beginning of the 1990s, he had returned to live performing. Collectors like me still had his albums. And "Heartworn Highways," a forgotten 1976 documentary that showed Wilson recording "Canoochee Revisited" and "Ohoopee River Bottomland," was released on DVD early in the new century. In 2009 Wilson even recorded another album, though nobody has heard of that one either.
Meanwhile, I practically played my vinyl copy of "New Beginnings" to death before I retired my record collection to the attic some years ago. Larry Jon Wilson and I drifted away from one another.
Until that night at Ernest Tubb Records, that is. While the crowd flocked toward the work of George Jones and other stars, I dug out the store's last copy of Wilson's "New Beginnings" CD. This re-release, however, includes the music from Wilson's first two albums, not just the one I retired years ago.
The checkout clerk complimented me on my good taste.
"You got the last Larry Jon Wilson, didn't you?" said the young man, who was not around when Wilson's vinyl was in the shops. "I just heard his music recently. I was thinking of buying it myself."
"I may have gotten the last Larry Jon Wilson," I replied. I explained that I never expected to find the album again. I also told him (because he had not heard) that Wilson died, at age 69, while visiting relatives in Virginia in 2010.
I never made it to the George Jones concert. My daughter and I instead attended a performance by Vince Gill at the Country Music Hall of Fame, where Gill (the Hall's president) performs an annual benefit for STARS, a local youth charity. After entertaining us with stories and song for two hours, Gill went across the street to the Bridgestone Arena, to take his turn performing in tribute to the country legend everyone remembered that weekend.
I like George Jones' music well enough, but I was always content to hear it on the radio. I never bought any of his albums.
Taking nothing away from Jones, I was happy to spend my weekend appreciating the Hall of Fame (an excellent topic for a future post), sharing an intimate benefit performance with my daughter, and rediscovering a musician who never got caught in the mainstream's current, but who still carried me places I never thought I'd go.