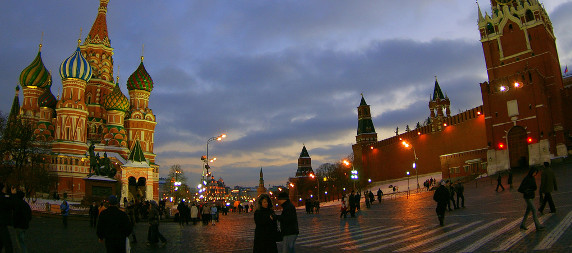 photo of Red Square by Adam Baker
The 2000 film "Cast Away" is set largely on a tropical island in the South Pacific, but the opening sequence takes place in the snowy environs of a Moscow FedEx facility.
In a memorable scene, Tom Hanks' character sorts packages on an icy street near Red Square to demonstrate to the Moscow staff the paramount importance of getting packages to their Russian recipients on time. It makes for entertaining cinema, but it was not meant to be a particularly important part of the story. The scene dramatized something that could have actually happened in 1995, when the film's story began.
Almost 20 years later, Russia has cast FedEx away, making the scene a relic of the past.
Back in the 1990s, when Russia was emerging from communism and was a much freer society than it is today, American products like salsa and volleyballs could get shipped to Russian consumers and would "absolutely, positively" be there pretty soon, if not overnight. After all, Russia is a very large country. Russians eager for cheaper or higher quality goods were willing to wait a little longer for their packages to reach them.
But no more. The New York Times reported that FedEx, along with other courier services including UPS and DHL, announced that it would no longer deliver shipments of goods to individuals in Russia due to the country's new, overly burdensome requirements for international packages. Under Russia's recently unveiled customs rules, couriers must prove a package contains nothing more valuable than the duty-free limit of 150 euros, or about $200. The couriers have said the halt to service might be temporary, but for now, they will deliver packages only to companies, leaving Russian individuals who want anything from them other than documents out of luck.
In the announcement of their decision, the companies noted, "The service we provide to our clients is speed, quality and reliability in full compliance with local legislation." The announcement continued: "The new rules make it impossible." Ivan Shatskikh, the country manager for UPS Russia, said in an emailed statement that the change resulted in "a significant delay in the delivery of packages to private individuals in Russia."
That the new rules have pushed out international couriers is not an oversight. It seems obvious that the policies were, in fact, designed to make the bureaucratic burden on them as heavy as possible. On the surface, the new regulations are about making sure Russian customs duties do not slip through the cracks. Under the surface, the rules are about protecting Russian businesses from more efficient and customer-oriented foreign competition. At the very bottom, in all likelihood, the rules are a result of the Russian system of graft, in which some official must receive a payoff or benefit in order for any business to actually get done at all. Foreign sellers are a threat to that system. Threats to that system are threats to President Vladimir Putin's power, and threats to his power are not tolerated.
Do svidaniya, Wilson.
Russia is not alone on its international shopping crackdown. Argentina's restrictions are similarly protectionist, if not similarly graft-inspired. The country recently limited its residents to two customs-free purchases annually, both of which must be worth less than $25. Any other, or more valuable, purchases must be collected at a customs office where the recipient will owe a hefty duty of 50 percent on the item. eBay has asked Argentine buyers to allow extra time for their shipments and has instituted policies to protect sellers from negative feedback due to slow package arrival times. A Buenos Aires resident who spoke to the BBC pointed out that, in addition to the slow arrival time and the duty, "Each time you go to customs, you need to spend three or four hours." On top of the 50 percent duty, the inconvenience of spending half a day at customs is likely to mean that international e-commerce in Argentina will slow to a crawl.
The whole affair shows, in microcosm, why free trade is good for everyone. Russian consumers have lost the chance to get better products delivered cheaply to their doors. The Association of Online Vendors estimated that Russian cross-border trade more than doubled in 2013; that trend will definitely slow in 2014, and may even reverse, if the new rules remain in place. American businesses ranging from FedEx to Wilson Sporting Goods to salsa maker Pace Foods have all effectively lost access to a market of 143 million people, more and more of whom are connected to the Internet. The only people likely to be pleased by the arrangement are the Russian officials who can continue to pocket a growing take from the domestic businesses that will become Russian consumers' only real options.
But that's progress - or what passes for it in Russia these days.