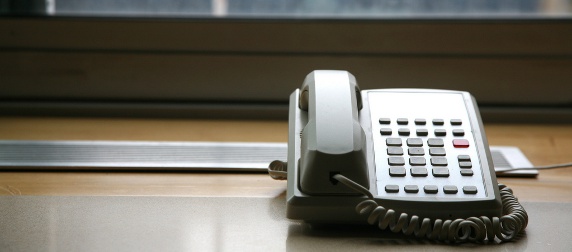 photo by Vincent Desjardins
Parents teach their kids safety basics early. Look both ways before crossing the street. Don't answer the door when home alone. And if there's a true emergency, dial 911.
That is exactly what Kari Hart Dunn's oldest daughter, a nine-year-old, did when the time came, according to Al-Jazeera America. Dunn had brought her children, the nine-year-old and two younger siblings, to the Baymont Inn in Marshall, Texas, for a visit with their father, Dunn's estranged husband. However, the meeting took a violent turn. Brad Allen Dunn allegedly murdered his estranged wife in the hotel room's bathroom while the three children sat outside.
The oldest child tried to call 911, just as she had been taught. But she did not know that the hotel required a code to dial out. When she pressed the three numbers she knew, she got only a busy signal. While we cannot know whether timelier help would have made a difference, it's a question no one should ever have to ponder after the fact.
When pilots communicate with a control tower, they are taught to say each numeral individually, for the digits zero through eight. So, for example, Runway 13 is "Runway One-Three," not "Runway Thirteen." It avoids confusion or misunderstanding, since "Thirteen" could be misheard on a radio as "Thirty" all too easily. The exception: "Nine." Pilots are taught to use "Niner" instead. Why? Because "Nine" sounds like "Nein," German for "No."
Nine is the first digit in the North American emergency number. Unfortunately, it is also the first digit many older phone systems require callers to dial in order to reach an outside line. This should have been changed long ago; the tragedy that befell the Hunt family was both predictable and inevitable. Unfortunately, nobody thought to push for change until it happened.
In the wake of the Hunt tragedy, Kari's family has pushed for legislative action to prevent this scenario from happening again. Henry Hunt, Kari's father, started an online petition calling for the federal government to require hotel and motel operators to use another digit for the dial-out code, leaving 9 free for emergency calls. The petition also suggests tax breaks for telecommunications companies that include an E911 system - short for "Enhanced 911" - in their equipment. E911 is the system that provides caller location and identification to the emergency services dispatcher.
Some systems can probably be easily reprogrammed. C.J. Clayton, the general manager of the Staybridge Suites in nearby Longview, Texas, said it only took a few hours to update her hotel's system. Some phone systems probably can't be reprogrammed as easily, or at all. These would need to be replaced to meet a requirement like that requested in the petition.
It is also worth noting that most people these days probably use in-room phones mostly for calls within the hotel. According to the Pew Research Center, 91 percent of American adults owned a cell phone as of May 2013. Those numbers are likely to rise over time, as 97 percent of Americans between the ages of 18 and 29 have one. It is not clear that hotels have any obligation to provide outside dialing, or any phone at all for that matter. Would legislation require that each hotel room in the country have a phone? Or that each phone be able to make outside calls? It's simple to draw up a petition; it's less simple to translate this worthwhile idea into a workable law.
Complications do not mean the idea is not worth pursuing. My thought is that if a hotel provides a phone equipped with outside dialing, it should enable 911 calls without dialing a prefix. Hotels should be given a reasonable period - I'd say one or two years - to either make the change, or abandon phones with outside calling. Some budget properties will do the latter; most others probably will make the change.
As for cell phones, the Federal Communications Commission already requires wireless service providers to transmit 911 calls to a Public Safety Answering Point (PSAP). The FCC is in the process of rolling out more stringent guidelines to provide PSAPs with the caller's location when the caller is outdoors and with the location of the cell site transmitting the call at all times.
But cell phones are only a fraction of the wireless devices out there. Many younger kids are more likely to have an iPad, an iPod Touch or Kindle Fire than a phone of their own. There are various software solutions that will allow you to use a tablet's wireless connection to make calls, including Skype, its competitor Rebtel and others. However, most of these services currently do not allow for calling emergency numbers. It is worth considering whether, in a hotel room without a phone, we want our kids to be able to use whatever device is at hand to call for help, even if that happens to be a tablet. Since interconnected Voice over Internet Protocol (VoIP) services must provide 911 connectivity, it could be time to extend this requirement, or at least this expectation on the part of consumers, to programs like Skype. Market demand might get the problem solved faster than regulation will for some of these new technologies.
Emergencies come in many forms and many places. We want our youngsters to be able to call for help whenever they need it.