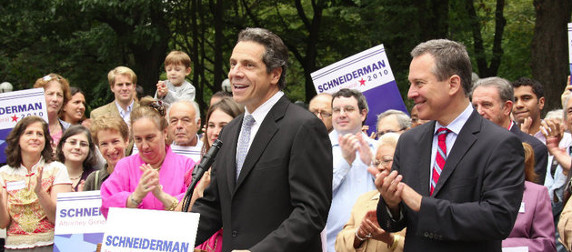 photo of Gov. Andrew Cuomo and Attorney General Eric Schneiderman via Citizen Action NY on Flickr
In a state where government functions according to American norms, an elected Legislature appropriates money, a governor spends it through the executive branch, and the attorney general has nothing at all to do with fiscal matters.
Now let's talk about New York. According to the norms of Albany, state spending is established by the governor in negotiations with the state Assembly and Senate majority leaders - a tradition known as "three men in a room." More than 200 other elected legislators serve as rubber stamps, voting to approve the deal their leaders bring back, because to do otherwise is to jeopardize the legislators' own compensation and job security. About the only normal aspect of this system is that the attorney general still has nothing to do with appropriations.
Even that last vestige of normal now seems to be gone.
The state's politically ambitious attorney general, Eric Schneiderman, has put himself in charge of spending more than $500 million of the amount that the state is slated to receive as part of a $13 billion settlement with JPMorgan Chase. New York's similarly ambitious governor, Andrew Cuomo, rightly objects to Schneiderman's power-and-money grab, though his position is somewhat undermined by the fact that before becoming governor, Cuomo - then the attorney general - did something similar, albeit on a smaller scale.
Crain's New York reported on the Cuomo-Schneiderman tug-of-war earlier this month. As the state's representative in the federal negotiations, Schneiderman arranged for New York to receive $613 million as its share of the settlement with JPMorgan Chase, whose CEO, Jamie Dimon, has been writing checks as fast as possible for real and imagined wrongs in an effort to get back in the good graces of the regulators who control the bank's fate. Schneiderman's deal generously allowed 15 percent of New York's share, or about $100 million, to go to the general fund that is controlled by the Legislature and its three-men-in-a-room. The attorney general kept the rest for himself to allocate to whatever groups he determines can best use it to improve housing for New Yorkers. Of course, deciding that the money should be used for housing at all, or that any particular groups should get it, are exactly the functions that a Legislature would perform in a normal state. But we are talking about New York.
In an interview with Crain's, Cuomo characterized the settlement as "a very dangerous precedent." He also raised concerns about legal questions, saying "The [attorney general] is bringing a case and settling a case, and his office is somehow the beneficiary of the case."
Schneiderman's office disputed the governor's characterization of the JPMorgan settlement's fate as a "dangerous precedent" and "highly unusual," citing a decision Cuomo made as attorney general to put a settlement from health insurers into the care of a nonprofit rather than the state's general fund. Cuomo's office countered by saying the amount was smaller - less than $100 million - and that the funds were not dispensed at the sole discretion of the attorney general in that case. Still, assigning himself the authority to decide who would spend the money was an overreach by Cuomo that paved the way for Schneiderman's big grab.
In New York, the attorney general is sometimes called "the people's lawyer." Suppose you hired a lawyer to bring a case on your behalf, that he decided to settle it without consulting you and that, as part of the settlement, he would decide how to spend 85 percent of the money. Would you feel well represented?
Cuomo and Schneiderman agreed to split the first drawdown of $163 million from JPMorgan Chase, Bloomberg reported. But the agreement did not stop Cuomo from criticizing the attorney general, and an anonymous aide at the governor's office told Bloomberg that Cuomo expects a battle over each of the three forthcoming disbursements too.
I wrote about the JPMorgan case back when Schneiderman first decided to sue the company. New York's position was enhanced by a century-old, broadly written state fraud statute called the Martin Act, which allows the attorney general to prosecute "frauds" in which there is no intent to defraud, and even cases in which nobody actually relied on the allegedly fraudulent statements. This was particularly useful in the JPMorgan case, which centered on mortgage-backed securities that were not even sold by JPMorgan. The securities were sold by Bear Stearns, which collapsed in 2008 precisely because it underestimated the risks in the overheated mortgage market. Rather than duping its customers, Bear Stearns suffered as much as any of them before it was purchased by JPMorgan at the behest of federal authorities in an effort to rescue the tottering financial system. The subsequent legal assault by the feds and by Schneiderman was Dimon's reward for attempting to do the public this service.
If Cuomo really wanted to undo the damage Schneiderman has done, he would push the Legislature to repeal or substantially amend the Martin Act. Failing that, he could at least try make any money obtained by the attorney general subject to legislative appropriation before it is spent.
I would think that even New York's dysfunctional Legislature could pass a bill like that. One man ought not to have the sole power to decide for nearly 20 million New Yorkers how to spend a half-billion-dollar windfall. Of course, neither should three men, but when it comes to New York state government, one can't hope for miracles. One can't even hope for normal.