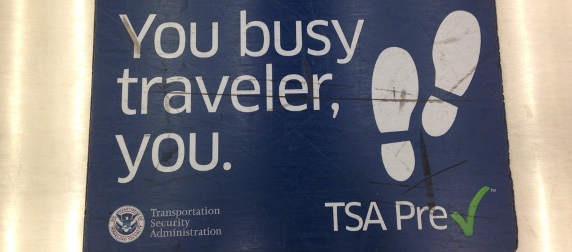 photo by Dion Hinchcliffe
Unless you are very young, you probably remember a time when you didn't select a pair of shoes for an airline flight based on how easy they were to remove.
The Transportation Security Administration procedures that came into effect after 9/11 have remained in place, however, and most of us who fly regularly already have those shoes off, along with our liquids disposed of and laptop computers out of their cases, before we reach the security checkpoint's conveyor belt.
Recently, I have noticed a change. Sometimes when I check in for a flight, specifically on JetBlue, my boarding pass declares I am "PreCheck," or "Pre✓," as the TSA has trademarked the program. This designation entitles me to a much faster and more convenient security line, in which shoes stay on passengers' feet, computers stay in bags, and passengers walk through a simple metal detector rather than a full-body scanner. (Most liquids greater than about three ounces are still not allowed in carry-ons, however.) Not every airport offers such a line, and I am not always in it at those that do. But it's generally a pleasant alternative to the TSA's regular routine.
PreCheck was established in 2011, but only opened to applications from the public last year; before that, it was available to some elite-level members of airline loyalty programs or through certain of the government's trusted traveler programs, such as Global Entry, which allows expedited re-entry after travel abroad. PreCheck piggybacked onto that program, but is marginally cheaper ($85 for five years as opposed to $100 for Global Entry) and does not require that the applicant hold a passport. NEXUS and SENTRI program participants qualify for PreCheck as well.
Those who apply for PreCheck directly must visit an enrollment center in person to provide valid identify documents and their fingerprints. If the applicants are approved, they receive Known Traveler Numbers (KTNs), which they then provide to their airlines when booking air travel. At the approximately 115 U.S. airports that participate, those travelers will typically enjoy the faster, shoes-on security line.
I have never paid the $85 fee. Nor has my wife, who seems to receive PreCheck status more often than I do. So what gets us into that line when we arrive at the terminal?
The answer, as far as I can tell, is that the TSA is extending PreCheck screening to random passengers on a flight-by-flight basis. When these passengers receive their boarding passes, a TSA PreCheck logo appears, alerting passengers to their temporary status. This assessment is based on information the passengers already provide when booking their ticket, which the TSA says will be retained by the agency for no more than seven days. Children under 12 and adults over 75, it has been reported, have a higher than average chance of getting this sort of bonus PreCheck treatment.
There are a few other ways to end up in the PreCheck line besides applying to be there. Certain airports are using "managed inclusion" to randomly assign passengers in line to the PreCheck entry based on capacity. Some airlines are also extending PreCheck to some of their frequent fliers, though passengers who opt in this way are not cleared for PreCheck when they fly on other airlines. Members of the military are also eligible for PreCheck without undergoing the normal application process. American Express Platinum has extended its cardholders a credit for the $85 application fee, though those interested will still need to apply through normal channels.
With all these potential entries into the line, some of those who paid for PreCheck status complain the advantages in speed are often lost. Other critics of the program have expressed concern that pulling random people for PreCheck introduces a higher element of risk to the procedure, while still others worry about the privacy of those who apply, considering that the TSA has exempted itself from revealing which agencies are asked to review an applicant's information.
I think PreCheck is a sensible approach to making air travel easier for at least some passengers - especially the ones who fly most often - and faster for almost everyone. PreCheck customers are still subject to a security check, albeit less intrusive than usual; other passengers benefit because the low-risk PreCheck customers do not add to the length of the standard screening queue. TSA Administrator John Pistole said in January, "TSA Pre-check is enabling us to move away from a one-size-fits-all approach to transportation security, as we look for more opportunities to provide the most effective security in the most efficient way." Even if the method is imperfect, it seems to be an indication that the status quo may be in the process of shifting once again.
I don't think the cost and inconvenience of applying for PreCheck is worthwhile for occasional travelers, except maybe those with extremely limited patience. If your extreme Type A personality traits make you eager to ante up, take note that the TSA warns "no individual will be guaranteed expedited screening in order to retain a certain element of randomness." Also keep in mind that not all airports currently offer PreCheck.
Genuine road warriors, especially those whose home airport offers the service, will probably appreciate PreCheck, even if they must pay for the privilege. It's nice to head to the airport without having to carefully consider your choice of footwear.