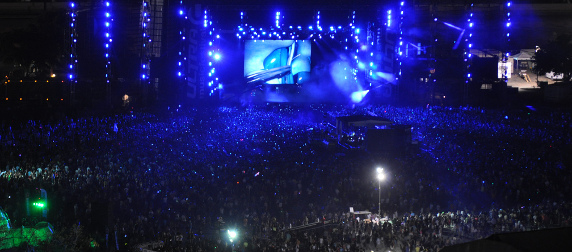 photo by Lonny Paul
By almost any benchmark, Miami's Ultra Music Festival is a rousing success story, drawing some 55,000 enthusiastic fans from around the world to the city's downtown Bayfront Park for three days - and mostly three nights - of performances by some of the most popular acts in the world.
Ultra is the flagship of the EDM, or electronic dance music, festival circuit - a circuit that spans the globe and mostly attracts followers in their late teens and 20s. Like the music festivals of past decades, these events draw a lot of people, a lot of bare skin, a fair amount of illegal drugs and some public behavior that genuine grown-ups usually frown upon.
Gray-haired guys like me are seldom seen at events like Ultra. We tend to find the fuss annoying and the crowd vaguely dangerous. We also generally don't know the performers and don't favor the music. So some of us would applaud if events like Ultra went away, while others - probably most of us - would never notice.
Miami Mayor Tomas Regalado is part of the camp that wants Ultra to go away. Away from his city, at least. A longtime critic of the festival, which has been a Miami event since the late 1990s, Regalado vowed after the first day of this year's three-day festival to do everything possible to prevent Ultra from coming back next year.
Regalado was understandably upset, though at the wrong people and for the wrong reasons. Just as Ultra was getting underway on March 28, a crowd of gate-crashers rushed a chain-link fence along the festival's perimeter. The crowd toppled the fence over a lone security guard, 28-year-old Erica Mack, pinning her to the ground as the ticketless revelers merged into the gathering crowd. Mack was critically injured, suffering a brain hemorrhage and a broken leg. Later in the festival, a 21-year-old attendee died of undetermined causes after some friends put him in a car when he was taken ill. The friends left him alone as they returned to the festival; they later discovered his body.
Regalado and other city officials criticized Ultra's organizers for not reinforcing the perimeter fence even though they were advised, two hours before the gates opened, that it was insecure in the area where Mack was later injured. Officials also noted that there were more than 80 arrests, including some 33 felonies, over the course of the event, which attracted an estimated 165,000 attendees.
I think I understand how Regalado feels. That 28-year-old woman in the hospital is somebody's daughter or granddaughter. It could just as easily have been his daughter, or mine. Of course we want to protect young people from needless, life-threatening injuries, especially at an event that we can easily dismiss as pointless.
Yet I can attend any professional hockey game and watch grown men assault each other in ritualized fights, in front of thousands of appreciative fans, while dozens of police and security officers look on and do nothing to intervene. The violence in hockey is premeditated, often to the point of seeming contrived, yet nobody proposes to ban the entire NHL. Not coincidentally, gray-haired guys like me are readily found at hockey games.
Just a couple of miles from Bayfront Park, the Miami Marlins draw far fewer fans even on their best days, since their two-year-old ballpark holds fewer than 38,000. Yet the venue and the surrounding streets are flooded with uniformed city officers during and after games, helping ensure that crowds are orderly. While I don't blame Miami police for the behavior of lawless gate-crashers at Ultra, I suspect that just a handful of strategically placed blue uniforms would have deterred the stampeding mob and prevented the young guard's injuries. If we don't blame the police, why blame Ultra's organizers? They certainly did nothing to encourage people to attend their festival without tickets.
Regalado's crusade against Ultra would not only punish its generally law-abiding and peaceful, if youthfully rambunctious, fans - it would punish his city, now and long into the future.
There would be an immediate financial cost. Ultra's impact on the city's economy is estimated at anywhere from $40 million to more than twice that, all delivered in just a few days. Many attendees come from other cities and other countries, reflecting Miami's status as a commercial crossroads of the Americas.
I suspect the long-term costs to the city would be even greater. In just a few years, today's Ultra attendees will become tomorrow's nurses, teachers, doctors and lawyers, not to mention moms and dads. Their festival-going days will soon be behind them. The exposure that Ultra provides to Miami - a resurgent, vibrant city with a remarkable physical setting and multilingual culture - is a priceless asset. Right now, Ultra-goers see Miami as a great place to have a party. In reality, Miami has made itself a great place to have a life. Those who do not realize this now will come to appreciate it in the future.
World-class cities learn to handle world-class events. Whether it is a political convention, a global financial meeting or a music festival, the planning and execution of crowd control and public safety is a crucial element of running a community that commands the spotlight. When everything goes well, nobody notices. When it doesn't, we remember for a long time. Just think of Chicago in 1968.
There surely are lessons to be learned and improvements to be made, but chasing Ultra out of Miami would be unfair to Ultra's fans and would ultimately hurt the city that the festival's opponents want to protect. If Mayor Regalado were to ask me, I would tell him that although gray-haired guys like us may not exactly understand it, if Ultra is this important to so many people, it is important enough to keep.