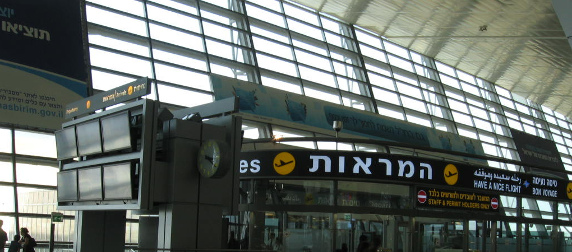 photo by Pablo Markin
Airline passengers virtually always arrive safely. That's because the industry and its regulators, having learned the lessons of many past tragedies, always put safety first.
Except when they don't.
Malaysia Airlines Flight 17 ended in a horrible shower of bodies and wreckage because someone concluded that separatists fighting in eastern Ukraine only possessed missiles that could reach to 32,000 feet, and that it was therefore safe for the Amsterdam-to-Kuala Lumpur flight to cross the battle zone at 33,000 feet. It turned out the insurgents had recently come into possession of missiles that could go higher, but still lacked the tools or training to avoid firing at noncombatant civilian aircraft.
In what I presume was an effort to apply the lessons of MH17, the Federal Aviation Administration last week banned U.S. carriers from flying to or from Tel Aviv after a missile fired from Gaza came down about a mile from Ben-Gurion International Airport. However, after being accused of acting for political reasons, the FAA reversed itself two days later.
I don't believe the FAA acted politically when it imposed the flight ban. I strongly suspect, however, that politics entered into the decision to allow flights to resume, because nothing had visibly changed in the interim.
Others share my concerns. German pilots questioned a similar reversal by the European Aviation Safety Agency, though the European advisory about flying to Tel Aviv had been cautionary rather than mandatory, and the European regulators have refrained from declaring Israeli skies safe. "We should not be flying to locations where shots are being fired," a German pilots' union official sensibly observed, according to Reuters. Yet German carriers Lufthansa and Air Berlin resumed flights to Israel on Saturday, a day after most Western airlines returned to Ben-Gurion. Some, like British Airways, never formally halted flights at all.
The FAA initially banned flights by U.S. carriers on Tuesday. Even before the FAA acted, Delta announced it would halt service to Tel Aviv, going so far as to divert an en route flight to Paris. The FAA extended the ban past an initial 24-hour period, but then abruptly performed an about-face late Wednesday, allowing U.S. carriers to resume service. United Airlines promptly restarted service to Israel; Delta and American Airlines soon followed, along with foreign carriers. Israel's national flag airline, El Al, never halted service.
Not surprisingly, everyone assured the public that safety was their only consideration. Lufthansa's statement over the weekend that "A decision on whether or not to fly is made purely on the basis of security considerations" was typical. But there remains the nagging fact that Tel Aviv happens to fall in an active war zone, within range of Palestinian rockets. If the Israelis cannot keep missiles out of a given airspace, why would any commercial jetliner - let alone one from a country other than Israel - fly there?
Israel took the position that flying to Ben-Gurion is a show of solidarity and a blow against terrorism. In a statement, its Transportation Ministry declared that "Ben-Gurion Airport is safe and completely guarded and there is no reason whatsoever that American companies would stop their flights and hand terror a prize."
A similar criticism came from former New York City mayor Michael Bloomberg, who called the flight restrictions a concession to Hamas. Bloomberg flew to Israel on Wednesday on El Al to show solidarity with Israel. I have no quarrel with Bloomberg flying anywhere he wants, but as a rule, the rest of us don't fly somewhere in order to make a statement against concessions to terrorism. If we wanted to do that, we would keep our shoes on our feet when we go through airport security.
Meanwhile, Sen. Ted Cruz, R-Texas, accused the administration of using "a federal regulatory agency to launch an economic boycott on Israel." The State Department vehemently denied Cruz's accusations, saying the FAA makes decisions such as the ban "based solely on the safety and security of American citizens, period."
This sentiment is laudable. But if it is true, it makes the FAA's decision to lift the ban perplexing. The FAA said it reviewed "significant new information," but did not disclose what that information might have been. The European Aviation Safety Agency lifted its own advisory on Thursday following the FAA's announcement.
As much as Israel would like to pretend things are business as usual except in the Gaza Strip itself, that is not the case when rocket strikes can reach so close to the country's largest airport. On a personal level, I am not unsympathetic to Israel's objectives in its current offensive, though in a longer view, there is plenty of criticism to aim at both sides of the conflict. But the first priority for the American government, including the FAA, should be to keep Americans safe.
The ban on flights to Israel seemed clearly designed to ensure that end. And while the State Department's warning against nonessential travel to Israel and the West Bank remains active, the FAA's decision to lift the wholesale ban seems less a matter of improved safety and more a question of protecting the agency's political position, the business interests of the airlines and the preferences - informed or otherwise - of the traveling public.
Keep in mind, also, that while travelers choose when and where they fly, airline crews have less discretion. They too rely on the airlines and the regulators for protection. It will be a shame as well as a tragedy if we see more casualties because a jetliner flew to the wrong place at the wrong time.
Editor's note: An earlier version of this post incorrectly stated that Michael Bloomberg flew his own plane to Israel. In fact, he traveled on an El Al commercial flight.