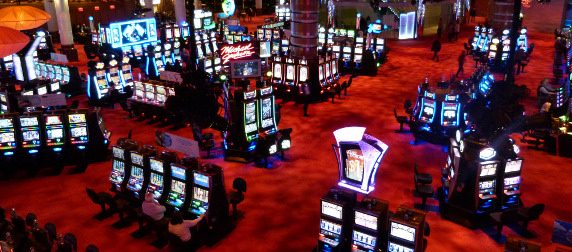 Slot machines at Revel. Photo by Flickr user Ingret9
Summer is drawing to an end, and with it, the height of tourist season. But some of the doors closing on Atlantic City's boardwalk won't reopen come next Memorial Day.
The Showboat Casino Hotel and Revel, one casino a 27-year-old institution and the other only two years old, have both shut down for good. Trump Plaza is slated to join them on September 16, and the Atlantic Club Casino Hotel closed last January. The Trump Taj Mahal is reportedly in precarious shape as well.
The conventional wisdom is that Atlantic City is struggling today because of competition from expanded gambling elsewhere in the Northeast. That is certainly a factor. The days of Atlantic City's regional monopoly are over for good, and the effects are self-evident. The Washington Post has reported that the city's overall casino revenues are at around half of where they were in 2006.
But if increased competition were the entire explanation, Atlantic City wouldn't be the only place struggling. Casinos have spread from a few pioneering and out of the way locations to urban areas, such as Baltimore or Philadelphia, nationwide. The gambling industry as a whole is chugging along well enough.
Gambling, and the other diversions casinos provide, are components of the entertainment industry; that industry, by its nature, creates hours of amusement, but nothing tangible of lasting value. Although I would personally prefer to spend my time and money at an amusement park than in a room full of slot machines, other people feel differently.
But you cannot build an entire economy off gambling alone. Cities simply can't live on entertainment, of any sort, without any other underlying economic activity. When you compare Atlantic City to Las Vegas, this principle becomes clear. You would expect expanded gambling venues nationwide to hit Las Vegas as hard as, or maybe proportionally harder than, Atlantic City. But long-term visitor trends say otherwise. Over 39 million people visited Las Vegas in 2013, about 6 million more than visited in 1999. Atlantic City's visitor total fell by about the same amount over that period.
What, then, is the difference? Las Vegas, although it makes a big part of its living from casinos, doesn't rely on them exclusively for its success and continued existence. Nevada offers a favorable tax climate and, for those who can stand (or escape) the heat, a favorable living climate too, with only around 4 inches of rain a year. People hold business conferences there. People retire there. People set up their banking or trusts there. Businesses incorporate there.
Atlantic City has both a miserable climate for business and a miserable climate for people. Despite a few mild ocean breezes in the summer, it's mainly a damp, expensive place. And if you leave the casinos, you can't help but notice the rest of the city is decrepit. It took until 2012 for Atlantic City to get a supermarket. Nobody retires to Atlantic City.
Las Vegas isn't a bigger Atlantic City. Las Vegas is Phoenix with casinos.
The need for Atlantic City to diversify its economy has not been lost on everyone. There is talk of trying to attract a four-year college and expanded retail investment, MarketWatch reported. But a place where 8,000 workers have abruptly lost their jobs and 30 percent of the population lives below the poverty line is one that will face an uphill battle, especially with the headwinds of New Jersey's overall business climate working against it.
To fix Atlantic City - or, for that matter, other New Jersey cities like Camden or Paterson or Newark - New Jersey's leaders need to fix what's actually wrong in the city and, more broadly, in the state. They can't do anything about the weather, true. But until New Jersey becomes an attractive place to settle, build wealth and enjoy retirement, Atlantic City will never be another Las Vegas.