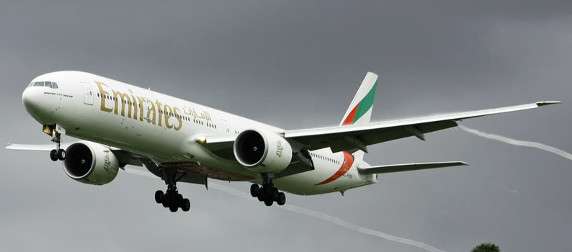 photo by Billy Wilt
Last month, my wife and I flew from New York to Milan, Italy, on Emirates.
We booked our shoulder-season tickets back in April, paying less than $1,400 combined for our economy-class tickets. Emirates allowed each of us two free checked bags of up to 50 pounds apiece. We checked a total of three suitcases between us, though we only needed two of them to carry our belongings for an 11-day trip. (Even then, we always overpack.)
On the outbound leg, we each tossed a couple of days' worth of necessities into the third suitcase, just in case one of the primary bags happened to go astray. It's a lesson I learned years ago while sitting in a Barcelona hotel, waiting for Delta to deliver an overdue suitcase. On the way home, the third suitcase was instead stuffed with souvenirs, primarily tins of French cookies that you can't find here in the States. We have our priorities.
Overall, Emirates deserved high marks - though not straight As - for service, as well as for value. Even though our fare was hundreds of dollars less than those offered on that route by Emirates' U.S. rivals, we flew in a spotless Boeing 777 with average-sized coach seats and a good entertainment system. The latter did my wife more good than it did me on our overnight outbound flight; I sleep well on planes. My wife, however, does not, and she appreciated the wide range of films available in a variety of languages. The food was pretty good for coach, and the flight crew was amply staffed to serve the 260-odd passengers a Triple Seven can carry.
We arrived at JFK, per our custom, a good four hours ahead of our international flight's departure, but there was nobody at Emirates available to check in coach passengers until three hours prior. The one clerk available when we arrived handled only first and business class. Still, even with the wait we had enough time to clear security and enjoy a decent dinner at a restaurant in the terminal before we made our way to the gate. Overall, our experience was not only relatively economical, but pleasant too.
Big U.S. airlines have recently begun to complain about Emirates, along with its fellow Gulf-based carriers Qatar Airways and Etihad Airways. As recently reported in The Wall Street Journal, executives at legacy carriers like Delta and United have argued that government support for Gulf airlines means an unequal playing field, and that the foreign carriers benefit from subsidies and cheap fuel, claims which Gulf-based carriers have denied.
The big U.S. airlines don't appreciate the competition from Emirates and other Gulf-based carriers because they never appreciate any competition at all.
United and American are at the bottom of my preference list when I fly anywhere. Their approach to their business is to charge the most they can collect while delivering the least their customers will accept. That is their prerogative, but I go out of my way to avoid flying them, either domestically or overseas. Delta is a similar legacy carrier and it has a broadly similar business model, but it manages to annoy me significantly less often, while flying more routes that I really want to fly. I therefore use Delta more than United, which I fly rarely, or American, which I scarcely use at all.
On trips abroad, I try to fly foreign-flag carriers when I can. This includes TAM on flights to Brazil, where I travel fairly regularly, and Lufthansa, Air France, KLM and especially Virgin Atlantic on flights to Europe. Emirates has now earned a place on that preferred international roster. Here in the states, my carriers of choice are JetBlue and Southwest.
Fees for checked baggage particularly annoy me because they encourage travelers to drag anything smaller than a steamer trunk into the cabin, where I often end up helping an undersized woman hoist her oversized bag into the overhead compartment. This is partly because I am a gentleman and partly because I am afraid someone will be maimed by a falling anvil, thus delaying everyone's travel. JetBlue gives me a free checked bag on every flight. It gives my wife two free checked bags, because somehow she qualifies for their Mosaic preferred customer program and I don't. (I don't mind, however, because I have been married long enough to know that if only one of us is going to get preferred treatment, it is better for all concerned that it is her.) Southwest offers two free checked bags to everyone.
Besides charging more on the New York to Milan route, the domestic carriers offer only one free checked bag on an international route and charge $100 for a second. This would have meant taking only two bags to Europe - and, crucially, fewer French cookies to give away when we got home.
Legacy U.S. carriers want Washington to do their dirty work by negotiating limits on the routes the Gulf carriers fly. This is based on their questionable claim that these government-owned carriers are unfairly competing, but mostly on their belief that our Open Skies treaty policy should benefit U.S. airlines but not U.S. travelers.
American legacy carriers are like crabs in a bucket, trying to pull down anyone that tries to climb out of their wet, dank, crowded hole, by which I do not specifically refer to United and American's economy cabins, though I won't argue if someone else does. Passengers are just parcels to them, to be delivered intact and on time but with as little additional fuss as possible. It's a fair business strategy and they can pursue it if they want to. But they ought to do it without the help of our government, which should act in the interest of the public that flies, rather than the crabs and other airlines that fly it.