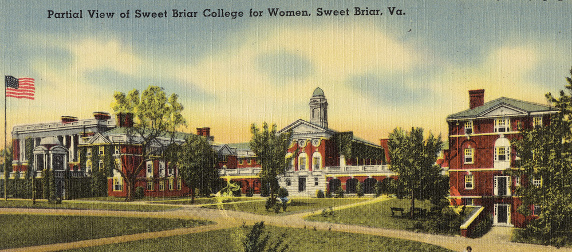 image courtesy the Boston Public Library
When an industry is overcrowded, two types of enterprises survive when competitors fail.
First, there are those that are the most efficient and can provide their customers with the greatest value. Then there are those that offer the highest-quality products, for which customers are willing to pay a premium. Enterprises that can offer neither cost-effective nor top-of-the-line products generally don't survive the squeeze.
The college industry in America is grossly overcrowded, and the shakeout has begun.
Sweet Briar College, a women's liberal arts school in Virginia, announced recently that it would close at the end of this term, to the shock of its students, alumnae and professors, and to the consternation of the staffs of similar colleges nationwide. Despite the efforts of a group of alumnae and the faculty, the board and the interim president have held firm to their decision. The New York Times reported that the school's financial consultants determined Sweet Briar would need a $250 million endowment to survive; its actual endowment is about $85 million.
Elizabeth Kiss, the president of Agnes Scott College in Decatur, Georgia, told The Times, "Part of what makes the Sweet Briar story so shocking to people is that we wouldn't have necessarily thought of them as being one of the most vulnerable." But with enterprises, as with individuals, it is not always easy to spot an impending collapse from the outside.
If Sweet Briar's closure was shocking to some, it will almost certainly not be an isolated incident. Moody's Investors Service downgraded the credit ratings of an average of 28 schools per year in the five-year period ending in 2013, a figure more than double the average of the previous five-year period. Clayton Christensen, a professor of the Harvard Business School, has predicted that as many as half of the colleges and universities in the U.S. may fail within the next 15 years.
So far, however, the degree-granting industry has not responded the way most businesses would. You don't see tenured professors clamoring to teach more courses or to work for less money to ease the financial burden on their institutions. And universities are happy to continue minting new PhD-holders into a job market where over 75 percent of faculty are now adjuncts and many graduates, especially in the humanities, can't find a job in academics at all.
Neither do you see many administrators actively seeking to merge with larger and stronger competitors so they can eliminate duplicative presidents, provosts, deans and department heads. Some such mergers have happened; Bloomberg cites 37 schools that merged in the years between 2011 and 2013, which is more than usual, but still not a substantial amount. Nor do you see a lot of administrators volunteering to take pay cuts amid potential plans for belt-tightening. The number of administrators and non-teaching staff has, in fact, doubled over the past 25 years.
What you do see is a shrinking and increasingly cost-conscious pool of domestic students (now that the baby boom echo has mostly passed through the undergraduate stage) who are refusing to pay top-tier prices at third-tier campuses. Even top-tier schools may find that the belief that no price is too high for a first-rate education is buckling under the weight of student loan debt, which has passed the $1 trillion mark.
This is not a trend that is going to reverse; on the contrary, it is highly likely to accelerate. With the inevitable growth of online learning, and President Obama's proposal to make community college (which can just as easily be seen as the first two years of a four-year degree) free to all students, the cost pressures on traditional liberal arts campuses will become crushing in the years ahead.
Some schools may be able to survive through aggressive cost-cutting, but it is unlikely that many have enough of a financial cushion to recover from any mistakes. A few premium schools that command premium prices (and especially those that boast hefty endowments) may be able to use their prestige to survive the trend. Many others will either become highly efficient, low-cost providers of higher education, or they will cease to exist.
While obviously upsetting to those who are deeply invested in the old system, this change is a beneficial development for the country and its younger generation. Competition is healthy, and like it or not, competition is coming to a campus near you.