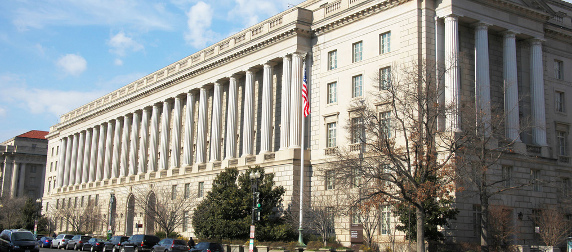 The Internal Revenue Service building, Washington, D.C.
Photo by Tim Evanson
The Justice Department's refusal to prosecute Lois Lerner for contempt of Congress was predictable and, to critics of the Internal Revenue Service and the Obama administration, highly annoying. But that doesn't mean it was wrong.
The outgoing U.S. attorney for the District of Columbia, Ronald Machen, informed House Speaker John Boehner, R-Ohio, that he would not bring a criminal case to a grand jury over Lerner's refusal to testify before the House Oversight and Government Reform Committee. In a letter explaining the decision, Machen said Justice Department lawyers concluded that Lerner had not waived her Fifth Amendment right not to testify against herself by making a general statement of her innocence. The Justice Department determined there was no point in presenting the matter to a grand jury, since Lerner's conduct was constitutionally protected.
I am no fan of Lerner. I also think the administration's politicization of the IRS in an attempt to circumvent the Supreme Court's Citizens United decision was reprehensible. If the Justice Department felt similar outrage - and under Attorney General Eric Holder, we can be sure that it doesn't - it would aggressively look for civil and criminal breaches of the law in the manner in which Lerner and others at the tax agency carried out their official duties.
Lerner and other IRS officials are, after all, still under investigation for the actual matter of delaying conservative groups' applications for nonprofit status. The Justice Department could, and should, bring its weight to bear on the investigations into the agency's actions. It certainly was not shy last week about indicting Sen. Robert Menendez, D-N.J., on corruption charges in a long-running case that coincidentally gained steam after Menendez opposed the administration's diplomatic opening with Cuba.
But though this administration, throughout its many branches, often shows little respect for citizens' rights and the rule of law, we should neither expect nor demand that it further trample those rights by prosecuting an individual for exercising them - even a current or former public servant who is accused of misusing her office.
Essentially, congressional Republicans were trying to play "gotcha" with Lerner when they claimed she waived her Fifth Amendment rights by first declaring her innocence and then refusing to answer questions about her official conduct. No court would sustain that claim.
The right to decline to provide testimony against oneself is a core element of the Constitution's protections. It is the key element that immunizes citizens, innocent or otherwise, from providing testimony under abusive or coercive conditions, though authorities often seek to coerce such testimony anyway. (That's why we have such a problem with false confessions.) Any waiver of the Fifth Amendment must be made consciously and knowingly, not inadvertently because you "waived" your right without realizing you were doing so.
This is not a principle I am making up. It has been well established at least since the Miranda case in the 1960s, which held that a waiver of a right not to talk to police cannot be effective unless a suspect has, in fact, been informed of that right and is given the chance to consciously consider it. That case resulted in the standardization of the practice to telling a suspect his rights, now commonly called Miranda rights, including the right to remain silent.
In a statement, Lerner's attorney said, "Anyone who takes a serious and impartial look at the issue would conclude that Ms. Lerner did not waive her Fifth Amendment rights." While frustrating for critics of Lerner's behavior, this assessment is the correct one. Regardless of her conduct while at the IRS, Lerner's Fifth Amendment rights remained in place and an attempt to argue otherwise was an overreach, however justified the outrage motivating it.
By all means, get the IRS out of the business of supervising the citizenry's civic and political activities; it has no business there. Prosecute public servants who deliberately violate the law for official misconduct or other relevant charges. But don't claim someone is in contempt of Congress, or of the courts, merely because she chooses how, when and whether to say something about her conduct, and then to assert her right to say nothing further.