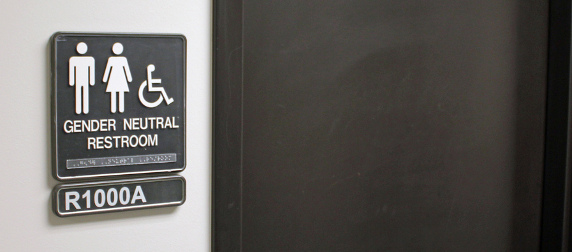 photo by Jeffrey Beall
Do lawmakers lead societal changes or reflect them?
Improbably, the most recent event suggesting an answer is the installation of a new bathroom in the White House complex.
Earlier this month, the Obama administration announced the first gender-neutral bathroom would be opened in the Eisenhower Executive Office Building, next to the West Wing. In another context, it is hard to imagine such an update requiring a formal announcement. After all, single-occupancy unisex public toilets are common everywhere from hospitals to airplanes.
But this is not a simple matter of convenience: The decision arrived amid a much broader national conversation. That conversation gained prominence over the weekend when former Olympic star Bruce Jenner revealed to ABC's Diane Sawyer that he identifies as a woman (though he continues to use male pronouns).
"The White House allows staff and guests to use restrooms consistent with their gender identity, which is in keeping with the administration's existing legal guidance on this issue and consistent with what is required by the executive order that took effect today for federal contractors," White House spokesman Jeff Tiller said. That statement, along with the executive order to which it refers, stands as a direct rebuke to several state legislatures that are considering laws restricting which restrooms transgender people can use in public spaces.
This is not the first time unisex bathrooms have served as a fulcrum for a policy debate, though the context surrounding them has dramatically changed. Back in the 1970s, the front-page civil rights question was the Equal Rights Amendment. Congress passed the ERA in 1972, but it was never ratified by enough states to take effect. It had strong momentum at first, coinciding with the passage of Title IX, which of course did become law. What eventually stopped the Equal Rights Amendment proved to be a public backlash fed by fears of unisex public bathrooms and women in military combat roles.
So here we are, just about four decades later. The ERA never passed, but the Pentagon promises to put women in combat by next year, and the White House is installing all-gender bathrooms. All of which goes to show that while lawmakers and the courts can accelerate or delay societal changes, they don't actually have much control over the ways in which society ultimately does change.
The 13th and 14th Amendments were supposed to guarantee equal rights for freed slaves and their descendants. We all know how that turned out. It took another century before this country was really ready to seriously consider living up to its creed that "all men are created equal." And when, just a few years later, we considered changing the Constitution to extend that creed to all women, well, we just couldn't see at the time exactly how it would work - or how changing the Constitution would make much difference.
Very few people even understood the term "transgender" back in 1972; the word had only been coined a year earlier. The desires and needs of people who are assigned one gender at birth but identify as another were not on anybody's radar in public discussions of policy. Even now, many of us who are old enough to remember the ERA are not well-attuned to those needs, though our adult children sometimes try to explain them to us. At this point, I'm willing to trust their kinder and gentler instincts on this. If someone wants me to share a restroom with people of other gender identities who prefer to share one with me, I can handle that. I would like to know that my wife will still have the option to stick with a females-only facility if that is where she feels more secure. But then, if Bruce Jenner considers himself a woman and also wants to use a females-only bathroom, I suppose she must make the same adjustment I need to make.
Social media has undoubtedly helped expand the conversation. The #WeJustNeedToPee campaign drew attention to the state-level laws that would force people to use facilities in line with the gender they were assigned at birth, ostensibly as a matter of combating predatory behavior.
Many of the early efforts for gender-neutral restrooms started on college campuses; the White House's buy-in represents a very visible step into the broader culture. Advocates of gender-neutral public facilities have pointed out that they will benefit not only transgender individuals, but people with opposite-sex caretakers, families and people with nonbinary gender expression, which is to say those who do not identify fully as either male or female.
The controversy is far from over, but it seems clear the direction in which our culture has moved, even over just the past few years. The same can be said of assigning women to combat roles in the military; there are still staunch opponents, but the overall motion is self-evident. The Pentagon's decision is a culmination, not a sea change.
It seems we got the unisex restrooms and the women in combat predicted by ERA-detractors, even without the ERA. And I think we got the rest of what the amendment promised, too - at least to the extent that the amendment itself could have delivered it.
Passing the ERA could hardly have changed the role and earning power of women in the workforce overnight. By the time the amendment died, we already had laws against workplace discrimination, with courts and juries ready to enforce them. But no law can force women to make the same career choices as men, or to have the same education and experience background, or to have access to the same networks of business contacts. Those things took time, along with great effort by many women, and some men, to change the old ways of doing things. The process is not finished, but it is well on its way. Being the "first woman" to hold a position or achieve a milestone is hardly a big deal anymore, either to women or to men.
Sure, we continue to adjust. Putting women on the front lines was as unthinkable in 1972 as was the idea of having an openly gay officer or enlistee. It took until 2010 for the federal government to dislodge the "don't ask, don't tell" policy, and another 10 months for the last restrictions on gay, lesbian and bisexual personnel to fall. (Transgender citizens still cannot serve.) The Combat Exclusion Policy, which kept women out of combat roles, was lifted in 2013. After a generation of resistance, the military has adapted itself to both ideas. So have most of the rest of us.
While the state-level backlash against gender-neutral toilets continues, especially in schools, I suspect we will eventually adapt ourselves to that idea, too. As with so many other changes, it probably won't seem so strange once the newness of the idea wears off. I was ready to embrace same-sex marriage many years ago. I suppose I can handle unisex washrooms if called upon to do so.