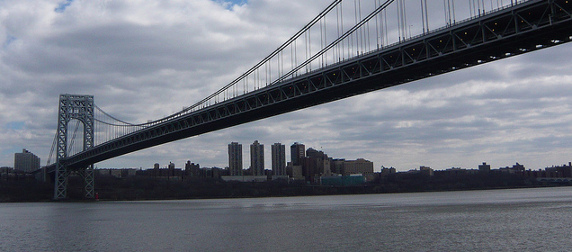 photo by Shinya Suzuki
Gov. Chris Christie's presidential aspirations have been on life support since the first allegations arose about political nature of the 2013 lane closures at the George Washington Bridge. Now Paul Fishman, the United States attorney for New Jersey, is pulling the plug.
Yet Christie doesn't seem to realize that, as a presidential candidate, he's clinically dead.
Last Friday, David Wildstein pleaded guilty to conspiracy to commit fraud and conspiracy against civil rights. Wildstein, formerly one of Christie's close allies and the governor's high school classmate, is the first person to be convicted in connection with the "bridgegate" incident. He resigned as the director of interstate capital projects at the Port Authority of New York and New Jersey at the end of 2013, about a month before the email leak that broke open the scandal in the media.
U.S. District Judge Susan Wigenton, who accepted Wildstein's plea, also unsealed indictments against Bill Baroni, the former deputy executive director for the Port Authority, and Bridget Anne Kelly, Christie's former deputy chief of staff. Baroni and Kelly were charged with multiple counts of conspiracy to commit fraud; both entered pleas of not guilty yesterday. In a press conference Friday afternoon, Fishman said there were no plans to charge anyone else in connection to the lane closure incident based on current evidence.
The bridge scandal spawned a federal investigation that has run for 16 months and counting, and has undoubtedly knocked New Jersey's governor far down in, if not completely out of, the running for his party's presidential nomination in 2016. Or at least, so it would seem to bystanders. Christie himself evidently holds a different perspective.
"I don't think that has anything much to do with me," Christie said of the then-impending action against Wildstein, when asked about it during a press conference last week. He added that the investigation won't affect his decision to run or his campaign if he decides to do so.
Christie's denial mainly demonstrates that the governor is, in fact, in denial. As a former prosecutor himself, Christie must know exactly what Fishman is doing: chasing the little fish and letting them off the hook to follow them up the food chain, in hopes of eventually corralling the big tuna, notwithstanding Fishman's initial modesty about the big gamefish he might eventually land. The New York Times reported that the investigation has extended beyond the lane closings in Fort Lee, New Jersey, to other questions about the Christie administration's conduct.
The governor may or may not have done anything criminally wrong. I am not suggesting that he deserves to be in jail. But I am still not buying the implausible story he has continuously told for the past year and a half, either. The cockamamie tale is that he never had a hint before, during or in the three months following the bridge fiasco that some of the people closest to him were in up to their dorsal fins. It's clear that Fishman isn't buying this story any more than I am.
Moreover, it's a year when Christie's own party has close to a dozen credible presidential hopefuls, most of whose temperament and judgment are not nearly as compromised as the governor's. In a contest in which Hillary Clinton and her allies are expected to deploy upwards of $2.5 billion for the other side, major Republican donors simply aren't going to fund Christie's race. It would be a great deal of risk for no clear reward, especially when other options are plentiful. This ought to be obvious to everyone - with the possible exception of Christie himself.
Maybe this political myopia he suddenly displays is his way of bolstering his cover story, as if to say, "See? I really can be that clueless about what is happening around me." But I think it's more likely that the lure of the Oval Office is just so attractive to Christie that he can't bring himself to turn away from it.