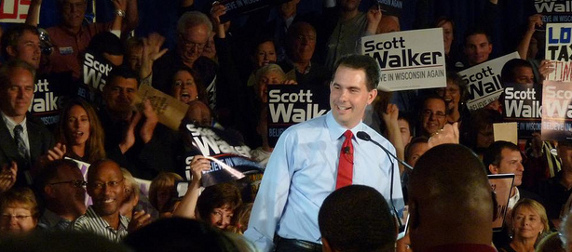 Wisconsin's Gov. Scott Walker. Photo courtesy WisPolitics.com on Flickr.
Conservatives don't have answers to all the country's problems. For some problems - notably immigration - many do not seem to have any constructive answers at all.
But when it comes to defending freedom of speech and of association in 21st century America, the country is fortunate indeed that two recent midterm elections have put conservatives in control of most of the country's statehouses and executive branches, and many of its high courts. On the federal level, nearly all the defense of free speech in the Obama era has come from the Supreme Court, and many of the greatest threats have come directly from the president's political allies in Washington and across the country.
Wisconsin's Star Chamber-ish investigation of conservative groups that were aligned with Gov. Scott Walker in his successful 2012 fight against a labor-backed recall is a case in point. The recall was a definitive victory for Walker, who beat back his challenger handily despite Wisconsin Democrats' best efforts. In theory, that should have been the end of the matter. Instead, special prosecutors served subpoenas to dozens of conservative groups, demanding they hand over documents related to the recall election.
The Wall Street Journal reported that the probe, headed by special prosecutor Francis Schmitz, originated with Milwaukee County Assistant District Attorney Bruce Landgraf. The investigation leaned on the state's John Doe law, which prohibits a subpoena's target from disclosing its contents (except to his or her attorneys). Because of this ban, it was difficult for the media or other outside observers to confirm details about the investigation, though Eric O'Keefe, the director of the Wisconsin Club for Growth, went on the record in real time, risking a $10,000 fine and a year of jail time in order to speak out against the broad and invasive demands.
O'Keefe described law enforcement officers raiding homes at dawn, in one case isolating the 16-year-old son of a political consultant who worked with Walker and refusing to let the teenager call his parents or an attorney. In all, 29 conservative groups and individuals were served with subpoenas that were startlingly broad in scope. The Journal further reported that O'Keefe said the subpoenas "froze [his] communications and frightened many allies and vendors of the pro-taxpayer political movement in Wisconsin and across the country."
The investigation's targets were also subject to Internal Revenue Service audits, which the IRS denies were politically motivated, just as it denied that its singular treatment of conservative not-for-profit groups had a political component until it was forced to begrudgingly spill some of the secrets surrounding its "be on the lookout" list.
Now the Government Accountability Office has found that, indeed, the tax audit selection process is subject to potential political manipulation too. Granted, the GAO found no such manipulation, but due to taxpayer privacy rules, it could not effectively look for any. And plenty of taxpayers, including some in Wisconsin, have freely volunteered the information that they were targeted for audit at the same time their political activity was under attack at the state level.
But there is hope for the future. The Wisconsin Supreme Court put an end to the investigation into Walker's 2012 recall campaign's "illegal" coordination, ruling that the largely secret three-year investigation could not continue "because the special prosecutor's legal theory is unsupported in either reason or law." In other words, prosecutors' claims that groups and individuals had illegally coordinated independent expenditure campaigns with Walker's fell apart under scrutiny, since such spending clearly fell under constitutional protections for political speech.
Even at the federal level, the Supreme Court has made increasingly clear that any limits on political speech are impermissible, and that there is a sharp distinction between money placed in the hands of a candidate - which the government can regulate to prevent corruption - and money raised and spent by private parties for whatever political purposes they choose, including to communicate their views to fellow citizens, who are free to credit those views or not. The Obama-inspired assault on "coordination" will ultimately fail, because it inevitably seeks to criminalize political activity.
That's not something we do in America. At least, it is not something we've done except for limited exceptions we have later come to regret, such as the Red-baiting attacks during the Cold War. Back then, it was the political left that defended freedom against an assault from the right. Today it is the opposite. Fortunately, GOP majorities in most states, including Wisconsin, offer a bulwark.
In Wisconsin, we can at least hope for and expect an overhaul of the John Doe process that was so grievously misused by Democratic prosecutors to attack the Republican governor's political sympathizers. Two of the subpoena targets have sued the prosecutors in state court for violations of their right to free speech. We might also hope for some Bar Association referrals - not that I expect anyone to be suspended or disbarred this time, but such referrals would put any other prosecutors tempted to employ similar tactics for political purposes on notice. As I have written before, prosecutorial misconduct will be inhibited only when prosecutors face real consequences.
Speaking of which, the federal Department of Justice could launch a civil rights investigation in cases like the Wisconsin abuses; targets such an investigation could include IRS employees. The operative word is "could." The Obama Justice Department certainly won't. But it would be useful for Republican presidential candidates to make clear that if voters entrust them with the next administration, they will make it a priority to ensure that officials operating under color of criminal law at all levels of government employ such laws to fight crime, not speech.