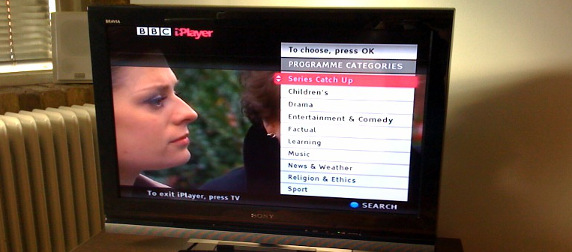 photo by Dan Taylor
Most Americans probably don't know that people in Britain must pay an annual license fee for their televisions. Those of us who are aware of the rule have often seen it as one of those quaint but somewhat odd customs our British friends maintain, like driving on the wrong side of the road.
Now it's starting to tilt less toward quaint and more toward odd, not to mention sorely outdated.
I do a fair amount of my television watching on Netflix. Sometimes I watch on my laptop, especially when I am on the road. A lot of other people watch on tablets or even phones. But when I am on the couch in what I still call my "TV room," I watch on my new 60-inch smart TV, which is connected both to my cable box and to my Internet router.
If I were British, I would be required to license that TV, though not my laptop or iPhone. Maybe I would hand over the fee, the equivalent of around $230 for the year. Or maybe I would get rid of my cable subscription and argue that my TV is functionally just an oversized computer. Or, if the authorities wouldn't buy that argument, maybe I would just buy a device that had no old-fashioned television tuner at all - one which actually was just a computer that had been optimized for viewing movies and TV shows streamed over the Internet.
Obviously the situation makes no economic sense for the consumer. Increasingly, it makes no more economic sense for its beneficiary, the BBC, since the system creates incentives for Britons, especially young ones, to forego having a traditional television at all.
The license fee system was designed to cover the reception of radio broadcasts. It became a foundational method of generating a healthy portion of the BBC's funding when the station was created in the 1920s, and it has remained so ever since, with TV joining radio in the 1940s and replacing it in the '70s.
Now that fewer people are buying televisions, the corporation is facing a funding crisis. The BBC announced recently it is cutting 1,000 jobs, in part to close a budget gap caused by declining licensing funds.
Another potential source to close this gap: charging for iPlayer, the service that allows Britons to catch up on BBC's television and radio offerings commercial-free on demand. The iPlayer platform is only available to those with a U.K. IP address, but does not require viewers to have a TV license except to watch "live" programs. (Watching a live program without a TV license even on a device other than a TV is punishable by a fine of up to 1,000 pounds, or about $1,500, according to the iPlayer website.) While the BBC hasn't yet announced plans to start charging for iPlayer, it has gotten government permission to do so in the future.
I have nothing against the BBC. I appreciate its high-quality news, drama and current affairs programming. I am happy to pay my share to support those programs, which I do indirectly through the cable license fees and advertising revenue the Beeb generates here in the States. But like any organization, when you give a network a guaranteed source of money, it is guaranteed to find ways to spend it. The response of the BBC to the licensing revenue shortfall - cutting back on administrative and other surplus staff - shows how easy money encourages corporate bloat.
The license system is already fracturing, and the government seems willing to give it a push. The BBC recently agreed to phase in a program to cover the cost of licenses for viewers age 75 and older beginning in 2018; these licenses are currently funded by the country's Treasury. And the Conservative Party, the party of Prime Minister David Cameron, has indicated it intends to decriminalize not having a TV license, which would effectively remove the enforcement mechanism for collecting the fee. The House of Commons Culture, Media and Sport Committee said outright that the license fee is "becoming harder to justify" in its current form.
Britain might go farther than simply monetizing iPlayer in combating falling license revenue. It could decide to expand its licensing scheme to a broader range of devices that play television shows, perhaps with the trade-off of using that money to subsidize a broader range of programming through organizations other than the BBC. This solution is unlikely to be popular with viewers and will doubtless encourage more widespread corporate laziness and bloat. But it is an option.
A more productive approach would be to wean the BBC off the licensing arrangement entirely and let it support itself the way its competitors do, with revenue derived from customers around the world who are willing to pay for what they consume. This will ease an unfair burden on British subjects and the BBC's competitors, and at the same time will give the Beeb a financial model that is much more sustainable in a world where terms like "television" and "broadcasting" are little more than quaint oddities from another era.