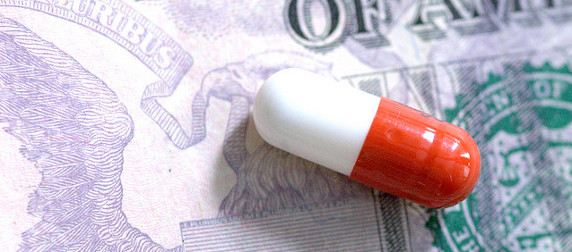 photo by David Goehring
People find all sorts of things stimulating.
Sure, there's the usual suspects, like pictures of attractive people, especially in provocative clothing and poses. But also there's also sporting events, election triumphs and crime sprees (Bonnie and Clyde, for instance, even when not played by Warren Beatty and Faye Dunaway). Even blackouts, during which many a baby has been made, if fewer than reporters sometimes suggest.
Also money. Maybe especially money.
So I suppose it has now been conclusively proven that flibanserin, also known as Addyi and sometimes called the long-sought "female Viagra," has the potential to stimulate sexual desire in a subset of the population. According to the latest findings of the Food and Drug Administration, that subset is the population of premenopausal women suffering from low sexual desire. According to me, the subset must also include shareholders in Sprout Pharmaceuticals.
Last week, just two days after Sprout's campaign to win FDA approval bore fruit, the company announced that it is being acquired by Valeant Pharmaceuticals. The deal's price is $1 billion, roughly 10 times what it reportedly cost to bring flibanserin to market.
I am willing to bet that there was celebrating of all sorts among Sprout shareholders last week.
Not that I begrudge them, or anyone, an active and fulfilling sex life. If flibanserin brings relief to women who are unhappy with their level of sexual desire, great. If the scientific evidence had supported the trade-off between the drug's purported benefits and its side effects, I would have been happy to join those urging FDA approval. If the benefits in health and happiness outweighed its financial costs, I would want to see it widely covered by prescription drug plans - at least as well covered as Viagra and other male libido enhancers, whose advertising we can hardly escape these days.
Unfortunately, those side effects and those costs are both substantial, and the purported benefits are much less so. The reactions associated with Addyi, according to the FDA, include low blood pressure, fatigue, vertigo and nausea, among others. And the potential interaction with alcohol is serious enough that the FDA requires prescribers to be certified with a risk evaluation program, completing a training program and counselling patients seriously about the risk of drinking while taking Addyi. In contrast, the drug's effectiveness in trials for the condition it is designed to treat was about one more sexually satisfying encounter per month.
The National Women's Health Network, a nonprofit that campaigned against Addyi, cited the poor scientific support for the drug's efficacy as the most important factor in its decision to work against Addyi's acceptance. Cindy Pearson, the organization's executive director, told BuzzFeed News, "The data were awful, just awful." Adriane Fugh-Berman, a pharmacology professor at Georgetown University, told The Washington Post Addyi's approval was "a sad day for drug regulation."
"What has been learned since the last disapproval is that it has more risks than we thought and it doesn't have any more benefits," Fugh-Berman said. "This opens the way for drug companies to pressure the FDA through public relations campaigns to approve more bad drugs."
Then there's the cost. The New York Times reported that Addyi is projected to cost about $400 a month without insurance, and notes that it is unclear how many insurers will pay for the drug. While supporters of Addyi were successful in framing its acceptance as a political issue before the FDA, insurers may see it as purely a lifestyle product, rather than as a medical treatment.
This ambiguity is likely to be bolstered by those who question whether the condition Addyi is said to treat, hypoactive sexual desire disorder, is simply a way to pathologize normal human variation in libido in order to sell drugs. David Jay, who wrote a petition on Change.org on behalf of a network of activists to urge the FDA not to approve Addyi, said to Newsweek, "The scary thing about this drug is that the disease it treats can be spread with marketing dollars." Some opponents are concerned that women who would not otherwise be distressed will be pressured to feel shame or discomfort about their sexual appetites in order to increase the potential patient - and customer - pool for Addyi and its inevitable future competitors.
But for all the skepticism, we can no longer argue that flibanserin does not stimulate excitement among some people, female or male. They just need to be in the business of selling it.