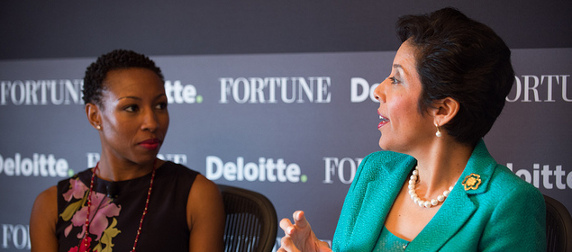 Anna Maria Chavez, CEO of Girl Scouts of the USA (right) and Tiffany Dufu, then-President of The White House Project, current Chief Leadership Officer of the Levo League, speak at Fortune's Most Powerful Women Summit, 2012.
Photo by Stuart Isett, courtesy Fortune Live Media.
A few years after I left a major accounting firm to start my financial planning business, a female friend of mine called to say she wanted to do the same thing.
In some respects, this woman was even better qualified than I was. She had been a partner at her accounting firm, while I only stayed six years and rose to the level of senior manager at mine. I went directly into my own practice from there, whereas my friend had gained further experience and connections by working for a time as a financial adviser with a large trust company. We knew each other quite well through various professional groups, and while we did not socialize away from work, she felt comfortable calling me for advice on starting her own business, and I was comfortable giving it.
In fact, I invited her to my offices and had her meet and talk with several of my staff. We were still quite small then, just a few people in a single office in New York. My friend and I were both in our early 40s at the time. Yet even then, I was positioning my business to develop a generation of advisers and managers who could eventually replace me. I told my friend that I thought this was important, since clients establish long-term relationships with our type of firm and they want to know we will stick around. Also, if you want to attract top employees who are younger than you, they need to know that you are building a career path for them that can extend beyond your own.
I pointed out to her that most financial planners, lawyers and accountants who start their own firms don't do that. They basically just create a job for themselves, one that gives them the income and personal flexibility they desire. If they hire employees, they do not necessarily groom them as successors. Eventually these business owners typically sell or merge their practice with another firm, often sticking around for a few years to ease the transition.
There is nothing wrong with that approach, if it is what you choose, I told my friend. But it is the difference between creating a job and creating an enterprise. You have to decide what you want to do. I chose to create an enterprise.
My friend, ultimately, chose to create a job.
She started her own firm and did well at it. She hired a few employees but did not turn them into successors. As I expanded into other cities across the country, she stayed local. And eventually she merged her firm into another, larger enterprise (not mine). She has taken a position there, which will help smooth the transition of her clients to the new firm. I expect that she will retire within a few years, while I have no plans to quit anytime soon.
My friend did not do better or worse than I did; she just did something different, because it was what she wanted to do. It doesn't make her less of a skilled planner or a skilled businessperson than me. When I compare our paths, I note that her husband, who has his own professional career, will probably retire soon and she no doubt wants to spend most of her time with him. My wife works in my business, has played a major role in building it and can adjust her work schedule as she chooses without affecting mine.
Women frequently prioritize aspects of their careers differently than men do. Not all women, of course, and those that don't appear to have pretty much the same opportunities as men nowadays, notwithstanding the identity-politics myths that women are victims of substantial and widespread discrimination.
As recently as a few weeks ago, a study conducted by LeanIn.Org and McKinsey & Co. rekindled discussion as to why women are underrepresented in positions of corporate leadership. The study's findings suggest that fewer women than men say they want a top executive position. Both women and men who did not want upper-management roles cited stress and increased pressure as major reasons for not pursuing such positions.
Similarly, a paper from the Harvard Business School incorporates the results of several studies and draws the conclusion that women felt they could attain the same level of success as men, but that a high-level position in their company would be as likely to be a source of stress and conflict as a reward for excellent performance. The paper also suggested that, in general, women have a greater number of goals than men, spread over a wider array of categories. This may be another reason why some women don't prioritize executive-level positions.
What about those starting their own businesses? The world of entrepreneurship still skews male, and studies have found that female entrepreneurs face unconscious biases when seeking support and funding. But there is no reason women cannot still be successful entrepreneurs if they choose to pursue that path; in fact, a study from 2010 found that while the tech founders surveyed did skew male, the women they included had similar motivations, backgrounds and experiences. And for those who stay in corporate environments and do make it to leadership roles, women meet or exceed the performance of male peers.
Sexism has not disappeared, of course, but for the most part it does not determine our outcomes. Our own choices do that. My friend could have had a similar outcome to mine, if it was what she had wanted. She didn't want it. It is as wrong to blame that on discrimination as it would be to judge her as less successful than me. I doubt she feels less successful, and I know she has no reason to believe she is. I think we both got what we wanted from our choices.
The young people my friend met at my office many years ago are, for the most part, still with me. Another generation or two have joined us behind them. Many have already started their own families. When someone tells me they are having a baby, I always congratulate them, and I tell them it is up to them to decide how much time they will take off and what their work schedules will be after they return. I adjust compensation and job duties to accommodate whatever they choose. Most of the women who have had children have taken several months off, followed by a reduced in-office schedule and, often, some flexible work from home. No man has ever asked for more than a week or two off, and the only schedule flexibility they need is a sporadic adjustment to meet family needs such as doctors' appointments and school pickups and drop-offs. I am happy to treat the genders the same if that is what they want. So far, it isn't.
Equal opportunity in the workplace does not guarantee equal outcomes. In fact, as long as the genders tend to make different choices, it guarantees the opposite. But if it gets people what they need and want from their work, different outcomes can only be a good thing.