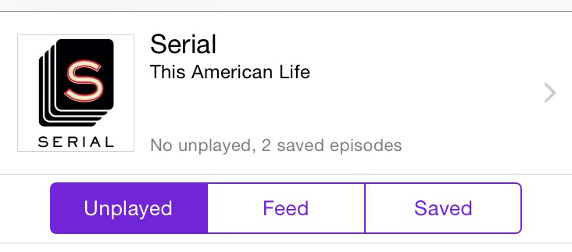 image by Marc van der Chijs
Adnan Syed is not getting a new trial - not yet, anyway. But he may be a step closer, which means justice may finally be properly served in this now-famous case.
If you were not one of the millions of listeners who tuned in to the Peabody Award-winning podcast "Serial" last fall, the significance of this development may not be clear. But the latest news is welcome for many of us who followed the 12-episode report on the 1999 murder of high school student Hae Min Lee and the subsequent trial in which Syed was found guilty of that crime.
The journalists and producers of "Serial" made no claims about Syed's guilt or innocence, but they did make a compelling argument that his trials were mishandled. Jurors lacked some of the evidence, available at the time, that might have sustained reasonable doubt of Syed's guilt. Yet as I observed nearly a year ago, courts offer retrials only grudgingly, and while "Serial" made the case famous, it did not uncover anything compelling enough to change that fact.
Now, however, a Maryland judge has granted permission for Syed's lawyers to present new evidence in the case. The Washington Post reported that the hearing will be limited to two issues. The first, much discussed in the podcast, is an alibi witness from Syed's former classmate Asia McClain. McClain came forward at the time of the investigation but was never contacted by Syed's attorney; she says she was discouraged by the prosecutor from pursuing the matter subsequently, since he gave her the impression that the evidence against Syed was overwhelming and her testimony would not change the outcome. McClain filed an affidavit in January, in which she stated she was with Syed at the local library during the window of time durining which the state alleged Lee was killed.
The other item that will be addressed at the hearing is new and significant: an affidavit from an important expert witness called by the state. That witness, former AT&T engineer Abraham Waranowitz, presented testimony based on AT&T cellphone records. Prosecutors used his testimony to place Syed together with the chief witness, who testified against him under a plea deal, at the location where the victim's body was later discovered.
Waranowitz now says prosecutors withheld from him a disclaimer by AT&T that said records of inbound calls were not reliable for placing a particular phone in a particular location. At the time, only outgoing calls were reliable for location status in AT&T's opinion. Not knowing that AT&T believed the information to be misleading, Waranowitz believes he, in turn, may have unintentionally misled Syed's jury.
McClain's alibi witness alone probably will not get Syed a new trial. Prosecutors have argued for years that Syed's lawyer, Cristina Gutierrez, made a strategic decision not to interview her or call her as a witness. Gutierrez herself died in 2004, however, so Syed's new legal team has been forced to use a former associate's conjecture to dispute the prosecution's position. Frankly, while I am sympathetic to concerns about how Syed's defense was originally handled, I do not find the argument very convincing.
But the technical testimony is another matter. Without it, prosecutors in Syed's original trial would have been forced to rely solely on the word of an admitted after-the-fact accomplice in a case that had zero physical evidence tying Syed to the crime and no witnesses who could testify to seeing him together with Lee on the day she died. Waranowitz, the witness who presented the technical evidence prosecutors used to strengthen their case, now claims the prosecution withheld important information from him, rendering his testimony unreliable.
C. Justin Brown, Syed's current attorney, expressed optimism at judge's decision, even though it is only a step toward a potential retrial. "What once appeared highly improbable is starting to look more and more probable," Brown said.
Casting serious doubt on the use of cell phone records as evidence does not prove Syed's innocence. However, it certainly shows a level of prosecutorial indifference, if not misconduct, that should be sufficient to warrant a new trial. Otherwise, the idea that Syed, 17 years old at the time of the crime, should spend the rest of his life behind bars is unconscionable.
The courts may or may not ultimately agree. Judges still do not like to grant new trials and, of course, neither do prosecutors - at least while the accused is right where the prosecutors want him. That is why the interests of justice may ultimately need to be served by Maryland Gov. Larry Hogan.
Hogan, a Republican, cannot grant Syed a new trial, but he can either pardon him or commute his sentence to time served. In the absence of a new trial, a commutation would be appropriate. It would get Syed out of prison while he is still young enough to do something meaningful with his life, and it would let him continue to try to clear his name if he chooses.
The mere knowledge that Hogan is considering a commutation might alter the thinking of prosecutors and judges, too. In that case, in order to keep Syed in prison, they would have to try to convince a much better-informed jury of his guilt.
I do not know if Hogan is at all inclined to consider Syed's case, though supporters of the convicted man have been urging him to do so. I am adding my voice to that call. The journalists who produced Serial convincingly demonstrated that justice is not served by keeping Syed in prison based on his original conviction. If the courts in Maryland can't make things right, Hogan should exercise his constitutional powers to do the job.