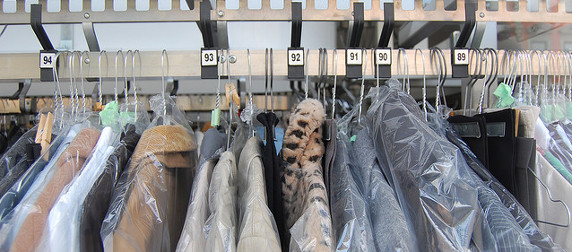 photo by Ralph Aichinger
It all began with an email from my dry cleaner.
Sudsies, the service I use when I am at home in South Florida, regularly sends emails with helpful tips. For instance, if you are running out of clean clothes, try turning items inside out to get another use from them! And don't go tugging on your winter scarves to get them off, either.
Recently, however, I got a slightly less lighthearted alert from Sudsies. The email mentioned a 2 percent tax on dry cleaning and laundry services that customers like me may have noticed on our bills. "Please be advised that this is a tax imposed by and paid to the State of Florida," the message read. "The Florida state statute requires us to notify you that 'The imposition of the tax was requested by the Florida Dry Cleaners Coalition.'"
The email went on to assure me that any other services from Sudsies, such as tailoring or wash-and-fold service, would not be subject to the tax. It encouraged me to get in touch with their customer relations representatives if I had any questions or concerns.
I was not particularly concerned. But I did have questions.
Given the email's wording, I figured the tax must be new. But I wondered why dry cleaners would ask the state to tax their business. I did some digging myself to see if I could find the answer to this minor dry cleaning mystery.
It turns out the tax is not new at all. In its original form, it was first levied in 1994, and its current 2 percent level took effect in 1996. It is also not a sales tax, though customers might be forgiven for assuming otherwise. Instead, it is a tax on gross receipts for dry cleaning and laundry service. Coin laundries and other do-it-yourself laundry services are not subject to the tax.
While for a customer, a sales tax and a gross receipts tax may look similar, that is because both apply to final customer sales. For a business, however, they operate differently. A sales tax is typically the responsibility of the consumer, with the business acting merely as the state's collection agent; a gross receipts tax is the responsibility of the business, though it may be passed along to customers, either as part of the base price or as a separate item.
For Florida dry cleaners, the trade-off is that while the gross receipts tax has a wider reach, the 2 percent rate is better than Florida's current statewide sales tax rate of 6 percent. Dry cleaners are also legally permitted to pass along the tax to customers, as long as they include the language I received in my email inbox about the Florida Dry Cleaners Coalition.
Who is this Florida Dry Cleaners Coalition, exactly? It is hard to say. Most of the preliminary hits on major search engines turn up references to the tax in question, not the coalition itself.
Their website is registered to a hosting company in Texas, and beyond that, I could not dig up any real information on the group. A nonprofit with the same name, based in Lakeland, Florida, is listed on GuideStar, but no forms newer than 2009 seem to be available. Nor could I find any current social media account for the organization. What I did find was an undated flier that explained the coalition had successfully fought to prevent the extension of Florida's general sales tax to dry cleaning services.
This does seem to make some sense. A 2007 survey by the Federation of Tax Administrators, updated in 2010, found that only 22 states imposed sales tax on dry cleaning services. Then, as now, Florida was not on that list.
So the explanation for my email is relatively simple to piece together, the mysterious Florida Dry Cleaners Coalition notwithstanding. Sudsies has decided to pass the gross receipts tax for dry cleaning along to customers, as they are entitled to do. So while the email's claim that "All monies collected pursuant to this tax are paid to the State of Florida" is true, it certainly glosses over the fact that passing the tax through to me will keep a little more cash in Sudsies' till.
I don't mind. Sudsies provides me with a service I value, including pickup and delivery at my apartment building, not to mention their entertaining emails and tweets. If I can afford to send out my clothes for cleaning, I can afford an extra 2 percent for my state's services, especially in lieu of either an income tax (which Florida does not have) or the 6 percent general sales tax.
Still, lawmakers are no more eager than businesses to take the blame for taxing something so many people use. That is probably why so many states exempt dry cleaning from sales tax in the first place. On the other hand, with the rise of hard-to-tax online sales and other drains on state treasuries, legislators are under a lot of pressure to find something to tax.
So in Florida, lawmakers want to make sure you know that they are not the bad guys. The Florida Dry Cleaners Coalition asked to be taxed, after all! Feel free to complain to them - if you can track them down, that is. Good luck with that.
In the case of this laundry tax, everyone else is going to great lengths to avoid getting their hands dirty.