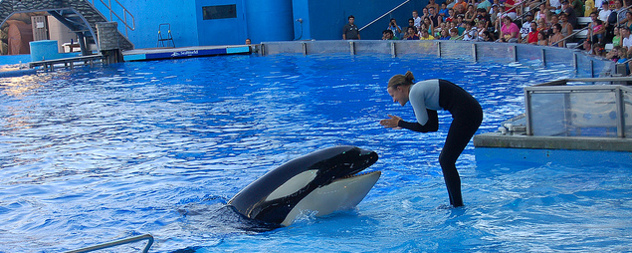 photo by Britt Reints
SeaWorld's most famous residents are still in show business, but the company is preparing to bring the curtain down.
SeaWorld plans to end its captive breeding of orcas, and to replaces the whales' circus-style performances with a new education-oriented "encounter" experience. The changes in SeaWorld's handling of orcas (still known in some quarters by the pejorative nickname "killer whales") is probably a smart business move, and almost certainly an inevitable one, given the backlash that followed the 2013 film "Blackfish."
But SeaWorld's decision to end orca breeding is apt to have unintended consequences, not only for its theme parks' signature attraction but, in the long run, for zoological parks and wildlife conservation in general.
First the unalloyed good news: SeaWorld refuses to engage in the commerce for wild-caught whales. According to SeaWorld, they have not "collected" a wild whale in over 35 years, and SeaWorld has also signed the Virgin Pledge not to accept any whale or dolphin caught in the wild.
Such a barbarous and needless practice should be banned outright. South Carolina became the first state to do so in 2013, with a law that also forbids keeping the animals for show, regardless of whether they are wild-caught or bred in captivity. Other states are currently considering similar laws, and Congress has also considered such a move. Legislation proposed by Rep. Adam Schiff, D-California, would ban the sale of wild-caught orcas; it would also ban captive breeding.
California regulators made a halt to captive breeding a condition for an expansion of SeaWorld's San Diego park. At the time, this struck me as a case of serious regulatory overreach, but it is now moot given that SeaWorld is abandoning the breeding programs in all its parks.
It costs a lot of money to maintain whales in captivity, especially if you have a high standard of care. The whales' performances help cover this cost. If the whales stop attracting paying customers, perhaps because future legislation like South Carolina's bans such displays, it may become cost-prohibitive to keep them. What would happen to the whales then?
Despite the claims of some well-intentioned advocates who want to see captive whales "set free," releasing whales who have never been in the wild before is likely to prove both cruel and futile. As SeaWorld's CEO, Joel Manby, pointed out in an op-ed in the Los Angeles Times, most of the parks' orcas were bred in captivity, and the few that were not have been under human care for most of their lives, making their release unwise. Halting the breeding program means SeaWorld will have fewer whales to support in the future if the whales can't pay their own way.
But is putting a stop to breeding actually healthy for the adult whales already in SeaWorld's care? SeaWorld itself issued a statement after California regulators forbade breeding in its San Diego park, pointing out that "depriving a social animal of the right to reproduce is inhumane." Following the announcement that it would end its breeding program, SeaWorld has stated that it will now work with "leading veterinary and scientific experts" in order to put the whales' well-being first.
Unless the company is prepared to use some effective form of birth control – and I don't know if such a thing exists for orcas – an end to the breeding program presumably means keeping sexually mature animals from mating. Do we really know enough about the psychosexual development of whales to understand what this means for their long-term well-being?
Zoos, including privately operated versions like SeaWorld, play a significant role in encouraging of human support for animal welfare. Absent places like SeaWorld, at this point in my life I would never have seen an orca. Until a few weeks ago, the only other place I ever saw any whales at all was during a whale-watch boat trip from Massachusetts, which my wife and I took more than 30 years ago. My more recent contact came during a business trip to San Diego, when my eagle-eyed colleague David Walters spotted the spouts of a few whales far offshore. We stopped to take a look, and I managed to see a couple of flukes before the whales departed. They were too far away for me to identify, and I'm not an expert anyway, but based on the season and geography I would guess they were grays or humpbacks.
Will urban landlubbers like me know, or care, anywhere near as much about these creatures if we never get a chance to see them?
For now, SeaWorld has committed to allowing guests to view the orcas in it new educational encounters, designed to replace its phased-out theatrical shows. The company says it will work in partnership with the Humane Society of the United States and has launched pilot programs, such as one in San Diego, to work with schools to promote interest in marine science. Still, if this generation of orcas is to be the last in captivity, someday the public will have little chance for up-close educational opportunities with orcas, other than possibly the rare rescue animal.
Will other marine parks or aquariums come under severe pressure to follow SeaWorld's lead and end captive breeding? I am sure they will. What, then, about terrestrial zoos, many of which have breeding programs meant to combat the dangers of shrinking populations in the wild? Animals with as much likely inner life as orcas are focuses of breeding programs around the world, including great apes and other primates, elephants, bears and big cats. The ethics and effectiveness of such programs are already hotly debated, and SeaWorld's decision will likely be cited by those who think captive breeding of all these creatures is immoral.
Yet nearly all of these species require extensive conservation efforts if they are to survive and thrive in the wild. This means they need more than just an adequately diverse gene pool; they also need people to value and care about them. It is harder to appreciate a creature you have never encountered.
SeaWorld's announcement is a good move for the company and a good move for whales – at least for wild ones. But is it good news for wildlife in general? I hope so, but I am not nearly so sure.