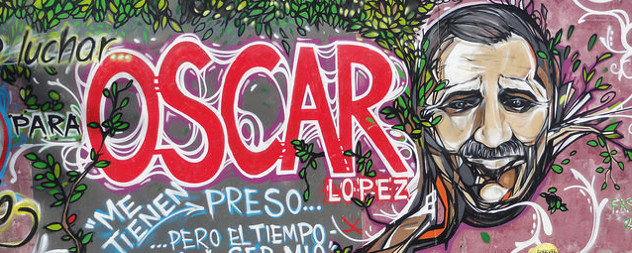 Graffiti supporting Oscar Lopez Rivera in Ponce, Puerto Rico. Photo by Tito Caraballo.
Chelsea Manning was a soldier on active duty in a war zone when she helped herself to a vast trove of classified documents and directed them to WikiLeaks because she was unhappy with U.S. conduct during the war.
Then known as Bradley Manning, she was sentenced to 35 years in prison after being convicted on 20 of 22 possible charges. But the military has had difficulty in handling the physical custody of an imprisoned transgender soldier. Despite her request for a transfer to a civilian prison, Manning has served nearly seven years of her sentence at a men's military prison in Kansas. She attempted suicide twice in 2016, and her lawyer expressed concerns that she was receiving inadequate health care.
In his final days in office, former President Obama decided that Manning had suffered enough and commuted her sentence. She will likely be released in a few months.
Although Manning's leak was portrayed at the time as a dire threat to national security, most of the leaked material had only a low level of classification; Manning was not cleared to handle more important secrets. The main injury done by the leak, so far as is publicly known, was to the egos and relationships of American diplomats around the world.
However, although Obama found it convenient to airbrush this piece of history, the harm Manning did extends beyond the actual contents of the leaked documents. The selective dissemination of the documents made it appear that Manning's fellow soldiers were insensitive, if not outright cavalier, about the need to protect Iraqi civilians as they risked their own lives every day to put down a stubborn insurgency. It also gave intelligence sources, some of whom may have been identifiable through the links, cause to rethink cooperation with a superpower whose own soldiers are prepared to disclose its secrets wholesale.
It is hard to quantify the potential future damage to civilian intelligence, and to military discipline and morale, done by both Manning's initial actions and Obama's decision to let her off the hook early. Suffice it to say that generals who seldom pushed back against the former president were reportedly strongly opposed to his clemency for Manning.
Executive clemency is a necessary tool, but also a very sharp one that ought to be wielded with utmost care. Unlike a pardon, a commutation leaves a conviction in place but still lessens the resulting punishment. Both have their place. Clemency can correct injustices, such as when courts refuse to acknowledge new evidence that contradicts an earlier conviction or that shows an individual received a disproportionally harsh punishment compared to others who committed the same offense. (Some of Manning's supporters have, in fact, argued that most leaks of low-level information prior to hers resulted in one to three years of jail time, making her sentence excessive by comparison, even given the much larger amount of material involved.)
But used carelessly, executive clemency can reinforce the impression that American justice is an arbitrary and cynical venture in which prosecutors seek convictions at any cost and regardless of the facts, and in which presidents and governors – many of whom also have clemency powers – may sometimes thwart justice to satisfy their personal whims or political urges.
Although I think Manning's commutation was a mistake, I am not terribly upset about it. As a death penalty opponent, I find it far worse when clemency is offered to individuals who received suitably long sentences for cold-blooded murder. This is especially true if the justification for the commutation is essentially that these people were organizers or facilitators but managed not get blood on their own hands.
A prime example can be found among Obama's final commutations. Though overshadowed in the news by the Manning decision, Obama's clemency for Oscar Lopez Rivera is much more disturbing.
Lopez Rivera has served 35 years of a 55-year sentence on charges including "seditious conspiracy," robbery and vehicle theft. Many in his native Puerto Rico celebrated Lopez Rivera's expected release, as did some Americans, including Sen. Bernie Sanders and New York City Mayor Bill de Blasio. Supporters characterize Lopez Rivera as an activist for Puerto Rican independence who has been held for political reasons alone.
This position is largely possible only when one disregards the additional 15 years that were tacked onto Lopez Rivera's sentence for trying, in 1987, to organize a violent prison escape. It is also possible because the acts of the Fuerzas Armadas de Liberacion Nacional, better known as the FALN, have had decades to fade from the public consciousness. In the 1970s and early 1980s, the FALN was responsible for over 130 bombings in the United States, including the 1975 bombing of Fraunces Tavern that killed four and injured dozens of others. According to court documents, Lopez Rivera was a member of the group's central leadership; circumstantial evidence tied him to several FALN attacks. However, law enforcement was never able to conclusively link him to any specific bombings. Yet those who claim Lopez Rivera is a purely political prisoner still ignore the terrorist nature of the FALN's campaign and his sustained and central role in the group.
Frank Connor, a banker, was one of the casualties of the Fraunces Tavern bombing; his son Joe Connor wrote an impassioned reaction to the announcement of Obama's decision to commute Lopez Rivera's punishment. Connor argues that "For the victims of the FALN, which include several horrifically wounded New York police officers, the grant of clemency to Lopez Rivera reopens deep wounds." It is hard to miss Connor's deep, and not unfounded, sense of betrayal at the news.
Toward the end of FALN's spate of bombings, I moved back to New York state from out West. Not long after I returned, our news reports at The Associated Press were dominated by the October 1981 Brink's Robbery in Rockland County.
The robbery consisted of the theft of $1.6 million from an armored car at a mall in Nanuet, New York. It was carried out by six members of the Black Liberation Army and four former members of the Weather Underground. In the course of the robbery, they killed a Brink's guard and seriously wounded another, as well as subsequently killing two police officers.
One of the former Weather Underground members was Kathy Boudin, who drove one of two getaway vehicles in the robbery. (Prior to the robbery, she had last been seen fleeing naked from the Greenwich Village townhouse her Weather Underground comrades inadvertently blew up in 1970.) She and Judy Clark were selected as drivers because those actually committing the robbery were black men; the thieves hoped putting white women behind the wheel would shield the vehicles from suspicion. When Nyack, New York police officers pulled over the U-Haul Boudin was driving anyway, Boudin got out of the cab and raised her hands in evident surrender. She claims to have said nothing; eyewitnesses say she feigned ignorance and asked the officers to lower their weapons.
Whatever happened, Boudin certainly did not warn the officers that six men with automatic weapons occupied the back of her truck. Two of the four police officers were killed in the ensuing firefight.
Her past as a militant radical aside, Boudin also happened to be the privileged daughter of a civil rights attorney, whose partner negotiated a plea deal that carried just 20 years to life, making her eligible for parole in 2001. That parole was granted in 2003 and now, bizarrely, she holds a faculty position at Columbia University.
Boudin's plea bargain, and the fact it made her eligible for parole sooner than nearly all of the other participants in the Brink's Robbery, may frustrate onlookers. But at least it was a result that arrived through the normal channels of justice. The same cannot be said for the fate of Judy Clark, the driver of the other getaway vehicle.
There was no plea bargain for Clark; she did not even have a lawyer. Clark, like two of her co-defendants, insisted on representing herself and openly refused to recognize the legitimacy of the court trying her. She received a minimum sentence of 75 years, meaning she would not be eligible for parole until 2056.
However, Clark will soon be appearing before a parole board nearly 40 years early. Gov. Andrew Cuomo announced earlier this month that he would commute Clark's sentence. The people who vouched for Clark claim she has deeply changed during her 35 years in prison. Yet many of those affected most directly by the Brink's Robbery, including the son of the guard who was killed, have objected strongly.
My own brother put on a blue uniform in neighboring Connecticut in 1983. He wore that uniform to work for the next 27 years. Had he been one of the officers slain in the Brink's Robbery, I would be aghast at Cuomo's commutation of Clark's sentence, as well as the parole board's decision to release Boudin 14 years ago.
As I have written before, I think the death penalty demeans us. But if it is ever to be abolished, society must come to trust that justice can be served as well or better by life sentences that effectively mean life. It doesn't cut it when a life sentence (especially one involving the murder of police) amounts to a 20-year apprenticeship followed by a faculty position at an Ivy League institution.
Clemency actions like those by Obama and Cuomo have the perverse effect of strengthening support for the death penalty by making it appear to be the only option to secure final justice. It is the unintended consequence of granting clemency to people like Lopez Rivera and Clark. Not only is the justice they received at trial thwarted, but such ill-considered clemency actions increase the likelihood that some future defendant – likely one who lacks the appeal (in some quarters) of being a former radical – is unjustly put to death.