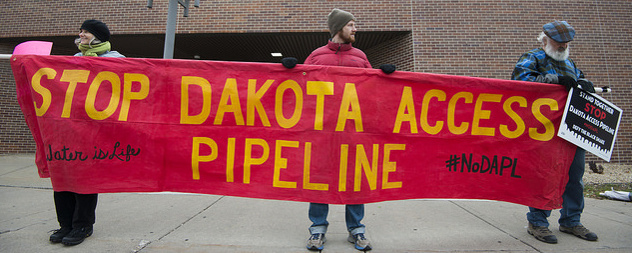 photo by Flickr user Fibonacci Blue
Legacies are usually considered a good thing, and sometimes they can change a life for the better. Think of a grandparent who endows a child's higher education, for example.
But there is the occasional screwball uncle who leaves you a six-foot-tall cement flamingo because he knows you will think of him every time you look at it. (This grows out of the same philosophy that holds there is no such thing as bad publicity.) Of course, your first thought is to wonder how you will ever get rid of such a monstrosity.
As his historic presidency moves through its waning days, legacies are very much on Barack Obama's mind. Although in matters of taste the Obamas have been among our most stylish First Couples, it turns out the president has been secretly hoarding whole warehouses full of faux flamingoes, which he is unloading at a furious pace before he leaves to write his next book about himself.
Some of these gifts are either innocuous or actually beneficial, depending on your point of view, such as the typical last-minute rush of clemency grants for convicted prisoners. This is a justice issue about which Obama feels strongly, and as we entered the holiday week, his grants of pardons (as opposed to sentence commutations, which he has used much more frequently) were still either in line with or below the pace of other modern presidents. Moreover, Obama's pardons have not conspicuously benefited the wealthy or well-connected, as has sometimes been the case with those of his predecessors (notably the pardons issued in Bill Clinton's final days in office).
On the other hand, his recent energy policy decisions have been enormous, hideous flamingoes that will burden both the country and Obama's Democratic Party in the years to come. At least we will certainly think of him every time we look at the bureaucratic monuments Obama has erected to himself.
Although there are numerous examples, I want to look at two in particular today: the Army Corps of Engineers' decision (undoubtedly at White House direction) to block the final permit required for the nearly complete Dakota Access Pipeline (built with $3.4 billion in private funds), which would carry mainly American crude from the Northern Plains to refineries in the Midwest, and Obama's invocation of the Outer Continental Shelf Lands Act to "permanently withdraw" large swaths of the Arctic Ocean and the Atlantic off the Northeast U.S. coastline from potential oil development.
Neither action is going to prevent a single drop of oil from being extracted in the foreseeable future. Low prices have already slowed the pace of development in the Bakken region of North Dakota and Montana, and the Dakota Access Pipeline would not have changed that. All it would do is ensure that whatever oil is extracted – up to a planned capacity near a half-million barrels per day – is moved long distances in a much safer manner than the current system of loading the oil onto railroad tank cars and driving them across hundreds of towns and rural highway crossings on their way to markets.
But after successfully "studying" the Keystone XL Pipeline (which would have carried Canadian crude south from the subarctic) to death for over six years, Obama ran the same gambit to appease Democratic activists who live in places like Berkeley and Brooklyn, where cars and the people who drive them are widely considered only slightly less undesirable than the American enterprises and blue-collar employees who build, sell, service and fuel them. While the decision has not killed the DAP outright, the project is on hold while the Corps engages in "additional review and analysis."
They loved the DAP decision in the coastal cities. In the Northern Plains – where Democratic Sens. Heidi Heitkamp and Jon Tester are up for re-election in 2018 in North Dakota and Montana, respectively – the reaction was decidedly more mixed. The Standing Rock Sioux, who opposed the pipeline due to concerns about their reservation's water source and the potential destruction of sacred sites rather than because of broader climate concerns, view the decision as at least a temporary victory. But for Heitkamp, the tribe represents only about 8,000 of her state's 740,000 residents.
Heitkamp has been especially amusing as she tries to tiptoe around saying whether she actually supports or opposes the DAP, limiting herself to calling for peaceful protest while the project was still active and to declaring that its construction is "inevitable" under the incoming Trump administration. On that last point, at least, she is probably correct.
Then there was the dramatic offshore waters gambit, which was by far the most aggressive and extensive use of the underlying 1953 statute ever attempted. The strategy was developed by environmental activist groups, who gloat that while the law allows a president to "from time to time, withdraw" offshore territory from potential leasing, it does not provide for either that president or a successor to reverse such a withdrawal. Congress would have to pass a law to do, and assuming the 60-vote filibuster-busting requirement stands in the Senate, environmentalits believe Democrats would block any move to overturn the ban.
Some certainly will try. Elizabeth Warren faces no political risk in Massachusetts from voting to uphold the leasing ban. Neither does Vermont's (nominally independent) Bernie Sanders or Washington's Maria Cantwell. But it will be a really tough vote for West Virginia's Joe Manchin, whose career hangs by a thread thanks to other Obama energy policies. The same is true for Tester and Heitkamp. Sherrod Brown will probably back Obama's move, but Ohio voters may make him pay for it. And so might Pennsylvania's Bob Casey, Jr., Indiana's Joe Donnelly, Missouri's Claire McCaskill, Wisconsin's Tammy Baldwin, and possibly Michigan's Debbie Stabenow and Rhode Island's Sheldon Whitehouse. If Republicans hold their line, it will take eight Democrats to move a regular bill to overturn Obama's action. I just named 10 Democrats who are vulnerable on that issue.
Of course Republicans could try to tack the necessary language onto some other must-pass bill, but I am not sure they will do that before 2018. Why not make the Democrats take that tough vote and then face their constituents?
The offshore move likewise has no near-term impact. Oil companies are already shying away from expensive offshore development, especially as safer and cheaper onshore and shallow-water fields become more available due to advances in hydraulic fracturing (or fracking). But Obama's move does carry a powerful symbolic message – just not necessarily the one he meant to send. To blue-collar workers and inner-city youth in places like Wilmington, Delaware, Baltimore and Philadelphia, the message might be that you should not hope to ever have a chance at getting the sort of good-paying oil-service jobs near home that your counterparts can get in places like New Orleans and Beaumont, Texas. Or, if you want such a job, you'll have to do what many others have done and move to North Dakota – unless we find a way to stop drilling up there, too.
Then there are people in places like Russia and Iran, who will appreciate any moves to keep American resources off the market because it will leave more space for their product to fund their governments. Tell that to the survivors in Aleppo, Syria – another part of Obama's legacy, and arguably the most tragic.
Sure, they'll applaud Obama's moves over organic fair-trade lattes in Santa Barbara, California, and in the neighborhoods around the University of Washington in Seattle. And in those places, they may even appreciate his bureaucratic monument to himself. But in a lot of other places, it is just a big, ugly flamingo.