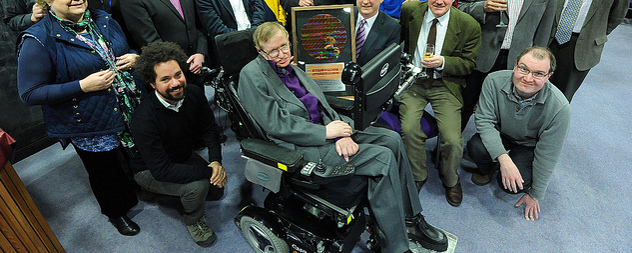 Stephen Hawking (center) at a celebration for his 71st birthday. Photo courtesy Intel Free Press.
I have never read "A Brief History of Time," Stephen Hawking's 1988 best-seller.
In fact, although it is a poor reflection on me, I have never read any of Hawking's work. I have only the barest understanding of how he related the most infinitesimal particles to the incomprehensible vastness of time and space, or of how the universe can have spontaneously created itself out of nothing. Perhaps someday, if I ever retire, I will have a chance to catch up and let Hawking teach me about the galaxy in which I will have lived my life, the way he taught so many others.
But Hawking already influences me every day as a person and as a manager. Perhaps more than anyone else, he inspired me to look at what someone can do rather than what they can't.
It is a measure of Hawking's extraordinary influence, not only among scientists but far beyond, that the announcement of his death this week inspired an outpouring of regret and remembrance from everyone from NASA to actor Eddie Redmayne, who portrayed Hawking in the 2014 film "The Theory of Everything." The comparisons to Albert Einstein in both scientific and cultural importance were as apt as they were inevitable. Hawking's scientific achievements would have been impressive on their own, but paired with his legendary sense of humor and his perseverance in the face of a deeply challenging disease, they made him a unique figure.
I may not be familiar with the intricacies of Hawking's work in physics, but I could sympathize with his battle with amyotrophic lateral sclerosis (often called Lou Gehrig's disease, after the baseball star who received the diagnosis in 1939). I have had first-hand interactions with people diagnosed with ALS a couple of times in my life.
The first was in 1983, when former New York Sen. Jacob Javits came to Washington to receive the Presidential Medal of Freedom from President Reagan. (Coincidentally, Hawking was a later recipient of the same honor.) As I recall, it was on that trip that Javits also visited the Senate chamber where he had served until Sen. Alfonse d'Amato succeeded him in 1981, which I covered as a journalist at the time. Javits was in a wheelchair and had a portable respirator in tow; he was able to speak only briefly and haltingly. His mind was still sharp, but it was evident that d'Amato had a point – a mean point, but not an invalid one – during the 1980 campaign when he questioned whether Javits had the stamina to make it through another Senate term. (He didn't. Javits died in 1986.)
A few years later, I watched a client struggle to keep going with his family's support as ALS robbed him of his vitality, his mobility and, within a few years, of his life.
Hawking was an outlier in both his extraordinary intellect and his unprecedented survival more than half a century past his initial diagnosis, at a time when most patients would not make it beyond five years. (As The Wall Street Journal noted, Hawking's unexpected longevity "still perplexes neurologists.") Thanks to that longevity, and to the technology that was adapted to give voice to Hawking's remarkable thoughts as well as his sense of humor, he made many of his most important contributions long after doctors would have expected him to be gone. He expressed the hope he would be primarily remembered for his work on Hawking radiation, a theory he was refining as late as a few years ago.
Hawking did his work with wisdom, good cheer and optimism tempered by what any good manager would consider prudence: Given the risk that mankind will make this planet uninhabitable, Hawking recommended that we diversify our portfolio by expanding elsewhere. In a 2008 TED Talk, Hawking said decisively, "[…] if we want to continue beyond the next hundred years, our future is in space." We ignore his advice at our own peril.
We live in an iconoclastic age. We delight in putting people on pedestals and delight even more in knocking them off. There is no knocking Hawking off his pedestal. While of course he had assorted human failings, Hawking was an extraordinary teacher in every sense of the word, a professor who influenced untold millions who never set foot in his lecture halls. In addition to the roughly 25 million copies of "A Brief History of Time" sold, Hawking's other books, lectures, public appearances and, eventually, his active Facebook presence reached not only people who might otherwise have failed to understand his theories, but people who might wrongly have thought they didn't care about them.
In his 2008 talk, Hawking observed: "I have been very lucky that my disability has not been a serious handicap. Indeed, it has probably given me more time than most people to pursue the quest for knowledge." That outlook, as much as the knowledge it enabled him to pursue, represented a rare gift.
Hawking would have probably said that, statistically, it is almost a sure bet that the universe holds someone more inspirational than himself. I'd say that, statistically, it is an even better bet that I will never know of that person.