photo by Larry Elkin
Sometimes I wonder whether people will truly feel the trauma of national tragedies like 9/11 and Pearl Harbor after a century has passed. Last week I found my answer, on a rainy, windswept hilltop in Halifax, Nova Scotia.
Just below that hilltop, in a section of Halifax harbor known as The Narrows, two ships collided on the morning of Dec. 6, 1917. The Norwegian vessel S.S. Imo, en route to New York to pick up relief supplies for Belgium, rammed the S.S. Mont Blanc, a French ship bound for Europe and loaded with explosive TNT and picric acid, along with barrels of highly flammable benzol. Imo reversed her engines after the collision, which caused sparks from the scraping of the two ships' metal hulls to ignite benzol that had poured into Mont Blanc's cargo holds from toppled barrels on the decks above. Fire quickly engulfed Mont Blanc. Less than 20 minutes later, the munitions ship blew up in the largest man-made explosion to that date.
An estimated 2,000 people died that day in Halifax and across the harbor in Dartmouth, with another 9,000 seriously injured. About 6,000 were left homeless out of a total regional population of around 65,000. The last body was not pulled from the wrecked Halifax Exhibition Hall until the summer of 1919, well over a year after the blast. The north end of Halifax, including a neighborhood called Richmond, was completely leveled.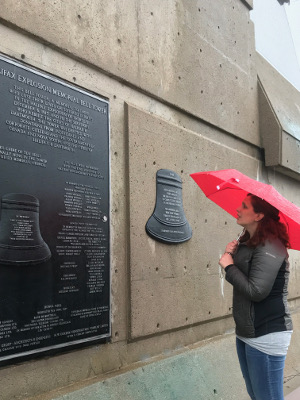 Aline Pitney at the Halifax Explosion Memorial.
Photo by Larry Elkin.
Most Americans know nothing about this disaster. This was true of my colleague Aline Pitney, who grew up in suburban Atlanta and was traveling with me on business last week. I only learned about the great explosion on a family visit to Nova Scotia in 1975, when I was already in college. Together, Aline and I visited the memorial bell tower commemorating the tragic events, which I had never seen before that day.
Unlike Americans, schoolchildren all over Canada learn about the tragedy in class. Teachers have curricular options from as early as fourth grade through high school. The Halifax Explosion has been dramatized several times, including a two-part TV series in 2003 and a CBC documentary that aired in December 2017, marking the 100th anniversary of the disaster.
There may be nobody still alive who remembers the explosion and its immediate aftermath firsthand, but the memories are very much alive in Halifax. The city held a memorial service last Dec. 6 for the disaster's 101st anniversary. And in 2017 a new ferry on the Halifax-Dartmouth run was named for Patrick Vincent (Vince) Coleman, a railway dispatcher who was working in the Richmond train station on the day of the collision.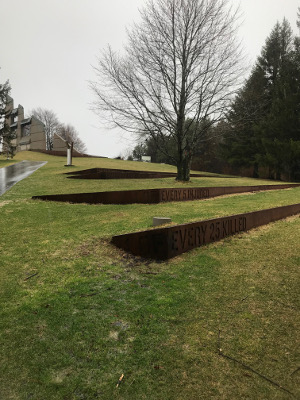 photo by Larry Elkin
An inbound passenger train was due to arrive at Richmond just 10 minutes after the two ships collided. After receiving a warning about Mont Blanc's cargo from a sailor who came ashore, Coleman – who had initially left the station to get away from the burning ship – returned to his post and began telegraphing warnings to halt inbound traffic. Thanks to him, incoming trains stopped a safe distance away. Coleman continued firing off warnings until he perished in the great blast. His last message is believed to have been: "Hold up the train. Ammunition ship afire in harbour making for Pier 6 and will explode. Guess this will be my last message. Good bye boys." Coleman was 45. His family survived, although his wife and the youngest of their four children sustained serious injuries.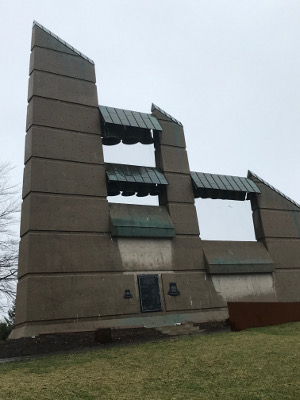 photo by Larry Elkin
The catastrophe directly affected nearly every family in the Halifax area, so much so that after the first anniversary, the city did not officially commemorate the occasion for another half-century. But the suppressed memories did not die. In 1985 the city dedicated the Halifax Memorial Bell Tower in Fort Needham Park – the monument that Aline and I visited recently. It contains 10 bells that were donated to a local church in the 1920s. The donor, Barbara Orr Thompson, witnessed the explosion as a young girl and lost her entire immediate family. Four more bells were added in the 1990s.
A visit to the National September 11 Memorial & Museum has become a must for practically every New York City tourist and plenty of business visitors. Many of us who lived in the metropolitan area at that time have made our way there as well. If you were an adult on 9/11, you need no reminding about the details of the events themselves, but an entire generation has grown up without firsthand knowledge. We want them to remember.
The generation that experienced Pearl Harbor or the Holocaust (and lived to tell about it) will soon pass into history. Much has been done to make sure that their stories will survive, individually and collectively. Certainly, the baby boomers and millennials who grew up hearing their accounts will remember and retell what we have heard.
Events that traumatize communities, societies or countries seem to have a shelf life that readily extends to a century or so, which is roughly the length of a long human life. But what about beyond that?
Our Civil War is a special case. Peace may have been declared at Appomattox, Virginia, in the spring of 1865, but the legal and cultural struggle over the nature of our nation has continued in various forms to this day. Emotions remain strong enough that we argue, unfortunately sometimes violently, over the display of statues of men from that era. We have hardly forgotten.
But if you ask a stadium full of random strangers what happened in Galveston, Texas, on Sept. 8, 1900, how many of them could tell you that it was the deadliest hurricane ever to strike the United States? At least 6,000 people are believed to have died in that storm, many of them swept away when floodwaters 12 feet deep washed over the island city. I have known about this since I was a boy – I just happened to enjoy reading about weather – but nothing really personalized the human cost until I heard the song "Wasn't That A Mighty Storm?" performed by Tom Rush. The musical account goes back much further, to a 1934 recording made by Depression-era government workers in a Texas prison, where a congregation of black inmates led by the Rev. John "Sin Killer" Griffin performed it. Its composers are unknown.
Over the years I have seen countless battlefields and monuments commemorating events connected with our Revolutionary War. We celebrate that seminal struggle every year on July 4, but mainly as an occasion to indulge in fireworks, grilled meats and displays of modern-day patriotism, some real and some contrived. We recognize the nation's founders, and we even gave one of them a standout Broadway musical. But most of us devote few thoughts or words to the unknown soldiers who left farms and families behind, or the women who had to find some way to keep life together in a sparsely settled nation while their men went away to war, some never to return.
So our collective memory seems to be good for a solid century, give or take. It gets a bit shaky after that. But I suspect Halifax will remember what it lost as long as ships traverse The Narrows and those bells reside atop that hill.