Five Questions With: Mamie Odom, Client Service Associate
Mamie is the newest member of the Palisades Hudson staff (at this writing): She joined our team in mid-2023, following an internship with the firm in the summer of 2022. Mamie works on projects for clients across the country, including investment management, bookkeeping and tax preparation. A Tallahassee, Florida native, Mamie is based in the firm's Atlanta office.
1. What's the most interesting thing you've watched recently?
I recently watched a limited series on Netflix called "Earthstorm," and I'm still processing the unbelievable power of the planet we inhabit. The series is admittedly unsettling but very informative, covering the meteorological explanations for natural disasters, as well as the disasters' logistical and infrastructural aftermath. If you're at all curious about weather and like documentaries, I would definitely recommend the series. I thought that an upbringing sprinkled with hurricanes and tropical storms had taught me all I need to know about the cruel reality of our physical world, but I couldn't have been more wrong. Mother earth shows no mercy.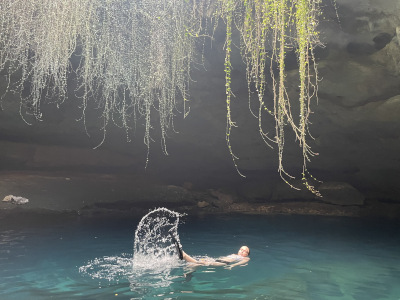 photo courtesy Mamie Odom
2. What's a typical weekend day look like for you?
My ideal weekend day consists of a slow morning complete with a yummy breakfast; a nice hike or a trip to the gym; either tidying up or deep cleaning, depending on the day; and a cozy evening of chilling and meal prepping. I also spend lots of time outside on the weekends trying to get my dose of nature in between workweeks.
3. What's something you're looking forward to in the next 12 months?
This will be my northernmost autumn and winter yet. As a born and raised Florida girl, I've missed being able to cool down in a crisp and clear spring on these record-hot summer days in Atlanta, but I have to admit that I am looking forward to some chillier days in the coming seasons!
4. If you're a sports fan, what teams have your loyalty?
Ironically, I am a big fan of both Florida State University and the University of Florida. My grandpa played football for FSU and most of my family attended university there. After growing up in Tallahassee, I chose to go to UF for a change of pace. So, as a double gator (I earned two degrees at UF) and a legacy Seminole, I cheer for both! I quite enjoy it when they play against each other, because my family has fun banter and "my" team secures a win either way. Instead of a house divided, I'm a girl divided.
While I've never followed professional sports very closely, I also became a Denver Nuggets fan this year while watching the NBA playoffs with my Coloradan boyfriend (convenient timing, I know). The deal was sealed when I found out how close Nikola Jokić's hometown (Sombor, Serbia) is to my mother's (Debrecen, Hungary). In the same vein of personal ties to athletes, Laura Horvath, a Hungarian native, won the title of Fittest Woman on Earth at the 2023 Crossfit games this year. As both a female athlete and a half-Hungarian who is extremely proud of my heritage and grateful for my loving family there, I am a big fan!
5. What kind of pet do you have? What is their name and how long have you had them?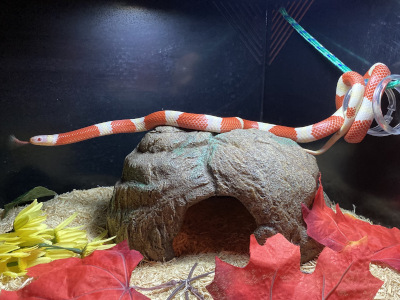 photo of Bora by Mamie Odom
Like many others, I felt a desperate need for a furry companion during the pandemic lockdown, but the landlord of my college apartment wouldn't allow me to have a dog. So I got a pet snake instead — close enough, right? I named her Bora. I'm actually not even sure if she's a she, but I don't think she (or he) minds either way. Bora is an albino Honduran Milk snake. She's timid and gentle, and she breaks so many of the stereotypes that commonly surround snakes. I've gotten to watch her grow up (mostly out) which has been a beautiful experience, and now she is keeping me company in my first-ever solo apartment. She's my sweet girl (or boy), and she'll hopefully have a canine sibling sooner rather than later. I still crave puppy love!